SnapMirror® has been used by NetApp customers for years to replicate data efficiently between their on-premises storage appliances, and now with Cloud Volumes ONTAP, this NetApp replication capability exists for cloud-based architectures. This can do a great deal to simplify complex deployments, such as complete Azure migrations, synchronizing data between different Azure regions, or the rollout of an Azure disaster recovery copy.

How does this kind of functionality perform when using the Azure cloud and for Azure data replication? In this article, we will examine how NetApp SnapMirror and Azure storage work together to replicate your data.
SnapMirror Data Replication
Cloud Volumes ONTAP uses Azure Virtual Machines and Azure Disk Storage resources to create an Azure cloud-based virtual storage appliance. Just as on-premises systems were used in the past, an instance of Cloud Volumes ONTAP can act as either the destination or as the source when in a SnapMirror relationship. Data can be synchronized from on-premises storage into the cloud, from the cloud to on-prem, or back and forth across Azure cloud regions or between different cloud providers, all the while updating incrementally for data synchronization. SnapMirror's functionality and easy integration with other ONTAP and Cloud Volumes ONTAP features give it flexibility and range as an effective data replication solution.
How does SnapMirror data replication work?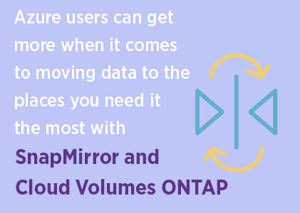 ONTAP snapshots are the basis of how SnapMirror works, and in fact that's where SnapMirror gets its name. These snapshots are how the transfer of data is accomplished from one location to another.

In the first step, a baseline synchronization is performed by transmitting a complete copy of a source-volume snapshot to the destination.

For data changes that take place at the source volume, SnapMirror creates a new snapshot and compares it to the baseline version. Should this process discover any blocks that have been changed, those blocks are replicated over to the destination. This newer snapshot is then considered the newest common snapshot, or in other words, the current baseline. This sync process repeats, sending incremental updates over to the destination.

In SnapMirror relationships, the volume designated as the destination remains available in an online read-only state. Instead of working with storage on the file level or otherwise, SnapMirror accesses physical blocks, meaning the destination replica is an identical copy of source volume, including all of its contents and settings. When using Cloud Volumes ONTAP's data deduplication and data compression storage efficiencies, those optimizations will also be in place in the replica.
Should the SnapMirror relationship be broken, the destination volume will then become writable and could be utilized in a failover when synchronizing data to a DR site via SnapMirror. Because of the level of efficiency that SnapMirror has, any changes in the data that take place in the failover environment can be synced back to the primary environment when it comes online again. At that point, it would be possible to return to the original SnapMirror relationship.
Integrating SnapCenter® and SnapMirror makes it possible to replicate application-consistent snapshots. Snapshots that are application consistent can be used as a database replication technique for backing up databases. By taking advantage of the underlying storage, the creation of these application-consistent snapshots is coordinated with the application; this guarantees that there are no inconsistencies created in the snapshot by in-flight I/O operations. Once the application-consistent snapshot has been taken, SnapCenter activates SnapMirror to carry out syncs in all destination volumes based on the snapshot.
How can I set up SnapMirror for Azure storage replication?
Users can create new SnapMirror relationships by using the Cloud Manager, NetApp's UI for controlling and managing Cloud Volumes ONTAP. All that users have to do to trigger the relationship creation process in the graphical interface is drag & drop the source system to the target destination. This launches the wizard that will lead on from here.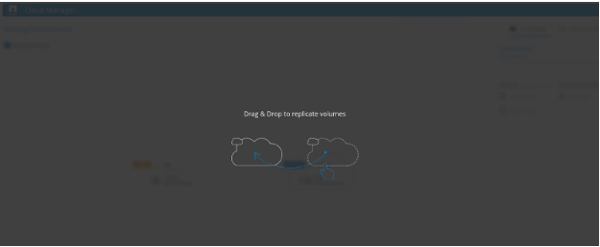 Next, the wizard prompts the user to choose a source volume and a destination volume between which to create a new SnapMirror relationship. There are other options that can be specified here, one of which is setting the maximum transfer rate, which gives Azure users control over the amount of network bandwidth that the sync operation will use. Users will also be required to select a schedule for syncs to be carried out. This setting can also include making a single copy by choosing "One-time copy."





In the last step, the interface will ask that the user review the setup that has been requested and to confirm in order to proceed with creating the relationship. After the relationship is created, the dashboard can be used to monitor the data transfer and replication statuses. And with that step, your Azure storage replication should be ready to go.
Why should Azure users employ SnapMirror?
Below are a few of the main reasons why Azure users should use SnapMirror for Azure storage replication.
Enterprise-level solution: SnapMirror is a robust part of NetApp's Cloud Volumes ONTAP and ONTAP storage systems with the capability to use concurrent replication processing, bounce back from update failures, throttle network bandwidth during transfers, and more for Azure object storage, Azure cold storage, and all the other Azure storage types.
Speed and effectiveness: By leveraging incremental data transfers at the block-level, SnapMirror ensures that replicas are only sent data that has changed, speeding up the replication process. Through the use of compression, SnapMirror also cuts down data volume, giving better transfer performance rates. Once data arrives at the destination it is then decompressed and ready to use.
Efficient failover and failback processes: Should a DR system need to take over, whether in a test or in a live scenario, it is possible to break SnapMirror relationships so that destination volumes can become read/write ready for full use. Once failback takes place, the destination can be reverse resynced with the primary volume, sending over all the data changes made at the destination during the failover. The normal SnapMirror relationship can then be reestablished between the two volumes.
Flexibility: SnapMirror allows users to take advantage of a wide range of replication topologies, including cascade and fan-out replication architectures: providing the ability for a secondary destination to sync to a third system and for a volume to replicate to multiple secondaries, respectively. Looking beyond volume replication, SnapMirror also has the ability to carry out the replication of qtrees.
Easy testing: Through the use of NetApp's FlexClone feature, destination volumes used by SnapMirror can be cloned as writable volumes in zero time, no matter how large the volume size. These clones are space efficient, and don't require data to cease replication at the source. This makes running DR tests, for example, very easy to do.
Easy Manageability: Performing SnapMirror operations is simple thanks to the easy-to-use GUI and step-by-step wizard instructions provided by the Cloud Manager, Cloud Volumes ONTAP's tool for managing all your cloud resources. From its single pane-of-glass you can view and control all the SnapMirror relationships that are replicating your data.
Conclusion: Data Migration, Data Redundancy and More
Whether migrating applications to Microsoft Azure in a big lift and shift migration or setting up an Azure storage replication to establish a new DR environment, Azure users can get more when it comes to moving data to the places you need it the most with SnapMirror and Cloud Volumes ONTAP.