Backup. It's an essential part of every IT deployment. But with advances in technology, changes in the way companies operate, and the advent of more scalable and cost-efficient cloud backup strategy have drastically altered the way that backup can be approached.
In this post we'll look at some of the latest trends in the backup technology market and how they directly impact the way that storage admins go about protecting the data in their systems.
Jump down using these links:
Find Out More About the Latest Backup Trends
1. Too Much Data to Back Up
Organizations are dealing with exponentially growing data estates and that's having a direct impact on backup operations and the storage admins responsible for them.
Data is now coming in from different business functions, data collected by connected devices, logging and monitoring data, and many other streams. Sometimes this data might be required to be used independently, and at other times they are required to be correlated and analyzed to derive intelligence. Most organizations also have a requirement to keep the data in archival storage for a long term for audit and compliance purposes. Whatever the use case may be, this data can't be lost.
The trend that is taking place is that organizations are shifting towards cloud storage in order to support these large-scale data storage demands. That can mean a shift for storage admins, who now have new, cloud-based environments to manage alongside their existing on-perm deployments, but much more space to work with.
2. Backup Tape Is Out of Date
What's the reason for the market movement away from tape? The main drivers have been cost and the inability to scale with today's rate of data growth.
As a replacement for tape, many storage admis are turning to object storage.
Object storage eliminates the concept of tiered file structure used by most traditional storage methods and treats all data as distinct units which are referred to as objects. All of these objects are associated with unique identifiers and metadata. As the very first services that were made available in the cloud, cloud-based object storage has revolutionized how organizations store and access data.
Due to its massive scalability and low cost, cloud object storage has become the popular choice for storing large-scale amounts of data, especially backup and archival data sets.
The data can be stored in cloud object storage at inexpensive rates for years without worrying about associated maintenance and logistics of storing the same data on-premises on tapes and disk drives. Plus, this storage format has an extremely high level of resilience: object storage in the cloud touts "11 9s" of durability—a 99.999999999% SLA.
The trend is clear. Cloud object storage is fast emerging as the choice of many storage admins to replace traditional tape drive based offsite storage. It's not only easier to back up to, it's also more cost effective and reliable.
3. Backup Is a Service Now
With the shift to the cloud, some of the burden that has made backup difficult for storage admins to keep up with has been alleviated thanks to the rise of backup-as-a-service offerings.
Hosting backup solutions in the cloud provides a cheaper alternative to easily take backup of your data and store it in the cloud with less or no associated hardware. All the leading cloud service providers offer these services, they are faster to onboard, and are available in a pay-as-you-go model with support for cloud as well as hybrid workloads.
Managed services have become increasingly popular since they present a way to reduce operational overhead. Their fully managed aspect also makes the job of administering backups much easier for storage admins.
Backup as a service offers a number of benefits:
Converts all these upfront CAPEX investments into ongoing OPEX.
You pay a license fee only for the number of backup instances and the cloud storage being used to store the data.
Reduces backup costs when compared to purchasing tape drives or hard disks to store the same data.
All service providers support security of data stored through encryption.
The redundancy and resiliency of the data is also taken care of by the cloud infrastructure.
Eliminates the need for capacity planning as cloud object storage capacity can often extend to the petabytes with no additional overheads required.
4. Archiving Is Faster and Easier Than Ever
With the help of cloud technology, storage admins now have a more flexible solution when it comes to optimizing storage for backup.
When shifting to cloud-based backups the most important considerations are reduction of overall cost, scalability to meet increased capacity demands, ability to failover to the cloud, and enhancing security capabilities. All the leading cloud service providers offer multiple object storage tiers—namely, hot, cold, and archival. Depending on data usage patterns, these tiers can be selected to optimize the overall storage cost. This is called data tiering.
Tiering data to cheaper object storage tiers is considered to be one of the main characteristics that organizations look for in hyperscaler data protection solutions. Short-term backups can be directed to the cold tier of object storage and long term backups can be moved to archival tier for more efficient utilization of cloud storage.
Data tiering to less expensive tiers for rarely accessed archival data can bring down overall storage costs considerably, especially when the data estate is in the petabyte range. The pay-as-you-go model is applicable for all storage tiers and hence very economical, even if data growth is expected to be exponential.
Leveraging cloud object storage tiers as the target for your backup and archival data can thus bring down your overall TCO, and should be integrated with your backup strategy.
Read more about using cloud-based archive storage here.
5. Using Backup as Cyber Bunker
New threats mean that data needs to be more resilient than ever.
Given the rise of remote work with the wake of COVID-19, systems are more exposed than ever to malicious attacks, ransomware, and unauthorized access. Storage admins play a pivotal role in ensuring data is protected.
Backup is considered as the last line of defense from ransomware and security threats. Attackers don't just want to access your organization's network—they want to corrupt the data you have.
If you have a good, updated copy of the data and you can use that to recover efficiently, attackers are undercut and you can prevent them from harming your operations. If the primary data set is compromised, organizations depend on this backup data to bring everything back online.
Of course, things aren't quite as simple as that. As threat vectors are evolving, attackers are also targeting the backup data along with production data so as to create impediments in the recovery process. That means backup strategy and tools are evolving to circumvent such attempts at sabotaging the backup data.
6. More Backup Strategy Choices
To address the new data landscape, storage admins are also adopting new strategies when it comes to backup that go beyond the technical solutions they have in place to create or store that data.
How can a storage admin plan around the number of backup copies to use and the types of storage formats to leverage? These questions are an important part of the backup strategy trend shift.
A backup may look as simple as creating a copy of your critical data and keeping it safe, but that is not always the case, especially when it comes to enterprise data. There are three commonly used backup strategies: 3-1-2, 3-2-1, and 3-2-2.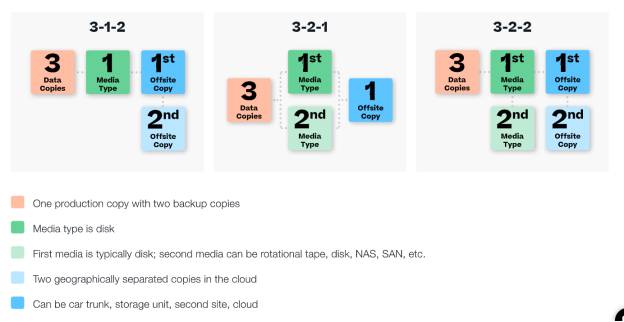 There are three commonly used backup strategies
There are several key architectural considerations while choosing a backup strategy. This can be relevant, for example, if you have regulatory requirements to keep single/multiple copies of backup locally in a secondary storage. Also consider the requirements of using independent storage buckets in the cloud for different data sets for enhanced security.
Storage admins that are looking for the right strategy need to consider which is the right fit for their operations' business needs.
Learn more about how you can easily achieve the 3-2-1 strategy here.
Find Out More About the Latest Backup Trends
Fon an in-depth deep dive into each of these trends, make sure to download our new guidebook on backup trends in 2022.
One major change that you also should be aware of is NetApp Cloud Backup. This new way to get backup as a service is built specifically for ONTAP and creates instant, block-level incremental forever backups that are stored in object storage, either in the cloud on AWS, Azure, or Google Cloud or in on-prem StorageGRID appliances.
Cloud Backup is on the edge of backup trends:
Fully managed service reduces operational overhead
Incremental forever, block-level technology
Object storage on AWS, Azure, Google Cloud or NetApp StorageGRID
Cloud-based archive storage support
Easily implement 3-2-1 or 3-2-2 strategies
Enhanced security features: end-to-end encryption, AES-256 bit at rest and TLS/HTTPS in flight, CMK support
Secure connectivity: private network connectivity between source and destination, with proxy support, SOC2-type2 compliant, secured control plane with multi-tenancy, RBAC, MFA
Supports a variety of use cases including archive, DR, and ransomware protection