Object storage is a storage construct where data is not structured as files within folders, but rather as objects in a central storage solution. It's used to implement scalable and reliable storage solutions on-prem or in the cloud without any of the inherent constraints of traditional storage systems. These features can make it a key piece of your backup strategy.
Aside from its use in applications, one of the most essential applications for object storage is in backup solutions as a destination for backup data storage. In this blog, we will cover object storage benefits and discuss the advantages of using NetApp Cloud Backup in order to create a reliable copy of your data.
The topics you'll find here include:
The Evolution of Backup Media
Backup data was typically stored on backup tapes in traditional data center deployments. The Linear Tape-Open (LTO) drive has been the most prevalent standard for tape-based backup, with tapes often shipped offsite for long-term retention. However, the challenge with tape-based backup was that it required specialized tape drives for data retrieval and had the added overhead of maintaining the hardware and upgrading it every few years. Additionally, considering the exponential rate of data growth in organizations, tapes simply weren't a scalable solution.
The next phase of backup media was disk drives. Though disks were more costly than tapes, they had several advantages that fuelled their popularity as backup storage. The main advantage of disks was the ease at which data could be restored and accessed without any specialized devices or software. They were also less susceptible to physical damage compared to magnetic tapes.
With increased data churn, especially in the range of petabytes, disks could also no longer be relied on as a viable long-term solution. Though discs could still be utilized for short-term retention and recovery, long-term backup data retention required a scalable, dependable, and less expensive option, which object storage provides.
Object Storage Benefits
The benefits of object storage have allowed it to become increasingly popular as the preferred destination for backup data. It has multiple advantages as a storage solution: cheaper storage rates, long-term retention, and hassle-free maintenance, to name a few. An object storage solution can either be cloud based or it can be a trusted on-prem object storage solution, such as NetApp StorageGRID®. Let's take a look at some object storage benefits as a solution for backups.
Quick retrieval during restores
Object storage uses a flat-file structure and therefore enables quicker data retrieval during restores. There's no additional time required to mount and configure backup media for data retrieval. The process is smooth and instantaneous.
Data Tiering Capabilities
Object storage provides tiering capabilities where infrequently used data can be automatically moved to object storage and production data can be stored in costlier high performance storage tiers. In this scenario, backup and archival data would only be accessed during the event of data loss or an audit. Data tiering also helps businesses meet regulatory and compliance requirements while optimizing their storage utilization as per performance requirements.
Enhanced data protection
Data is stored in a different format in object storage when compared to block storage devices. This offers an additional layer of security for backup data in object storage as it is stored in a different hardware and software platform in a different format, one that may not be affected by an initial outage or attack vector.
Air-gapped infrastructure
Object storage also provides versioning and object lock that makes the data tamper proof. If the primary data copy is compromised due to malware attacks or hardware/software defects, the data in object storage can still be used for quick recovery.
Hybrid
While using object storage for backup, the data can either be stored on-premises or in the cloud. Depending on your organization's architecture, a combination of an on-prem object storage solution like StoragGrid can be used along with object storage from any of the hyperscalers. This provides much needed flexibility, especially when aggregating backup data for short-term and long-term retention
Cloud-Based Object Storage
When adopting cloud-based object storage for backup, customers have the following benefits.
Cost-effective
The cloud's pay-as-you-go model helps to convert CAPEX to OPEX. All of the major cloud storage services offer less expensive object-based cold and archive tiers that can be used for long-term retention of backup data at affordable rates.
Reliable storage
All the major cloud service providers offer object storage as a managed service with 11 nines of durability and assured SLAs. The data is automatically stored in different zones and regions to protect from failures. The high availability and redundancy needs of backup storage are taken care of by the cloud platform with no additional overhead to the user.
Securely stores data
Object storage in the cloud has data and access plane security controls built-in that can be configured by customers to protect backup data. All cloud platforms provide encryption at rest capabilities using a service provider manager or customer-managed keys to protect the data. Data in transit is also protected through HTTPS/TLS encrypted connections.
Offsite storage options
Object storage serves as the perfect destination for the offsite storage of data. This is especially helpful to organizations that follow the 3-2-1 backup strategy and need a copy of their data stored offsite. Compared to traditional methods of shipping tapes to offsite locations, transferring data to cloud object storage is hassle-free over a secure connection.
Scalable solution
As an organization's data estate grows so does the backup data size. Object storage in the cloud helps meet this growing demand without the upfront investment in costly storage devices. It also eliminates the need for capacity planning as cloud storage services from all major platforms can scale up to petabytes of capacity on demand.
Cost-effective
The pay-as-you-go model of object storage in the cloud helps to convert Capex to Opex. All cloud storage services have cheaper cold and archive tiers that can be used for long-term retention of backup data at affordable rates. The same process using conventional backup devices could involve additional costs associated with device maintenance and upgrades.
Advantages of Using NetApp Cloud Backup for Object Storage
NetApp Cloud Backup provides reliable backup and restore services for data stored in NetApp Cloud Volumes ONTAP as well as on-premises ONTAP clusters. With a single-pane management view provided by Cloud Manager in the SaaS model, it offers a simple solution for automated backup of data from ONTAP clusters to object storage as shown in the reference architecture below:

There are a number of advantages to using NetApp Cloud Backup to harness the object storage advantages, irrespective of whether it's stored on-prem or in the cloud.
Quick and efficient backups
NetApp Cloud Backup uses an incremental forever block-level backup approach to efficiently backup and restore data. The data is directly stored on object storage with minimal operational overhead.
Economical
Due to the incremental-forever nature of backup, the storage footprint required for backup data is minimal. Cloud object storage is cost-effective by nature, thereby lowering overall backup storage costs.
Independent and reliable
NetApp Cloud Backup automatically stores data in cloud object storage away from the source ONTAP cluster. This helps organizations with a 3-2-1 backup strategy to use object storage as their offsite storage location. In the event of data loss or corruption in the ONTAP cluster, backup copies aren't impacted and point-in-time recovery of data is possible from the backup copies in object storage.
No middleman
The data from ONTAP is backed up directly to the object storage. There is no middleman technology or staging operations involved in the process. This helps improve the efficiency and security of the backup.
All files get backed up
NetApp Cloud Backup provides a comprehensive backup solution that backs up the target files including open files, meta-data, and ACL. The granular restore feature allows you to restore entire volumes or specific files depending on your needs.
Immutable
NetApp Cloud Backup uses NetApp SnapShot™ technology to create immutable backup copies that are stored in object storage. The backup copies are read-only and can't be altered by malicious malware. In the event of a malware attack, the backup copies will remain safe in cloud storage and can be used for a point-in-time restore of clean data.
Resilient
The innate resiliency features of object storage enable backup data managed by NetApp Cloud Backup to be robust. As previously stated, object storage is designed for data durability of 99.999999999 percent (11 nines).
Encrypted
NetApp Cloud Backup uses AES-256-bit encryption to encrypt data at rest. When backup data is sent from ONTAP to cloud storage, TLS 1.2 HTTPS connections are used to encrypt the data in transit. The encryption key can be controlled by customers using their own key management solutions.
Dark Site
For organizations with high security demands or that prefer to keep their data and control plane on-prem—also known as dark site deployment—Cloud Backup offers the option to back up data from a primary ONTAP to object storage stored on-prem with StorageGRID with zero internet connectivity needed.
For dark site deployment, not only is the data never leaves the customer's environment, and the control panel is disconnected from the internet and operated locally on premises. This requires maintaining the infrastructure on your own, but the benefits of object storage still come into play. In a dark site deployment the data plane and control plane exits on premises as shown below.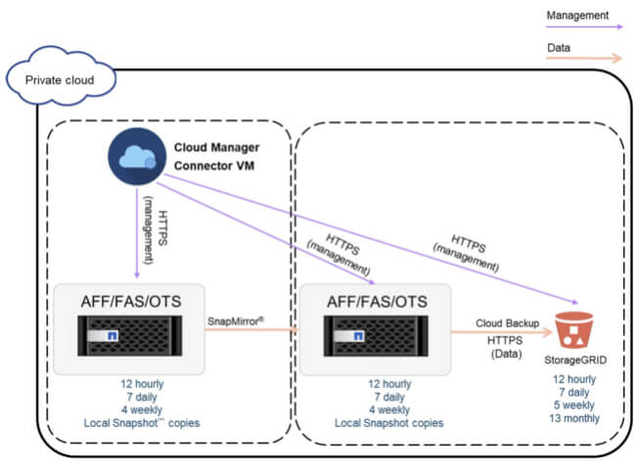 Fully on-prem
If you do not have a requirement for a fully dark site deployment, but still need the data to be on-premises you can take backup from ONTAP to StorageGRID using Cloud Backup . In this case data will still be on-premises but Cloud Backup can be deployed in the cloud. In this way, Cloud Backup and StorageGRID provide you the required flexibility to design the backup infrastructure as per your organization's compliance requirements.
Customer-controlled cloud storage
Backup data is stored in object storage in a customer's cloud environment. NetApp doesn't have access to the data, which is kept secure and handled by the customer. By default, public access to the object storage is turned off. Customers can further tie down the access to the object storage to users based on principles of least privilege using role-based access control methods from the cloud provider..
Get More from Your Object Storage with Cloud Backup
Object storage as an independent copy of your data in the cloud offers multiple benefits compared to its alternatives: reliability, scalability, security, and control, to name a few. It's quickly displacing traditional backup storage solutions by providing an air-gapped cloud storage option.
NetApp Cloud Backup is a secure and efficient backup solution that enables you to take advantage of the power of cloud object storage to meet your backup requirements. Watch the NetApp Cloud Backup group demo or sign up for a free trial to learn more.