Subscribe to our blog
Thanks for subscribing to the blog.
When organizations rely on file-level backup to protect their ONTAP data, they often have to deal with long backup and restore windows, making it tough to meet RPOs and RTOs. There are lots of solutions out there that aim to solve that problem, but just like Apple earbuds are made to work with Apple iOS/X, and BMW engines are designed for BMW cars, when it comes to backing up ONTAP data nobody does it better than NetApp.
NetApp Cloud Backup Service provides a seamless way to backup ONTAP by coupling efficiency-preserved block backups that are incremental forever with NetApp Cloud Manager's management and automation capabilities.
Let's find out how:
Backing Up NAS Data Isn't Easy
Traditional solutions often back up data on a file level. But file-level backups have unique considerations to take into account. NAS shares can be backed up with NDMP or native SMB / NFS, but that is an all file-level copy which means the copy loses all of the ONTAP storage efficiencies. File-level backups also aren't incremental forever, which means that every couple of weeks you will need to backup all of the data all over again—and it can take weeks for a single full backup.
That longer backup windows increase the risks involved in backing up NAS data, including files transfer failures, open files, missing permissions, and checksum issues, all of which can leave files unprotected. That can expose you to risks of data loss or inconsistencies. Organizations can also find themselves unable to meet demanding RPOs or RTOs.
Large environments typically have many files that change frequently, which makes it even more challenging to keep data backups in sync. Spreading applications and data across hybrid and multicloud environments only compounds the problem. These file-level backup and recovery challenges started on-premises, and they persist for cloud data backup. And there are more challenges.
In the cloud you can't segregate your backup network from the production network as the IOPS / throughput limit is on the instance level, and not on the individual vNICs. That means the de facto backup will consume production resources which leads to higher infrastructure requirements and bandwidth usage.
While these file-level backup problems are universal, there is one solution designed for ONTAP that addresses these challenges and protects ONTAP data whether on-premises or in the cloud.
Cloud Backup Service: Why NetApp Block Backup Is Better for ONTAP
NetApp Cloud Backup Service is NetApp-native solution to back up ONTAP systems.
The service uses a block-level replication engine to bring backup and restore capabilities for protection and long-term archive to Cloud Volumes and on-premises ONTAP clusters.
Block backups with Cloud Backup Service offers a number of benefits over file-level backups:
Set and forget. Cloud Backup Service manages and automates your backup schedules and policies to meet the most demanding recovery objectives with no oversight.
Incremental forever backups. Cloud Backup Service backups are incremental forever, avoiding additional operational complexity, time, and costs.
Retaining storage efficiencies. Because Cloud Backup Service block-level backups preserve ONTAP storage efficiencies end-to-end, backups and restores are faster than file-level backups.
Cloud Backup Service leverages several intelligent NetApp technologies:
Snapshot™ technology. Block-level backups are quick, consistent, and do not affect the source Cloud Volumes ONTAP. Cloud Backup Service complements Cloud Volumes Snapshot copies by letting you choose data management capabilities that match your recovery time objective (RTO) and recovery point objective (RPO) requirements.
SnapMirror Cloud. SnapMirror® Cloud replicates block data from Cloud Volumes ONTAP or from on-premises ONTAP directly to the cloud provider object storage on Amazon S3, Azure Blob, or Google Cloud Storage.
NetApp Cloud Manager

.

Provides a single-pane visibility control panel from which you can manage the Cloud Backup Service, giving you control over the volumes that you want to back up and from where you would like to restore from. Learn how to set it up here.
NetApp's Cloud Backup Service is available on the major hyperscalers: Azure, GCP, or AWS.

Cloud Backup Service Details
Cloud Backup Service offers the features that you'd expect from a backup solution without the complexity. Let's delve into some of the features.
The fastest restore possible. Restores are also done on a block level. There are no requirements for a service account, or mounting the backup data and copying it with an external client or a proxy. All restore operations are done directly from the restore target ONTAP cluster that will hydrate the data. This hydration is a direct extraction of the data, with all of the storage efficiencies preserved, fully encrypted in-flight, and all completely automated by Cloud Backup Service.

Restores can be done on a volume, folder, or file level. Other restore options in Cloud Backup Service include the ability to restore volume, folders, and files out-of-place. For crash-consistent and application-aware backups, Cloud Backup Service can integrate with NetApp SnapCenter®.
File-level Restores. Thanks to the fact that all the metadata is kept with the backup on the backup bucket, Cloud Backup Service can build the catalog functionality on the fly from the actual backup without media servers and large amounts of storage for indexing and cataloging. Because the restore is done directly from ONTAP, ONTAP extracts the necessary files on a block-level pronto. It's a leaner approach that does not require any complex infrastructure to maintain, or planning for protection of that catalog, which in the worst case will only take a few seconds to rebuild.
Incremental Forever. Other backup solutions are incremental, but they are limited in the increments they can save, and require a full backup to be created periodically in order to create new baseline copies and delete previous increments. Cloud Backup Service is incremental forever, which simplifies processes, saves time and reduces maintenance operations, making it more ideal for ONTAP deployments.

End-to-End Security.

Cloud Backup Service offers end-to-end encryption of the Cloud Volumes data both at-rest and in-flight. Specifically, data travels across secured DirectConnect links to the Cloud Backup Service and is protected at rest by AES 256-bit encryption. The encrypted data is written to the cloud using HTTPS TLSv1.2 connections. Any data traveling to Amazon S3 from the customer's VPC only passes through secure VPC endpoint connections.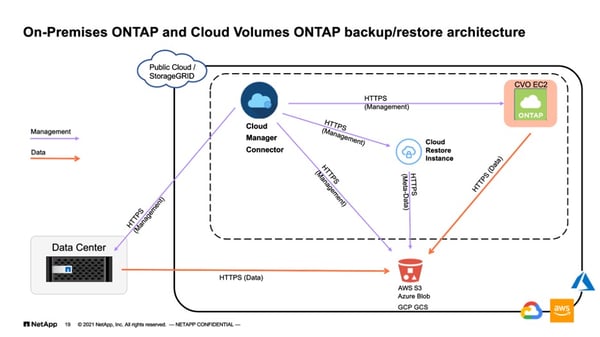 Independent Backups. Cloud Backup Service's independent backups give greater protection from data loss. If your Cloud Volumes ONTAP cluster gets deleted, a volume snapshot alone won't let you recover your data. Cloud Backup Service, though, can save your data because it's independent from the Cloud Volumes ONTAP cluster and stored in public cloud object storage that you own. Cloud Backup Service helps you apply a 3-2-1 backup strategy where three copies of your data are stored on two different kinds of media, with one backup copy offsite.
Customer-owned Backups. With Cloud Backup Service, all the data and the infrastructure components remain completely in your environment—NetApp has no access to it. While the service orchestrates and automates the deployment and management of ONTAP backups, it's all comfortably under your control.
Cloud Backup Service Benefits
Seamless integration. Your ONTAP system is already plugged into the technology that fuels Cloud Backup Service. ONTAP's key technologies are integrated seamlessly with Cloud Backup Service, from dependable and cost-efficient Snapshot and storage efficiency features to the smooth orchestration capabilities of Cloud Manager and SnapMirror Cloud to manage how data moves between your ONTAP systems and the cloud. It's all already at your fingertips, now with a better way to back it all up.
Increase operational efficiency. With incremental-forever backups, Cloud Manager automation, and built-in policies, Cloud Backup Service saves organizations the hassle of managing the backup infrastructure, all from the same controls at use in your ONTAP deployment. Backup expertise isn't required, and the staff can free itself for strategic operations such as dealing with architectures and workloads, rather than managing infrastructure.
Lower TCO. Thanks to operational efficiency, fewer infrastructure components to maintain and manage, preserving storage efficiencies, and replication on a block level, Cloud Backup Service results in less work, less storage data to consume, and less spending.
Better performance. With both backup and restore data transfers preserving the storage efficiencies in the block-level replica, there is minimal performance impact on the production environment and improved RPO and RTO.
Cloud Data Backup for ONTAP is Better with NetApp
When it comes to backing up ONTAP data to the cloud, nobody does it better than NetApp. With Cloud Backup Service, ONTAP users now have a familiar, easy-to-use solution for backing up to the cloud automatically that is seamlessly integrated with ONTAP, fully automated with Cloud Manager, and incremental forever.
Having an independent, reliable backup in the cloud can be the difference between recovering with minimal data loss or having all of your data unsalvageable. That's easier than ever for ONTAP users thanks to Cloud Backup Service.
It is the essence of the NetApp data fabric.
To see how all of this works, watch this free webinar on Cloud Backup Service.