Backing up your critical enterprise data is one of the most crucial parts of protecting your operations in the cloud. While this has traditionally been a task reserved for the storage admin, there's an easier way to do it now than ever before. That way is NetApp Cloud Backup.
You may have already heard the announcement: NetApp Cloud Backup Service, a fully managed enterprise cloud backup and restore service, is now available for use with Cloud Volumes ONTAP. Cloud Backup Service brings NetApp's comprehensive backup and restore capabilities to the hyperscaler cloud, currently available with Amazon Web Services (AWS), and soon to be supported in Microsoft Azure and Google Cloud Platform as well.
In this blog post we introduce Cloud Backup Service and explain how it can enhance operations in Cloud Volumes ONTAP.
Cloud Backup Service: A Short Introduction
Cloud Backup Service is a backup and restore service that integrates with NetApp's Cloud Volumes ONTAP and with Cloud Volumes Service. It is a seamless, fully managed service provided by NetApp that delivers full-volume backup, long-term archiving, and disaster recovery copies, even in the case of deleted or unavailable volumes.
The cloud-based backup service is cost efficient as it runs solely in the cloud—teams don't need to deploy and manage any extra infrastructure. Furthermore, since the backups are based on NetApp Snapshot™ technology, after data is initially backed up, subsequent backups are block-based and incremental. Since Snapshot copies are point-in-time images of your data, you can restore to any point-in-time that you need, as you need it.
With Cloud Backup Service, Cloud Volumes ONTAP data is protected end-to-end, and encrypted both at-rest and in-flight. In addition, backup copies are stored separately from the origin volume, which helps meet data protection requirements.
Your Cloud Backup Service billing is completely integrated with the rest of your cloud bill from your cloud service provider, and is based on a pay-as-you-go, metered basis.
What Cloud Backup Service Adds to Cloud Volumes ONTAP
Data loss and downtime can be extremely damaging to a business and should be avoided at all costs. An efficient, quick, and reliable backup and recovery plan in place is essential. Cloud Backup Service integrates with Cloud Volumes ONTAP to deliver just such a solution.
Cloud Backup Service provides reliable backup and swift recoverability at a low-cost. In the AWS backup service, backup copies are maintained in AWS S3 buckets, a lower-cost object storage service that offers high durability and availability, making it a perfect fit for storing data for long-term retention. Besides reducing storage costs, the service operates with great operational efficiency. By leveraging block-based NetApp Snapshot backup and SnapMirror® technologies, volumes are backed up incrementally, so only new blocks are backed up. In this way, backup takes place seamlessly, without affecting the actual Cloud Volumes ONTAP volume.
In addition, Cloud Backup Service and Cloud Volumes ONTAP offer data management capabilities, cloud automation, and flexibility to match your requirements for recovery time objective (RTO) and recovery point objective (RPO). These processes can be highly automated, saving additional time and resources. Automated backup policies can be configured to determine critical parameters such as how long data should be retained and how often backup should take place.
Cloud Volumes ONTAP offers some major additional features and benefits:
Out of the box storage optimization: Cloud Volumes ONTAP supports an array of storage efficiencies, such as data compression and deduplication, cutting down on storage costs.
NetApp Cloud Manager: Provides a single-pane visibility control panel from which you can manage the Cloud Backup Service, giving you control over the volumes that you want to back up and from where you would like to restore from.
How to Start Using Cloud Backup Service
Backing up Cloud Volumes ONTAP data is very straightforward and can be achieved with a few quick and simple steps:
Start by opening your Cloud Manager and select the Cloud Volumes ONTAP working environment you want to backup with the Cloud Backup Service.
If you don't have a Cloud Volumes ONTAP working environment set up, follow the instructions described in Getting Started with Cloud Volumes ONTAP in AWS: The Setup Walkthrough to start one.
1. To start backing up your data, click on the desired working environment and click on "Backup to S3" at the right-hand side of the screen.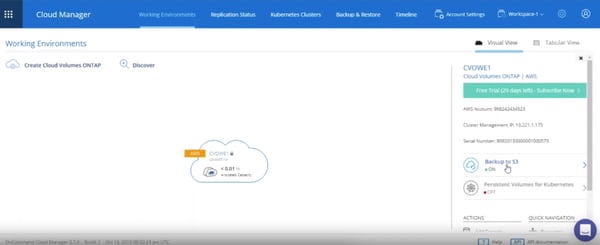 2. In the backup settings you will find that by default all volumes are backed up daily and retained for 30 days. Below you can set your backup policy, selecting the daily, weekly, or monthly backup options.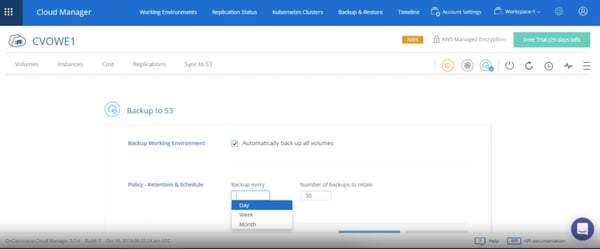 3. To see which volumes are protected click on the Backup and Restore tab in the Cloud Manager top menu.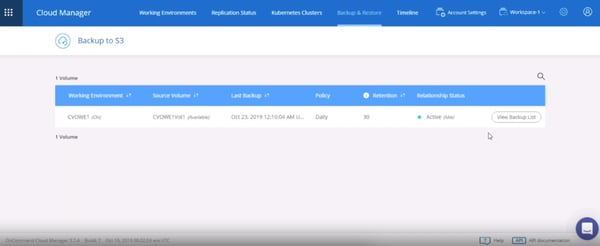 4. From here you can recover volumes by clicking on "view backup list" and choosing which backup you wish to recover.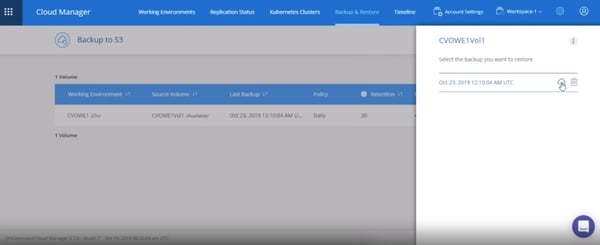 5. The volume will be restored to a new volume which will appear in the volumes list after you click restore.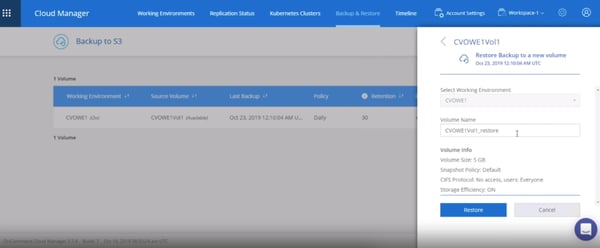 And that's it. You're now protected by NetApp's fully managed backup service, ensuring that you have the highest level of protection with no added effort on your part.
To see how to set this up in action, watch the webinar on Cloud Backup Service here.
Data is often the most valuable of company assets, rendering backup and DR incredibly important. Building on its experience reforming the backup and DR strategy of countless enterprises, NetApp has now launched a Cloud Backup Service which allows you to easily back up your critical Cloud Volumes ONTAP data almost instantly. This fully managed backup-as-a-service leverages NetApp Snapshot™ technology to generate backups seamlessly and cost-efficiently, providing swift recoverability of any point-in-time snapshot copies.
Conclusion
Besides being incredibly easy to set up, the backup service comes with highly automated backup policies which can be configured to suit your needs, determining backup frequency and retention period.
There's a lot more to find out about Cloud Backup, including its indexed catalog feature that makes it possible to search and restore individual files from backups, the dark site deployment option that stores backups offline with zero internet connectivity, and much more.