There's more data than ever, and that means there's more of it to back up, too. With these new petabyte-scale demands, older backup methods simply can't meet enterprise-grade backup windows. Fortunately, NetApp has a solution: cloud backup services with NetApp Cloud Backup.
Cloud Backup is a new backup-as-a-service offering that lets ONTAP and Cloud Volumes ONTAP users create automatic, block-level and incremental forever backups that are stored efficiently in object storage in the cloud or on-prem in StorageGRID appliances.
In this blog we'll look at the key features that make Cloud Backup the most efficient, cost-effective, and safest way to back up your ONTAP data.
Jump down using the links below to read about:
The Importance of Protecting Data Hosted in ONTAP
Data is more important than ever, but even before the explosive growth of data that has taken place over the last few years, it needed a high level of protection. ONTAP storage systems house the data and applications that are mission-critical for enterprise businesses.
Any threat to the data stored in ONTAP systems will directly impact an organization at every level, from the clients' end-user experience to the businesses' bottom line. The threats are multifaceted and growing: a data center can become inoperable from a natural disaster, some kind of equipment failure at the hardware or application level, power loss, and more malicious acts, such as war and cyberattacks. Even the people in charge of running systems can make mistakes and accidentally delete data.
That's why as long as there have been ONTAP systems there have been ways to back up the data in those systems.
How Has ONTAP Data Been Backed Up Until Now?
For years, there have just been two ways to back up your ONTAP data: leveraging secondary ONTAP systems or turning to third-party backup solutions. Let's take a look at both of these options, and some of the shortcomings of each approach.
ONTAP users looking to back up their data could leverage a third-party backup technology. For the most part, these technologies were based on the Network Data Management Protocol (NDMP). But backup has big demands, and NDMP has limits.
NDMP Challenges:
Demanding
Impacts production
Requires continuing performance optimization
Complex
Oversizing
Constant maintenance
Costly
High level of skill required
Higher risk for making mistakes
Unreliable
Missed backup windows
Open files aren't backed up
Limits to the number of backup volumes and restores
No encryption in-flight
Bottom line: NDMP does not fully protect data and is not scalable. For more on how NDMP solutions work, check out this post.
For users taking a more NetApp-native approach, they could back up their data housed on a primary ONTAP system to a secondary ONTAP system. While this was a useful method that could be accomplished totally within the NetApp ecosystem, there were a number of challenges involved with it.
Secondary ONTAP Challenges
Does not follow the 3-2-1 strategy
Backups should be in two different media (the 2 in 3-2-1)
Destination costs
Destination machines require upkeep and maintenance, including version parity, maintaining a remote site, and more.
Limitations
Limited scalability, access, payment, connectivity, and retention policy management options.
Bottom line: Secondary systems aren't optimized for the backup storage use case.
While both of these methods have served in the past, the reality of today's growing data estate scale has made them less effective at protecting data. ONTAP users are increasingly putting their data at risk simply because it has become too large to back up within target backup windows.
When backup windows are missed, data falls through the cracks. If anything goes wrong, you may not be able to restore the system to the state it was in before the disaster took place.
Enter Cloud Backup: The Best Way to Back Up Because It's Designed for ONTAP
Cloud Backup service is NetApp's solution for backup on ONTAP systems, whether they're on-prem or in the cloud with Cloud Volumes ONTAP. Cloud Backup is an automated way to create backups that are cost-effectively stored in object storage, either in the cloud on AWS, Azure, or GCP or on-prem in NetApp StorageGRID appliances.


The key features that Cloud Backup delivers:
Full NetApp integration: Cloud Backup is simply the most optimal backup service for NetApp systems, whether on-prem or in the cloud. It's based on the mainstays of every ONTAP deployment, namely NetApp Snapshot technology, SnapMirror data replication, SnapCenter, and more.
Block-level backup: Unlike NDMP-based solutions, which only back up data at the file level, Cloud Backup creates block-level copies. This means that files can be backed up and restored much quicker.
When your back up speed is faster, that means there is less chance of missed backup windows, and more opportunities to back up. This ability makes it easier to meet your recovery point objective (RPO), especially since restores can be done on a granular level.
Incremental forever: Utilizing SnapMirror Cloud, Cloud Backup creates true incremental forever backups. That means, after the initial baseline copy, only changes ever need to be synced from the primary to the backup. These smaller updates also reduce the amount of network traffic that is required to keep your files up to date.
Other solutions can't promise true incremental updates, frequently requiring new full copies to replace the older ones, which is time consuming, bandwidth heavy, ineffective, and risks more data loss.
Efficiency preservation: Backups consume storage space too, and with Cloud Backup ONTAP users can rest easy knowing that all of the native ONTAP storage efficiencies remain in the backup copy. That means you not only save on the costs of storing the backup, but transfer times are reduced since the data is as compact and streamlined as possible.
A third party solution simply can't provide that assurance, meaning your backups take longer to create and transfer, cost more to store, and contain information that probably doesn't need to be backed up.
No media gateway: All Cloud Backup copies and restoration jobs are done directly to and from the primary source, with no media gateway required. The data is directly extracted, and preserves all storage efficiencies with full encryption.
This is a more lightweight solution, while other backup methods require extensive intermediates that can add an infrastructure burden to your architecture.
Automation: One of the main benefits that Cloud Backup provides storage admins is a greater set of automation tools. From the API commands that can be used instead of the Cloud Manager GUI to the set and forget backup scheduling and automatic restores, Cloud Backup makes it much easier to backup enormous data sets that otherwise can prove difficult to manage.
To see how easy this is for yourself, have a look at the Cloud Backup product simulator.
What Makes Cloud Backup Unique?
Performance
Avoid the performance drawbacks of NDMP-based solutions with faster, more efficient backup method.
Never miss a backup window: Block-level and incremental forever backups
Backup data 100x-times faster: Block-level is significantly faster than file-level backup
Sync less, save more: Only changes are synced to the initial copy, reducing capacity and back up time
Decreased bandwidth use: Up to 97% less
Preserve ONTAP's storage efficiencies: Including deduplication, compression, and compaction
Reduce stress on the environment: Back up directly with no media gateway
Unlimited scale: Object storage on AWS, Azure, GCP, or StorageGrid


Ease of Use and Automation
Get more control over how backups are created without introducing any additional overhead to your normal storage admin workload.
No learning curve: Activate in two minutes and operate with intuitive flows
Never miss a backup: Automated scheduling of volumes backups
Seamlessly add volumes: Auto discovery of new volumes

Fast restoration:

Restore entire volumes or single files with indexed catalog and direct restore
Managed infrastructure: Focus on managing backups instead of managing infrastructure
API access: Full RESTful and ONTAP programmatic capabilities
Centralized visibility and management: Built-in integration with Cloud Manager
Reliability
Cloud Backup provides a more reliable way to protect your data, ensuring data is always up to date and consistent.
Independent and reliable: Store your backups separately from ONTAP cluster
No middleman: Back up directly from ONTAP to the destination
Everything is backed up: Even open files, including meta-data & ACL
Immutable: Copies cannot be modified
Resilient: Object storage designed for 99.999999999% (11 9s) of data durability
Security
Cloud Backup is a more secure way to back up your data, ensuring this critical data stays out of the wrong hands and is safe from unauthorized access.
End-to-end encryption: AES-256 bit at rest and TLS/HTTPS in flight, CMK support
Secure connectivity: Private network connectivity between source and destination, with proxy support
Compliant: SOC2-type2 certified
Secured control plane: Multi-tenancy, RBAC, MFA
Immutable backups: Data can't be changed once it is written
Cost efficiency
Cloud Backup makes it less expensive to back up enterprise-scale data sets.
Reduce footprint: Maintaining native ONTAP efficiencies
Save on hardware, storage, and effort: Using direct backup & restore to/from cloud
Optimized for lower cost: Backups reside in an object storage system
Archival tiers support: Use the most low-cost storage tiers available
Availability
Source: On-prem (ONTAP) and cloud-based (Cloud Volumes ONTAP)
Destination: On-prem (StorageGrid) and all cloud providers (AWS, Azure, Google Cloud), in all regions + Gov cloud
Available as a service (SaaS) or as self-managed software
Hover on cloud elements
Cloud Volumes ONTAP
S3
Backup from Cloud Volumes ONTAP to Amazon S3
Restore from Amazon S3 to Cloud Volumes ONTAP or to ONTAPNote: Restore destination can be different from backup source
Cloud Volumes ONTAP
Blob
Backup from Cloud Volumes ONTAP to Azure Blob
Restore from Azure Blob to Cloud Volumes ONTAP or to ONTAPNote: Restore destination can be different from backup source
Cloud Volumes ONTAP
GCS
Backup from Cloud Volumes ONTAP to Google Cloud Storage
Restore from Google Cloud Storage to Cloud Volumes ONTAP or to ONTAPNote: Restore destination can be different from backup source

Backup from ONTAP to StorageGRID, Amazon S3, Azure Blob or Google Cloud Storage
Restore from StorageGRID to ONTAPNote: Restore destination can be different from backup source
What Kind of Data Can Cloud Backup Protect?
Cloud Backup can be used to back up any type of data that you store, including NAS data, Kubernetes-based persistent storage, applications, VMs, and databases. With SnapCenter integration, database users can be assured that all database copies are fully consistent.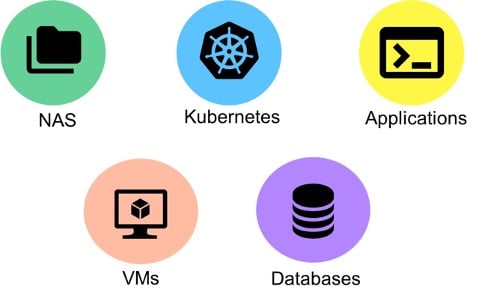 Workloads protected by Cloud Backup
Summary
NetApp understands ONTAP better than anyone else, which is why the best backup solution for ONTAP systems is NetApp Cloud Backup. Designed by NetApp specifically for ONTAP, Cloud Backup automatically creates block-level incremental forever backups. These copies are stored in object format and preserve all ONTAP's storage efficiencies. Your backups are 100X faster to create, easy to restore, and much more reliable than with any other solution.
Cloud Backup simplifies the entire back up process. It's intuitive, quick to deploy, and managed from the same console as the rest of the NetApp cloud ecosystem. Whether you're looking for a less expensive way to store your backups, a faster, more capable technology than NDMP, or an easy way to enable a 3-2-1 strategy, Cloud Backup offers the best backup solution for ONTAP.