As more and more businesses become data driven, the size of the data estate has grown exponentially. This trend is expected to continue, requiring organizations to think innovatively about data, including how it's backed up. One way they are doing that is with the help of cloud backup tools.
Data size and backup size are directly correlated, and so are the associated storage costs. There's a significant chunk of investment required for backup storage upkeep. But don't worry: NetApp has your back.
In this post we'll take a look at eight ways that you can reduce your backup storage costs using BlueXP backup and recovery.
Use the links below to jump down to the sections on:
Why Backup Costs Are So High (And What You Can Do About Them)
A large part of the reason why backup costs can be so high is the technology being used to create those backups: NDMP.
There are a number of reasons why NDMP just doesn't work for enterprise-scale backup needs. The lack of compression methods in traditional NDMP-based backup systems results in larger backup size requirements. These solutions also come with increased operational overhead and maintenance costs. Organizations end up investing double the budget because they have to pay both for data and the backup storage.
Traditional backups can also require additional investments in hardware depending on the features being used, be it media gateways for staging backup data or hardware for add-on indexing applications that can quickly search and restore files. All of this translates to increased CAPEX and maintenance costs. Needless to say, all of this is a nightmare for storage admins.
NetApp ONTAP and Cloud Volumes ONTAP customers benefit from some of the native data protection capabilities, such as SnapVault® and SnapMirror® replication. However, even those solutions aren't optimized to serve as native backup solutions and frequently rely on secondary cloud or on-prem ONTAP systems for backup storage, which adds up. Cloud Backup, part of BlueXP, helps customers reduce the overall backup costs.
Cloud Backup is the automated backup service designed for ONTAP, whether based on-premises or in the cloud. While keeping associated costs to a minimum, it provides a seamless backup solution that is natively compatible with ONTAP systems, so it avoids the added costs of NDMP-based backup solutions.
Let's take a look at eight ways Cloud Backup that makes this possible:
Using Object Storage

Not every storage format is optimized for back up. Since backups sit idle until they are needed, you don't want them taking up space on a highly performant disk type. Cloud Backup solves this problem by storing backup copies in low-cost object storage.

Leveraging the Cloud

Cloud Backup can use both NetApp StorageGRID® appliances on-premises or cloud-based object storage on AWS, Azure, or Google Cloud. In case of cloud object storage, customers will pay only for the storage that is being used by the backup copies, which has significant cost benefits.

Since Cloud Backup virtualizes the entire backup target, there is an overall reduction in the cost of hardware, storage, floorspace, and manual effort required to manage the backup infrastructure.

Preserving ONTAP Storage Efficiency Features

When using traditional, NDMP-based backup solutions, ONTAP users have always lost their data's crucial storage efficiencies: i.e., deduplication, compression, and compaction. That means the backup data was larger and costlier than the primary data.

But with Cloud Backup, all the storage efficiency features of ONTAP are preserved, helping to reduce the target object storage footprint. That's in addition to the reduced hardware footprint we'll cover below.

Eliminating Media Gateway Hardware and Storage

Traditional backup methods can require additional storage to house the backup, serve as the media gateway, and provide indexing capabilities, plus the maintenance costs to take care of all of them. Cloud Backup reduces all of those numbers.

Cloud Backup eliminates the need for a media gateway in the backup architecture and also offers built-in indexed catalog capabilities.

Archival Tier Support

The cloud-based archive tiers offer the lowest-cost storage environments for data that does not need frequent access, if ever.

Cloud Backup supports tiering data to the archival object storage classes of AWS, Azure, and Google Cloud. Older backups can be automatically tiered to the archival storage after a specified number of days.

Only Pay for What You Protect

Traditionally, backup solutions have asked users to pay upfront licensing and renewal fees for the backup solution in addition to storage costs. With Cloud Backup, the cloud object storage costs and backup licensing are all available on a pay-as-you-go basis. Using that type of subscription model means users only pay for services that are used, all on a granular, hourly pricing basis.

Front-End Pricing Model

Cloud Backup uses a front-end pricing model which only meters the used capacity on the source volume. Consider how this works if you have a file that is updated daily and backed up with Snapshot copies throughout the day. You are only charged for the capacity used by the source volume, NOT for the capacity consumed to store the Snapshot copies in the destination. Since only the used capacity of the source ONTAP systems is taken into consideration, this helps bring down the overall TCO.

Volume Price Break

For additional cost optimization, customers can opt for annual contracts with committed usage. Based on the protected data size and the term of the commitments, the overall cost of the solution can be as low as $0.017 per GB per month.
Get More Insight Into Your Storage Costs: Try the TCO Calculator
Calculating your total cost of ownership (TCO) can provide a long-term perspective of the overall investment and its returns when it comes to your backup infrastructure. NetApp has an easy way to help you do that: the Cloud Backup TCO calculator.
The Cloud Backup TCO calculator helps you estimate your overall backup costs by looking at how much you would spend using Cloud Backup versus other third-party backup methods over a period of one year, two years and three years.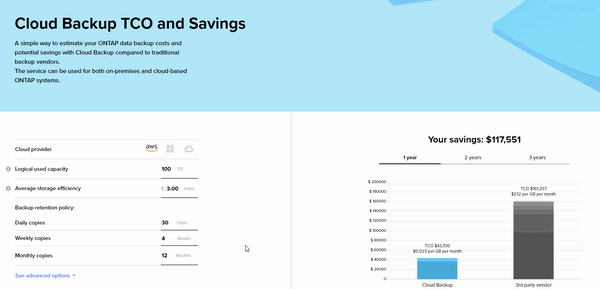 This calculator can be used for multicloud as well as hybrid ONTAP deployments. To try it out now, access the calculator here: Cloud Backup TCO Calculator.
To get started, punch in the following details:
The target cloud service provider
Used capacity of your ONTAP system
The storage efficiency configured for ONTAP systems (set to 1:3 by default)
The backup retention policy i.e. number of daily, weekly and monthly copies
The monthly change rate and data growth rate of your ONTAP environment
The archival tier if you are planning to use it and the tiering interval, e.g., 1 month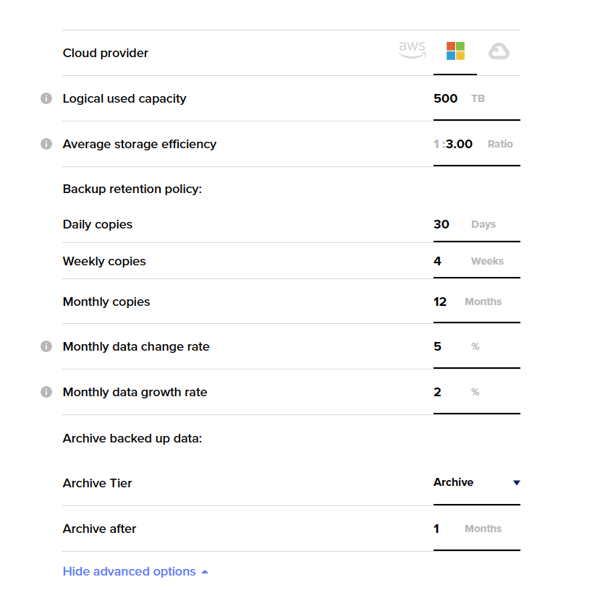 The TCO calculator provides an estimate of your TCO over one-, two-, and three-year periods, comparing the costs of using Cloud Backup with the costs of using a third-party solution.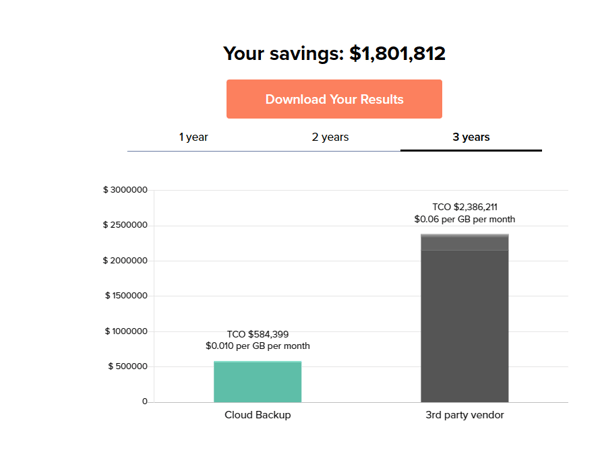 The TCO calculator provides a clear view of the savings you'll see over several years using Cloud Backup. This helps quantify the return on investment and savings you'll get with BlueXP.
Conclusion
Cloud Backup, part of BlueXP, is the most cost effective, simple solution that you can use to protect your ONTAP data estate in multi and hybrid cloud environments. In addition to the tangible savings the service offers, being a first party solution makes the integration process much easier. Your ONTAP systems can be secured from a single management interface with a few clicks, significantly lowering the cost of backup operations as a whole.
There are options to fit any scale of backup budget: find the BlueXP plan that can best fit your needs.
Explore the Cloud Backup TCO calculator today to know how much savings you can bring in by adopting the service.