The 3-2-1 strategy is the most widely used backup strategy among today's enterprises. How did this backup architecture model wind up dominating the industry, and what technological changes are making it a more popular backup strategy than ever?
In this blog we take a deep dive into the 3-2-1 strategy, explaining what it is, how it's changing, and how NetApp Cloud Backup is making it better than ever.
Use the links below to jump down to read about:

What Is the 3-2-1 Strategy?
In 2009 the photographer Peter Krogh introduced the 3-2-1 backup concept in a book about digital asset management for photographers. At that time on-prem tapes and disks were the leading backup media and 3-2-1 meant three copies of the data (3) on two different media types (2), with one of the backup copies stored off-site (1).
Figure 1 illustrates the 3-2-1 strategy as originally conceived by Peter Krogh:

Figure 1: The original 3-2-1 strategy
The benefits cited by the proponents of the 3-2-1 approach include:
Multiple data copies provide multi-layer protection against both internal (insider) and external cybersecurity threats.
Multiple media types ensure failover viability in the case of physical or logical failure of one media type.
The onsite copy facilitates quick restores, with the offsite copy at the ready just in case the onsite copy is compromised.
Information security teams quickly embraced the 3-2-1 approach, making it the de facto standard for responsible data protection. In fact, the US federal agency Cybersecurity and Infrastructure Security Agency (CISA), which is under the oversight of the Department of Homeland Security, urges both individual users and businesses to implement a 3-2-1 backup strategy in order to safeguard digital assets.
But nothing about IT remains static for long. Since the advent of the 3-2-1 strategy, two important trends have changed the digital asset management landscape: the predominance of the public cloud and the rising threat of cybercrime in general and ransomware in particular. The public cloud has become an attractive backup alternative to on-prem disks and tapes, while ransomware threatens backup copies in parallel to the primary data set.
Variations on the 3-2-1 Strategy
The predominance of the public cloud has introduced some variations to the 3-2-1 strategy. Here are a few examples:
Still 3-2-1

, but 3 =

3

backup copies (in

addition

to the primary dataset), where

2

of those backup copies are stored in different cloud regions, and

1

backup copy is onsite for quick and cost-effective restores.

3-1-2

, where

3

is the same (one primary dataset + two backup copies),

1

is the media type (disk only), and

2

is each backup copy stored in a separate cloud region.

1-2-off

, where

1

is the primary dataset,

2

equals a secondary failover copy (snapshots) plus one true backup, and

off

means that one of the secondary/backup copies is offsite or in a geographically separate cloud region.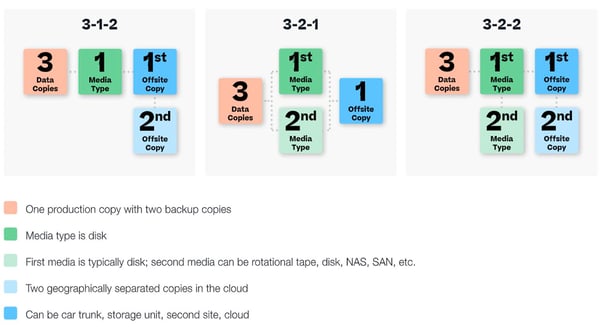 The Latest in 3-2-1 Implementation: Cloud Backup
NetApp Cloud Backup is a fully managed, NetApp-native backup service for ONTAP or Cloud Volumes ONTAP data. Cloud Backup creates block-level, incremental forever backups that are stored cost effectively in object storage either in the cloud with AWS, Azure, or Google Cloud or on-prem with StorageGRID® storage appliances. It leverages NetApp's SnapMirror® data replication technology to automatically make sure the copies are fully synchronized at all times.
Cloud Backup delivers an optimal 3-2-1 solution aligned with the latest trends in the 3-2-1 model:
Cloud Backup is an additional copy of your data

, independent of your ONTAP cluster (the 3 in 3-2-1)

Using object storage with

Cloud Backup counts as changing the format

(the 2 out of 3-2-1)

Cloud Backup copies are stored offsite

, either air-gapped with the software-only mode or in the Cloud (the 1 out of 3-2-1)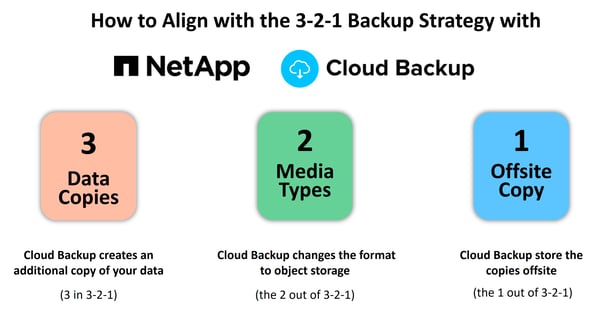 As the third copy in your 3-2-1 strategy, Cloud Backup offers benefits that other technologies can't provide:
Designed for ONTAP:

Cloud Backup has been designed by NetApp specifically to back up ONTAP data. The benefits to this specialization allow users to:

Avoid the added costs, integration workload, and learning curve that come with using a third-party vendor technology.

Integrate your backups with the rest of the NetApp ecosystem.

Continue all your existing processes in the cloud backup copy

Manage backups seamlessly using the same, familiar controls that you already know.

Performance

: No longer will NDMP-based backup performance bottlenecks cause a missed backup window. Cloud Backup backs up data 100X faster than legacy backup systems because:

Block-level backups are significantly faster than file-level backups

Once a baseline copy is created, only incremental changes are synced (incremental forever)

ONTAP storage efficiencies (deduplication, compression, compaction) are preserved, with both performance and cost benefits

Direct backups eliminate the need for a media gateway, reducing stress across the environment

And all of these performance benefits are available at unlimited scale.
Automation

: Here's how Cloud Backup, which is fully integrated with Cloud Manager, provides better visibility and control of backups without additional overhead:

No learning curve; just two minutes to activate and then intuitive, familiar flows

NetApp manages the infrastructure so that you can focus on backups

Automated scheduling of volume backups

Newly added volumes are discovered automatically

Programmatic API (RESTful and ONTAP) access

Reliability

: Storage admins can sleep better at night knowing that Cloud Backup:

Maintains an independent and reliable backup separate from the ONTAP on-prem or Cloud Volumes cluster

Eliminates "middlemen," with direct backup from ONTAP to the offsite destination

Backs up everything, including open files, meta-data and ACLs.

Makes copies that are immutable and hence safe from ransomware and other data obfuscation exploits

Uses object storage that is designed for 99.999999999% (11 9s) data durability

Security is at the core of Cloud Backup, ensuring safe creating and storage of backups through:

End-to-end encryption at rest (AES-256) and in flight (TLS/HTTPS), with CMK support

Private source-destination network connectivity, with proxy support

Fully compliant with SOC2-type 2 certification

A well-secured control plane that upholds multi-tenancy isolation controls as well as role-based access control (RBAC) and multi-factor authentication (MFA)

Cost efficiency

by reducing and optimizing backup footprint and costs through:

Native ONTAP storage efficiencies (see the Performance benefit above)

Direct backup and restore to and from the cloud saves hardware, storage, and administrative overhead

Object storage is relatively inexpensive, and even less expensive archival storage tiers can be used for cold data

Capacity-based PayGo or BYOL licenses mean that you pay only for what you protect

The front-end pricing model meters usage based on the capacity of the source volume
Summary
Cloud Backup offers ONTAP users a way to align with the industry-standard 3-2-1 backup strategy without increasing costs or introducing new technologies to the deployment.
To enable 3-2-1 for your organization, sign up for a free trial of Cloud Backup today.