Many organizations rely on a conglomeration of storage systems, for a multitude of reasons. What kind of backup strategy can you follow to protect with this storage menagerie?
This article will discuss the idea of using a single backup solution for your different environments versus using a dedicated backup solution for specific storage systems used by your applications and users. We'll see that it pays to have a dedicated backup solution when it comes to backing up ONTAP systems.
Read on below or use the links below to jump down to the sections on:
The Two Approaches to Multi-System Backup
There are many reasons why an enterprise might wind up juggling multiple storage systems. Different storage technologies can be inherited during a merger, a company may acquire new storage to fulfill a function missing from an older storage system, or storage systems from multiple vendors may be in use are just a few examples of how this situation can take place.
But once those systems are in place, the question comes down to how to back them up. There are two approaches: finding one solution for all the storage systems (the best-of-suite approach) or looking for the optimal backup solution for each one (the best-of-breed approach).
Do you use a single best-of-suite or best-of-breed backup solution for your various storage?
The primary reasons for choosing a single system are performance, risk, and cost, which this article covers in more detail. To help decide the best strategy, we will summarize each approach below.
The Best-of-Suite Approach
The best-of-suite backup approach leverages an application or appliance that, via agents or in itself, can back up the various applications and databases that comprise your workloads, no matter what storage systems or applications are in use. It leverages one backup tool, such as NDMP, to serve all the environments.
The view of using a single backup solution for all your workloads is popular, but is it the best option for you? The primary reasons for choosing a single system are manageability, performance, risk, and cost.
Manageability
Having a single application performing backups usually means the interface is easier to learn and thus has lower training requirements, which reduces the time and cost of use. In addition, monitoring and notification should be more straightforward with single systems.

Performance
There is a belief that a single backup application will be better, with more throughput for fewer system resources.

Risk
Using a single backup is generally considered less risky than using multiple solutions. That assumption is based on the idea that using numerous backup systems increases the probability that one of them will fail and the risk of user error.

Cost
One backup system will be more cost-effective than using multiple backup systems. A single backup system comes with a lower cost of ownership in terms of licensing, minimum system requirements, training, and ongoing support costs. Carrying multiple solutions means multiplying all of those costs.
While all of these can be true, there are always exceptions. For example, user interfaces can be obtuse and non-intuitive, making them worse than using several simpler backup systems. In addition, applications developed to do many different types of backups may compromise performance to achieve a breadth of backups. Extensive application codebases can be harder to keep clean of bugs, increasing the risk of data loss. Finally, the opaque licensing of some applications can end up with a higher TCO than expected.
The Best-of-Breed Approach
The best-of-breed approach is to use the backup solution designed for that system. For example, the solution could be a system developed and optimized to back up a specific application or environment or a native backup service designed by the same vendor who created that storage appliance.
Using the same vendor for storage and backup can facilitate support and maintenance, reduce administration, and simplify billing, usually leading to a lower TCO.
A native solution also reduces risk by maximizing compatibility between storage technology and backup software, as the vendor will know their technology better than any other vendor. Aligning vendor technologies usually leads to better backup performance.
Segmentation of Responsibility
There are many variations in how companies provision and administer storage, and the same is true for the backup methodology.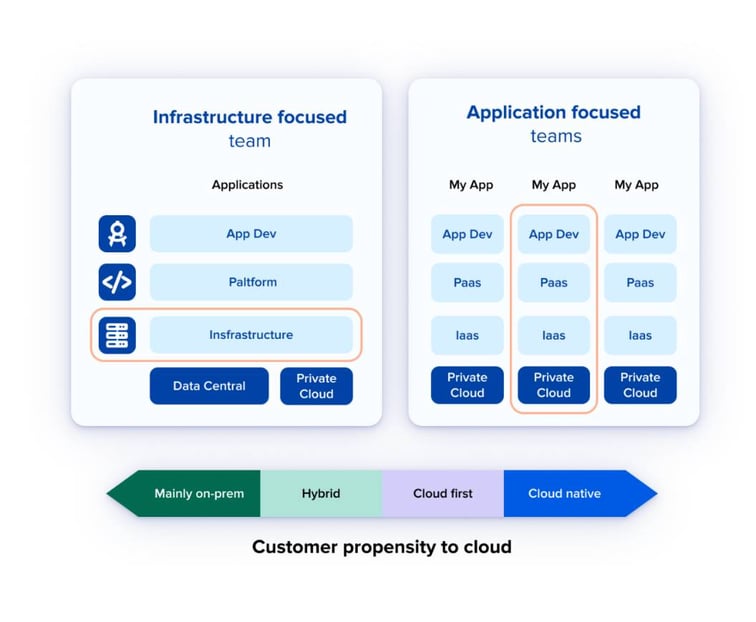 Infrastructure-Focused Teams
Infrastructure-focused teams approach their IT stack from a horizontal point of view.
Each IT layer will have teams responsible for that function across the organization. Usually, each team focuses on a specific element of that function. For example, there will be separate teams for compute, storage, or backup.
The backup (or storage and backup) team would oversee a lot of data storage by different departments on possibly multiple storage systems. These teams require a best-of-breed solution that can integrate well with their storage systems, preferably developed by the storage vendor, to ensure performance, reliability, and a low TCO.
Application-Focused Teams
Application-focused teams take a vertical point of view of their operations.
In a vertical world, a single application-focused team is responsible for all facets of an application, from its development to its storage to backup infrastructure. This is considered a more modern organizational structure.
These teams prefer a more straightforward solution, as they aren't necessarily specialists in storage or backups. A best-of-breed solution would provide the simple, reliable, low-administration solution they need.
Some enterprises are a hybrid where they are mainly horizontal but have some departments with teams responsible entirely for their application and data. A best-of-breed solution would be the best option and it should deliver benefits for both worlds.
How Blue XP Backup & Restore Serves ONTAP Users
The BlueXP backup and restore capability will benefit ONTAP users no matter which data protection structure is in use. BlueXP backup and restore is the best-of-breed backup tool for ONTAP that's made by NetApp.
No one has a deeper knowledge of ONTAP than its designers at NetApp, and that's what makes BlueXP backup and restore the optimal choice for ONTAP backup. Let's take a closer look at how it benefits users at both application- and infrastructure-focused teams.
For application-focused teams
If your application is your focus, there are unique advantages to using BlueXP backup and restore.
BlueXP backup and restore presents a very simple solution to onboard and operate: there's no learning curve, no training, and its workflows are very intuitive. It offers built-in automation for creating and syncing backup, and it even can be automated further with the use of APIs for those who prefer to work programmatically.
As a SaaS solution, BlueXP also presents less for the vertical view team to worry about, as its infrastructure is fully managed.
Bottom line: Vertical view teams would prefer to focus on their applications and not worry about the backup solution. BlueXP backup and restore allows them to do exactly that.
For infrastructure-focused teams
Horizontal view teams approach BlueXP a bit differently, and more fully as a best-of-breed backup solution.
These teams can use the BlueXP backup and restore functionality to protect their ONTAP systems and focus on the workloads that require a more complex operation and let the technology do whatever can be automated and optimized.
Bottom line: The horizontal team is getting the best backup for its ONTAP systems.
Whether your backup teams are structured horizontally or vertically, BlueXP backup and restore offers considerable benefits:
| | |
| --- | --- |
| Infrastructure-Focused | Application-Focused |
| A native service from the same vendor, providing the best integration. | A very simple, intuitive solution with no learning curve or training required. |
| Direct backup, no gateways, reliability and performance. | A lot of built-in automation and an API for in-house development and integration. |
| Fully encrypted end to end, in transit and at rest | A SaaS solution with managed infrastructure |
| Block-level, incremental forever backups, massively reducing ongoing storage costs for backups | Teams can focus on the application and not the backup. |
The BlueXP backup and restore feature provides a highly reliable, performant, cost-effective, and secure best-of-breed solution with:
Reduced costs since backups retain all the ONTAP storage optimizations
Better performance with incremental forever, block-based backups
Easy replication based on SnapMirror technology, which will reduce destination costs
Direct backups that do not require the use of a media gateway
More security with encryption at rest and in transit
Check out this post for a full description of all the benefits.
Conclusion
Juggling multiple storage systems means accommodating different backup requirements. For ONTAP-based storage, the BlueXP backup and restore feature provides a best-of-breed solution with minimal SaaS footprint, simple activation, low cost, and a web-based management GUI.
This is a dedicated ONTAP backup service that builds on your existing investment in NetApp technology using already-applied storage efficiencies and SnapMirror data replication to reduce data transfer and final storage requirements. That reduces costs while increasing performance, security, and reliability.
Optimize your backup experience by removing installation and maintenance and reducing the administration overhead with activation in seconds from a simple GUI.