Subscribe to our blog
Thanks for subscribing to the blog.
A well-rounded backup and data protection service is essential to any organization's Business Continuity (BC) and Disaster Recovery (DR) plan. However, the construct of backups can be unique to an organization and is often closely tied to its Recovery Point Objective (RPO) and Recovery Time Objective (RTO) requirements. Backups using local snapshots might be enough for one organization but may not be sufficient for another that requires offsite backups.
NetApp BlueXP storage and data solutions provide multiple native capabilities to protect your mission critical data. In this blog, we'll explore some data protection use cases that BlueXP addresses, such as local data protection, backup, archive, DR, and WORM, and the NetApp-native tools used to achieve data protection.
Jump ahead to a specific topic in this article:
NetApp SnapX Solutions
NetApp proprietary technologies such as Snapshot™, SnapMirror®, SnapLock®, SnapCenter®, and SnapVault® help with protecting your ONTAP system data. Let's take a closer look at some of these capabilities.
NetApp Snapshot Technology
NetApp Snapshot copies are point-in-time, immutable, incremental, and read-only copies of your data stored in ONTAP volumes. Snapshot copies have a low overhead and are created using unique Write Anywhere File Layout (WAFL) technology available in ONTAP systems. As it's a built-in BlueXP storage capability, there's no external integration required before you can begin using it.
SnapMirror
SnapMirror data replication can be used to replicate snapshot copies from one ONTAP system to another. It also uses NetApp SnapDiff technology in the backend to identify and replicate only changed data. This comes handy in cases of disaster recovery, data migration, or synchronization. SnapMirror replication relationships can be between any two ONTAP-based systems whether they're hosted on-premises, on a hybrid or multicloud solution, on BlueXP Cloud Volumes ONTAP, or on FSx for ONTAP.
SnapMirror Cloud
An ONTAP system copy can be sent to an object storage target by SnapMirror Cloud, a new cloud-based SnapMirror extension. SnapMirror Cloud offers asynchronous snapshot replication from ONTAP to object storage endpoints and is supported for ONTAP systems version 9.8 and above. SnapMirror Cloud supports StorageGRID® appliances or any of the cloud-based object storage services supported by ONTAP, including AWS S3, Azure Blob, and Google Cloud Storage as destinations for replicated data.
SnapVault
SnapVault® is the data archiving solution from NetApp that performs disk-to-disk Snapshot copy replication between ONTAP systems for the purposes of compliance. SnapVault needs a secondary ONTAP system to be operational. In case of data loss in the primary system, data will be available in the secondary ONTAP system, facilitating a quick recovery. Data is saved in the same format as the source since it's a disk-to-disk archival solution and doesn't benefit from an additional layer of protection where data is moved to object storage.
SnapLock
NetApp SnapLock is an industry-certified Write Once, Read Many (WORM) data storage technology available on ONTAP systems. WORM storage ensures that once data persists in a storage volume, it's not modified or deleted by making it read-only. This provides protection against malware attacks and is especially helpful for data that must be kept for legal or regulatory compliance requirements, such as financial transactions, medical records, and other sensitive information.
SnapCenter
NetApp SnapCenter Software is a data protection solution that provides centralized backup and recovery services for data stored in NetApp ONTAP storage systems. SnapCenter offers application-consistent data protection for leading enterprise applications and databases like Oracle, SQL server, and SAP HANA. It offers a user-friendly interface for managing Snapshot copies, replicating data to secondary sites, and recovering data in the event of a disaster.
BlueXP Data Protection Use Cases
Data protection use cases vary from organizations, industry verticals, or even within business units in an organization. Starting from a simple requirement of local data protection to immutability, disaster recovery, and long term archival and backup storage, BlueXP tools can cater to a gamut of scenarios. Let's take a deeper look into some of them.
Local data protection
If data loss occurs due to data corruption, hardware errors, or accidental deletion, having a local data copy reduces recovery time and helps bring your business back online quickly.
Snapshot copies are lightweight as only changes to the active file system are captured, making them faster to recover. Snapshot uses WAFL in the backend, where a read-only view of the WAFL volume is created and updated data is written to a new block and the pointer is changed.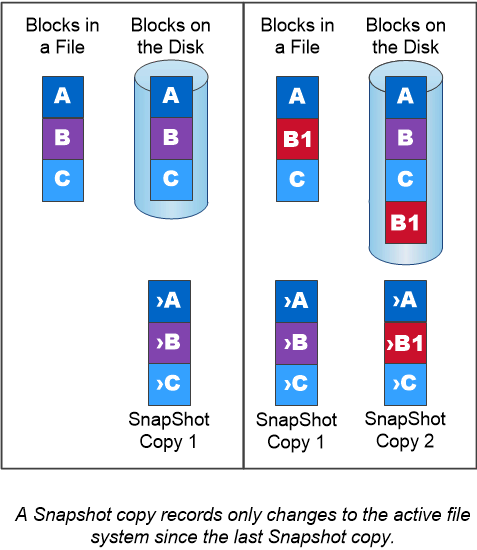 Some customers leverage local Snapshot copies as a data protection option because they can allow for quick recovery in the event of data loss or corruption. The Snapshot process is quick, storage efficient, and has minimal impact on production systems while offering local data protection.
WORM data locks
Customers storing sensitive and regulated data on ONTAP systems would need assured protection from ransomware and cryptoviral attacks. Businesses storing sensitive data need to be able to meet industry regulated standards of compliance, governance, and privacy.
SnapLock enables WORM storage to protect sensitive data from the impact of malicious ransomware attacks. Since data is maintained as read-only, attackers won't be able to modify or delete data even if malicious actors gain access to the ONTAP systems. In the event that an attack occurs, the data's integrity is maintained. Based on organization requirements, customers can opt for either SnapLock Enterprise or SnapLock Compliance. While SnapLock Enterprise enabled volumes can be deleted by administrators before the expiration date, SnapLock Compliance is more suited for highly regulated data and cannot be deleted or changed once created.
The SnapLock feature is industry certified and aligned with stringent compliance standards like FINFRA, CFTC, and SEC. Whether your data is stored using on-premises ONTAP or Cloud Volumes ONTAP, SnapLock can be used to protect it from any malware and attacks.
Disaster Recovery
In the event of a disaster impacting your primary data storage, data should be replicated and available in a secondary site. The organization should be able to bring their applications online as per their defined RPO and RTO.
SnapMirror updates the secondary data copy continuously to ensure it's ready to be used as a failover environment in case of a disaster. SnapMirror relationships can be established between different types of ONTAP-based systems, in different regions, and across hybrid and multicloud environments. NetApp SnapCenter can be used for end-to-end orchestration of the DR process. With SnapCenter, you can schedule application consistent backups leveraging NetApp Snapshots and then trigger a SnapMirror replication to the offsite location with minimal operational overhead.
As the source and destination copies are always in sync, it helps with effective implementation of DR within the defined RPO and RTO. The replication process is block-level incremental and replicates only changed blocks from source to destination. It maintains all source storage optimization settings, such as deduplication and compression, while replicating the data and offers a storage efficient and hassle free DR solution.
Learn more about the Disaster Recovery solution with Cloud Volumes ONTAP in these customer case studies.
Archive
Some organizations need to archive and keep copies of data for audit and compliance purposes. In this case, it's important to be able to access data at any time, meaning it should be stored in a way that is both cost effective and readily available.
SnapVault uses NetApp Snapshot technology to create point-in-time copies of data on your ONTAP systems. The disk-to-disk replication capability of SnapVault ensures that the destination ONTAP has the same Snapshot copies as the source. Unlike SnapMirror, where the destination contains the same snapshot copies as the source, SnapVault can be used to store point-in-time Snapshots in a destination for a longer period.
While creating backup copies, SnapVault preserves storage efficiency features of ONTAP, such as deduplication, which helps reduce the cost of storage required for long-term archival storage. You can create policies to define duration for which the Snapshots need to be retained as per your organization's requirement. For example, you can choose to retain monthly snapshot copies for a period of 20 years for compliance purposes.
Backup for recovery in case of data loss
If an organization faces data loss due to unforeseen events, backup copies should be readily available to recover data in the shortest time possible. This calls for a strong backup strategy with the right tools that align with your data recovery goals.
With NetApp Cloud Backup, backup copies can be stored in cloud object storage such as Amazon S3, Azure Blob Storage, or Google Cloud Storage. Alternatively, Cloud Backup can back up to on-premises StorageGRID objects. Storing the data object storage different format supports the 3-2-1 backup strategy, providing an additional layer of air-gapped protection. For mission critical applications that need application-aware backup, SnapCenter comes in handy. Cloud Backup is a fully SaaS based solution for ONTAP systems that can support fully on-premises, hybrid, as well as multicloud deployments offering the following benefits and capabilities:
First-party NetApp-native backup solution with out-of-the-box ONTAP integration
Software-only backup with no internet connectivity for dark site deployments
NetApp-native storage efficiencies with features like data compression and deduplication
End-to-end ransomware protection as it supports features such as SnapLock and DataLock
Integration with cloud archival tiers to reduce storage cost
Centralized management of backups across different environments using BlueXP
Learn more about Cloud Backup in these customer case studies.
Be it point-in-time data recovery, offsite storage, dark site deployments, cloud storage integration, or centralized management for backups, BlueXP data protection tools cover it all. Depending on your organization's priority and recovery objectives, the right solution can be integrated with your ONTAP-based systems landscape.
To Sum Up
Data protection requirements vary from organization to organization as well as within business units in an organization. If you're using NetApp storage management solutions for your data estate, BlueXP suite of products offers many advanced capabilities to protect the data stored in your ONTAP systems. To get the best solution for your needs, you should select the appropriate combination of tools based on your unique requirements.