Subscribe to our blog
Thanks for subscribing to the blog.
Data protection has become a minefield for the modern enterprise. More data is being processed than ever before, and it's being stored in both structured and unstructured form. This data is distributed across a complex array of different storage technologies in hybrid cloud and multicloud environments.
With such a wide-ranging data estate, protecting from the rising threat of cyberattacks and the complexities of data regulations has created a huge challenge for enterprise storage admins.
NetApp Cloud Data Sense can support your efforts to meet these challenges through a range of capabilities that can help protect your most important information assets. This post runs through some of Data Sense's key features that can support your data protection goals.
Use the links below to jump down to read about:
Cloud Data Sense: An Overview
Cloud Data Sense is a data discovery, mapping, and classification tool, which uses artificial intelligence (AI) technology to analyze the metadata and content of your files.
As it scans your working environments, Data Sense categorizes your data into information types, such as legal, HR, finance, marketing, operations, code,CAD files, images, videos, application data, logs, and locate private information such as email addresses, resumés, and passport numbers to name just a few.
Data Sense can interpret both structured and unstructured data across a wide range of on-premises and cloud-based repositories, including object storage, a range of both relational and NoSQL databases, and a variety of storage sources such as Cloud Volumes ONTAP, on-premises ONTAP appliances, and any other NFS or SMB file share, including non-NetApp storage systems.
With its intuitive dashboards and reports Data Sense provide you with actionable insights at both a granular and consolidated level.
Data Sense's Data Protection Capabilities
The following are some of the ways in which Cloud Data Sense can help you maintain control over your data.
Understand Your Data
You can't protect what you don't know you have. Cloud Data Sense provides you with at-a-glance insights into the different types of data you store and where that data resides. Using this information, you can then formulate suitable backup and security strategies.
For example, in storage environments where you find high volumes of financial transactions, you'll want to take frequent backups to keep your recovery point objective (RPO) to a minimum. By contrast, where you find large concentrations of data like HR records, which change infrequently, you can set a less rigorous backup schedule.
Cloud Data Sense facilitates decisions like these at a general level by providing you with a statistical overview of your entire data estate.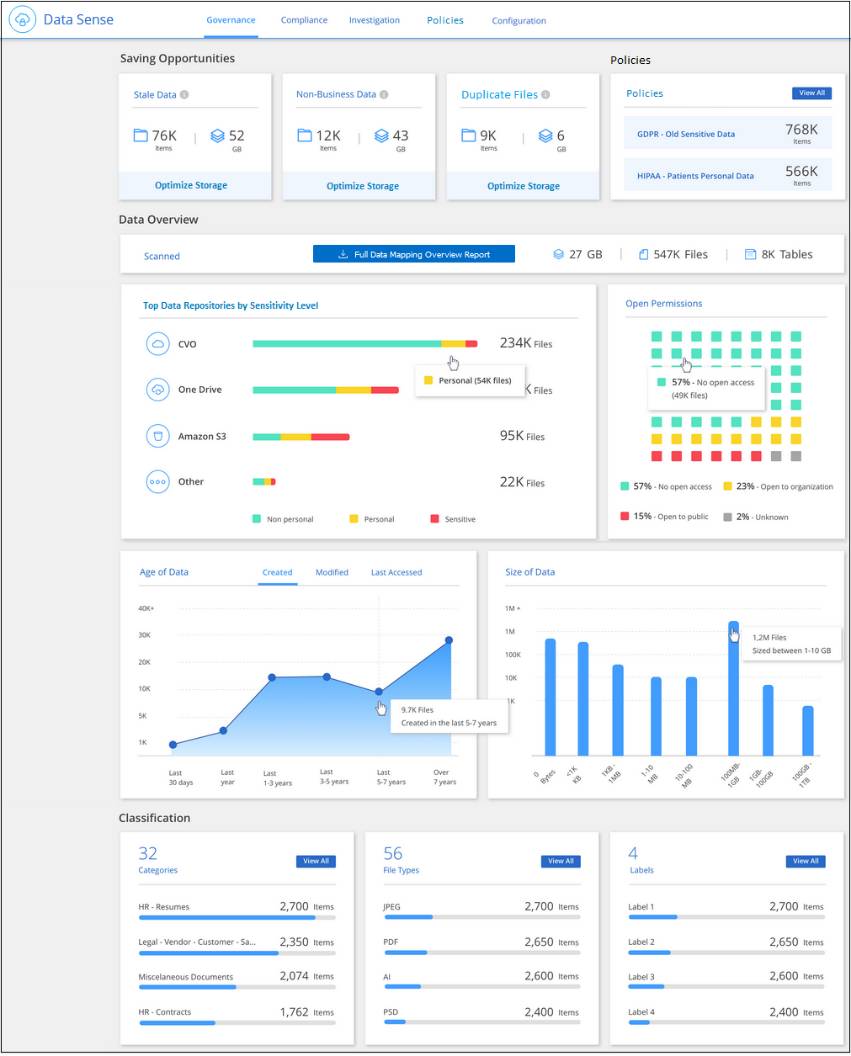 The Data Sense dashboards help you to better govern and protect your data.
Data Sense also supports a wide variety of queries and complex filtering capabilities. For example, you can drill down to a particular type of data, such as marketing, legal, or customer service records.
You can also focus your investigation on data stored in just one specific environment, such as an Amazon S3 bucket, MySQL database, NetApp ONTAP on-premises deployment, or even a Dell-EMC Isilon. This can be particularly useful, as different technologies are configured in different ways and may also be managed by different teams within your organization.
Locate Unprotected, Sensitive, and Mission-Critical Data
With the wide range of data types that Data Sense can identify and locate, organizations have a way to better safeguard data by pinpointing the most critical data on hand.
There are a number of different benefits for this feature. Critical data that is important to safeguard, such as legal documents, financial statements, proprietary code, and the like are highly attractive targets for cyber criminals and will need a high level of protection. Data Sense searches can categorize such data so you can make sure it's properly secured.
When it comes to the privacy concerns of the data you own, Cloud Data Sense can also search for and categorize the personal data and sensitive personal data that you have on hand. This data is also an attractive target and requires a high level of protection that Data Sense can help you orchestrate.
In addition to these predefined data types, you can also create custom data types for Cloud Data Sense to search for so you can pinpoint mission-critical that needs a higher level of protection. By adding these custom data types, the Data Sense AI can be trained to automatically locate such data, going beyond its original parameters and adapting to your specific data protection needs.
And, as part of your disaster recovery (DR) planning, you can use the feature to draw up a recovery checklist of data you should restore as a matter of urgency in the event of system downtime.
Analyze File Permissions
Cloud Data Sense does more than simply show you the file permissions associated with your data—Data Sense enriches permission details with contextual information, such as the class of data, who owns it, and where it's stored. This makes it possible for you to make more informed decisions when it comes to granting access rights and tightening security.
The feature also helps you spot any misuse of permissions by users who are reading, changing, or deleting data when they don't usually do so as part of their role. This could be the sign of malicious or illicit activity—for example, by a rogue developer, who has been tampering with information on the live system.
Data Sense also integrates with Active Directory so it can point to the actual users or groups that have permission, without relying on SID (Security IDentifier).
Identify Duplicate, Stale, and Unnecessary Data
Cloud Data Sense can also help meet your data protection objectives by identifying duplicate data, any information that doesn't serve a business purpose, and stale data that's no longer being used.
Even though your organization may not need this information, it can still be invaluable to hackers. So it's important you reduce your attack surface by finding and deleting such data.
The feature also serves as an aid to compliance by helping you to:
Remove personal data, which is no longer necessary for the purpose it was intended
Move data to low-cost storage tiers as a cost-effective way to meet data retention requirements
Moreover, it offers other benefits to your data protection strategy, as less data means faster backups, faster restores, and lower costs for replicating and storing both production and backup data.
Conclusion: Protect Your Data Better by Understanding Your Data Better
Cloud Data Sense gives you a better understanding of your data through AI-driven algorithms that ensure more accurate data classification and detection of sensitive information.
It provides a wealth of capabilities to ensure your data is protected. It can map your protect surfaces, providing you with the insights you need to structure your data more securely and implement a zero-trust architecture. It also provides you with a file tagging tool, which you can use to establish data ownership and thereby collaborate over data protection issues quickly and efficiently.
But, above all, it helps you see your storage environment from a whole different perspective, helping you to understand the content of your files and take a more informed approach to meeting your data protection goals.
Sign up now to try Cloud Data Sense free for up to 1 TB of data.