Subscribe to our blog
Thanks for subscribing to the blog.
Earlier this year, we launched a raft of new features to our data discovery and classification tool Cloud Data Sense to help users address their data governance challenges. But what does this look like in real life use cases?
This post will introduce the story of one Data Sense customer who realized the full potential of the product to provide real data governance capabilities. They were able—through Cloud Data Sense's ability to connect to third-party data sources—to fully map the data that they had stored in a storage device made by a major NetApp competitor.
An Intro to Cloud Data Sense
Before we dive into the case study, let's take a closer look at Data Sense. Data Sense is a tool designed to simplify the day-to-day management of your data assets based on the content, lifecycle and protection level of that data.
Modern enterprises want more insights into their data so they can improve data quality, optimize storage costs, tighten up security and comply with the latest data privacy regulations, such as the General Data Protection Regulation (GDPR) or the California Consumer Protection Act (CCPA).
However, in today's IT landscape of mass data storage, where data can span across a sophisticated array of public cloud and on-premises environments, this is a complex and time-consuming manual undertaking.
Data Sense provides the support organizations need to overcome this problem, leveraging artificial intelligence (AI), automation and data mapping capabilities to help them understand where their data resides, how much of it there is and how they're using it.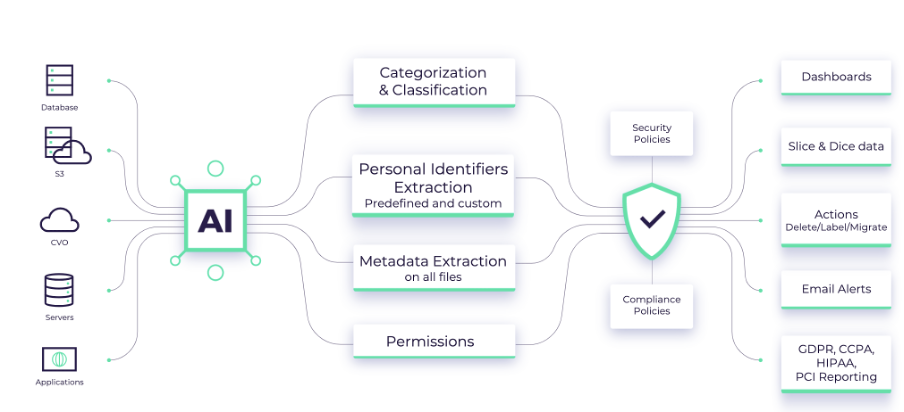 It provides out-of-the-box integration with NetApp's own storage services. But you can also hook it up with many other cloud-based and on-premises storage repositories, including Amazon S3 buckets and RDS databases, Microsoft OneDrive, MySQL, MongoDB, most network-attached storage (NAS) appliances, and other sources, both structured and unstructured .
It can identify:
Duplicate data to help you optimize storage costs

Stale data to help you fine-tune your data retention and storage tiering policies

Files with open permissions to help address potential vulnerabilities

Types of data that need to be moved or remain on-prem in a migration
Data Sense also uses AI technology to understand the context of your data. As it continuously scans your storage, it maintains an index of personal and other sensitive information, such as email addresses, credit card numbers and legal documents, which require protection under privacy regulations and information processing standards.
The solution also offers a number of reports to aid compliance. For example, it includes a data subject access request (DSAR) feature, which generates a summary report of all information you hold about an individual data subject.
In addition, Data Sense presents a range of actionable insights through a series of dashboards and a bulk data labeling feature to help you efficiently purge data of sensitive or redundant information before copying or moving it to an alternative location.
Use Case: How Our Customer Scans Data Across Its Data Estate
This company provides marketing IT solutions for some of the largest retail and business chains in the world. Their technology provides retailers and advertisers with omnichannel marketing tools for targeting sales promotions. Their story starts when they wanted to get a better understanding of the data it was storing.
For a business as large as theirs, they need to maintain a data estate that combines multiple repositories, with on-prem appliances both from NetApp and from some of NetApp's competitors. With such a varied number of storage environments, the company decided to use Data Sense to analyze the data in its on-premises storage.
The IT and data governance teams quickly realized the wider potential of Data Sense after they used it to analyze their ONTAP data by leveraging the product's support for NFS file sharing.
After a successful initial run, the team then decided to turn its attention to the Dell EMC Isilon volumes that also formed part of the company's on-premises storage mix.
After completing the second scan, the customer had analyzed around 65TB of data in total across its ONTAP and EMC Isilon volumes. This identified sensitive medical data and emails, which they needed to protect to meet compliance requirements.
But it wasn't just the findings of the scan that were significant. It was also the fact the customer was able to scan all of its on-premises storage using a single tool and view the results from a central location.
Universal Data Governance
In a modern enterprise setting, data is often stored across a multitude of proprietary systems in both on-premises and public cloud environments.
This can present a significant challenge to data governance, where complete visibility into all your data assets is essential.
As we've seen in this customer story, Data Sense helps to address this problem through a rapidly expanding range of integrations with third-party storage repositories. NetApp customers are now seeing this in practice, as they look for ways to understand their data wherever it resides.