Subscribe to our blog
Thanks for subscribing to the blog.
NetApp MetroCluster™ software offers a high-availability solution that uses multiple storage controllers running in different data centers. When the primary data center experiences an outage, the controllers in the secondary data center continue to operate, providing uninterrupted operations and access to data.
But like any data critical to your operations, the data you keep in MetroCluster storage arrays needs to be backed up. NetApp just made that job easier with BlueXP backup and recovery (Cloud Backup) support now available for MetroCluster deployments.
In this article we'll discuss how MetroCluster works, why it's important to back up MetroCluster data, and how BlueXP backup and recovery can help.
Read on or use the links below to jump down to specific sections:
What Is a MetroCluster?
MetroCluster software enables highly available data storage in enterprise environments by connecting two storage clusters with high-speed links to create a unified storage system. Since the clusters are connected using a low-latency network, they act as an active-active pair, serving data to their clients simultaneously.
The active-active configuration ensures services hosted in the storage cluster are available in the event of a disaster striking one of the clusters. MetroCluster typically relies on synchronous replication to ensure that data written onto one storage subsystem is immediately available on the other.
To effectively implement high availability using MetroCluster, there are some crucial storage considerations to keep in mind. Storage administrators are tasked with capacity planning to ensure that the active data set is allocated appropriate volumes, with extra space for data protection and disaster recovery options. The network bandwidth and transfer latency between the two data centers also impact the MetroCluster's performance, warranting thoughtful consideration.
Why It's Important to Back Up MetroCluster Data
While MetroCluster enables high availability and resilience within the data center, those data centers are still susceptible to external events, such as natural calamities and cyberattacks. To make sure data is protected and recoverable, users need to leverage backup copies.
Let's take a closer look at the benefits of backing up MetroCluster data.
Additional data protection with the 3-2-1 backup strategy
The 3-2-1 backup strategy enhances data protection by maintaining three copies of data, storing the copies between two different media types, and keeping one copy off-site.

Relying on tape has been the traditional method to align with 3-2-1, but the cloud has quickly replaced that option. Backing up MetroCluster data to the cloud creates an additional off-site copy to complement the two storage clusters for enhanced data protection. If that cloud copy leverages object storage, it also satisfies the second storage format 3-2-1 requirement.

Cloud-based backups also enable greater flexibility in disaster recovery planning, as data can be restored from anywhere with an internet connection. This is crucial in case of a regional disaster that affects both the primary and secondary storage locations. Backing up MetroCluster data in the cloud also reduces the costs associated with maintaining a different, off-site backup data center.
Enhancing data security through object storage
Object storage can be the target destination for your MetroCluster backups. Besides being a highly scalable and flexible storage solution, converting MetroCluster backup data from ONTAP-native formats to object storage provides additional data security and protection features.

Object storage platforms often include built-in encryption so data at rest and in transit can be protected. These systems can be easily configured to restrict data access based on policies, roles, and user permissions, ensuring that only authorized users can access the backup data. Keeping backup data in object storage format adds a jump that a particular threat, such as a ransomware program, may not be designed to account for.

Object storage also enhances protection through seamless redundancy and immutable storage, providing an audit trail and preventing undetected data tampering across the MetroCluster.
Long-term data retention requirements
Various industries, including healthcare and finance, have strict regulatory requirements for disaster recovery and long-term retention. For instance, HIPAA regulations mandate healthcare providers to retain electronic Protected Health Information (ePHI) for a minimum of six years, with backups in place to ensure the data is accessible in case of a disaster.

Failure to comply with these requirements often results in serious legal consequences and penalties, making it important for companies to include backups in their data protection strategy.

Backup storage that is offered with flexible pricing models is ideal here given the size of MetroCluster backup data and the retention period these regulations require. This enables firms to manage long-term data retention needs while keeping costs in check.
Recovering data from catastrophic, regional events
Despite its high availability configuration, MetroCluster storage arrays are vulnerable to regional disasters that can affect data centers in multiple locations. Such events may lead to complete outages, making it essential to have a backup strategy that includes an external backup located in a different region. Backup copies ensure that data won't be lost in the case of such outages.
Despite all these benefits, it hasn't always been easy for MetroCluster data to be backed up. Most NDMP-based backup solutions weren't designed for ONTAP and can't handle backing up data in the petabyte-scale most users see today.
But backing up MetroCluster data just got easier thanks to BlueXP backup and recovery.
BlueXP Backup and Recovery Support Comes to MetroCluster
As of the release of ONTAP 9.12.1 GA, creating backups is easier than ever for MetroCluster users with BlueXP backup and recovery.
BlueXP Backup and recovery leverages SnapMirror-Cloud technology to create direct incremental-forever, block-level copies of ONTAP data and stores them in lightweight object storage either in the cloud on AWS, Azure, and Google Cloud, or on-prem with NetApp StorageGRID® appliances.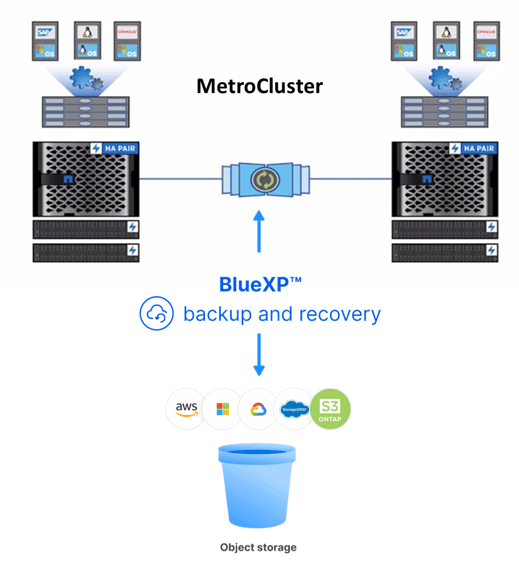 The benefits for MetroCluster users are clear:
Faster and more efficient backup creation
BlueXP backup and recovery creates backups faster and more efficiently than any other method because it leverages SnapMirror-Cloud instead of a media gateway. That eliminates a jump the data needs to take and preserves all of ONTAP's existing storage efficiencies, meaning the data packet being backed up is compact, consuming less bandwidth and reducing transfer times.
Object storage in the cloud or on-prem
Object storage means scalability at reduced costs, and BlueXP backup and recovery allows users to leverage the format either in the cloud or with NetApp technology.
3-2-1 alignment
Object storage gives users a second storage format and, by backing up to the cloud or a StorageGRID appliance in another location, makes off-site copy hosting easy with manageable costs.
Indexed catalog and granular restoration
The BlueXP backup and recovery indexed catalog is a first from NetApp, allowing users to search or browse for backup data by name or other search parameters. Once located, data can be restored on a granular level, so only necessary data has to be transferred.

Enhanced security


BlueXP backup and recovery has ransomware protection features to keep your data safe. The DataLock feature locks objects so the data can only be changed by authorized users. BlueXP also automatically scans your backups for any attempts to corrupt the data. If any such attempts take place, you're immediately altered.
Deployment options
BlueXP can be deployed in three different ways: Standard, which is the complete SaaS offering, Restricted mode leverages the gov cloud secret regions, and Private mode which operates without internet connectivity, for users that can't allow their data to ever be exposed.
How BlueXP Backup and Recovery for MetroCluster Works
The workflow for enabling BlueXP backup and recovery for MetroCluster is similar to backing up a normal volume from the ONTAP cluster.
Users choose the primary cluster and enable backups in the BlueXP backup and recovery options menu, then activate backups on the selected volumes. ONTAP creates a SnapMirror-Cloud relationship for all chosen volumes in the cluster. This relationship is reflected in the secondary cluster, transferring object storage configurations across the two clusters.
In the event of a switchover, the SnapMirror-Cloud relationship on the secondary site is activated, with backups being performed automatically and transparently to the user. During restoration, users can restore from object storage to the MetroCluster or other alternative clusters. Any updated Snapshot copied to the object storage can be restored to another site after switchover/switchback.
Conclusion
MetroCluster provides high availability by connecting two storage clusters with high-speed links that create a unified storage system. But despite their HA capabilities, MetroCluster storage arrays are as susceptible to site-wide disasters that affect data centers in multiple regions as any storage system. That makes off-site backup essential. BlueXP backup and recovery provides the most efficient way for MetroCluster users to do that.
BlueXP enforces 3-2-1 data protection, enhances security with object storage, and adds flexible data restoration options that NetApp users won't find anywhere else.