Subscribe to our blog
Thanks for subscribing to the blog.
As organizations attempt to run enterprise apps in Google Cloud, or to modernize existing apps and build new ones, the available options for managing SMB requirements in the application's data layer workflows can seem limiting. Factors such as data management, high availability, scaling capacity and performance, and reliability at the right cost can create barriers to successful implementation of SMB in the cloud.
NetApp and Google shared this mindset when we launched our joint service, which entered GA in mid-2019: NetApp Cloud Volumes Service for Google Cloud, which supports both Linux and Windows file share-based workloads. In this document, we'll review how customers can leverage NetApp Cloud Volumes Service, the fastest storage on Google Cloud, for their SMB workloads, even when hosted both on premises and in the cloud.Users don't want to compromise on all the application best practices they've learnt over the years by running SMB-based workloads on-premises. Public cloud should simplify the management and complexity of the data layer, while giving end users control and a seamless experience.
Why NetApp Cloud Volumes Service for SMB Workloads in Google Cloud?
With consistently high performance of over 400k IOPS, Cloud Volumes Service provides shared persistent storage with high throughput and low latency. It easily meets the demands of large-scale application environments.
By using Cloud Volumes Service for Google Cloud, you can control your cloud performance by dynamically adjusting performance among three service levels. And Cloud Volumes Service for Google Cloud is a regional service. That means application instances in any of the Google Cloud zones in each region can access the same SMB volume, without having to manually create a zonal Linux cluster that you have to manage.
What does all of that add up to? Windows file share and dual-protocol support, including SMBv3 multichannel, in Cloud Volumes Service for Google Cloud makes implementation a lot less daunting and complicated--no need to rearchitect. It means that your virtual desktop (VDI) users have freedom with uncomplicated access. It also means that your home and team directories are automatically synced, with no need for manual work or duplication of efforts. And SQL Server is fully supported, too!
SMB Solutions on Google Cloud: Reference Arc­hitecture for Cloud Volumes Service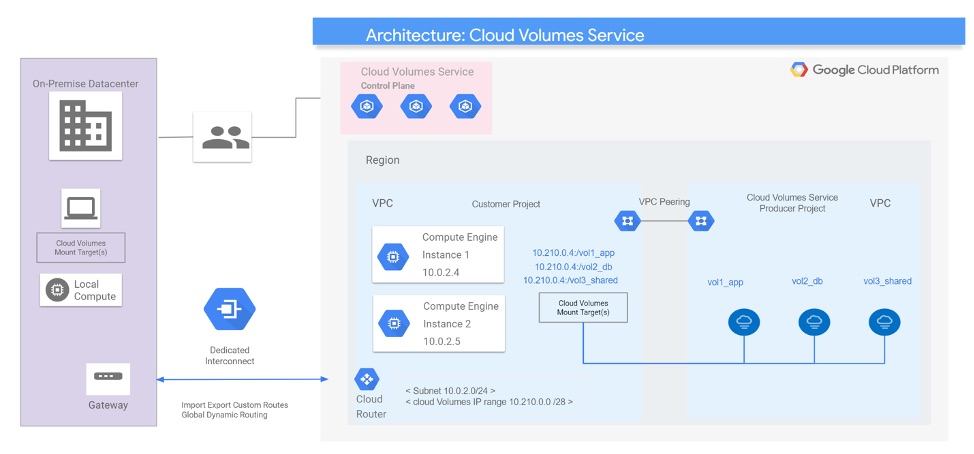 SMB service in a hybrid cloud
A client in an on-premises data center can access an SMB cloud volume with a Dedicated Interconnect, as depicted in the reference architecture. Global Dynamic Routing needs to be enabled on the VPC for on-premises access, allowing the Cloud Routers to import and export custom routes that can be added. You'll notice that we have multiple VM application instances in Google Compute Engine, VM Instance-1 and VM Instance-2.Often, organizations require hybrid application topology, spanning on-premises application clusters and instances in Google Compute Engine to access the same data set.
To learn more about managing your SMB file shares in the cloud, and moving out of the data center, please see our complete reference architecture for SMB on Cloud Volumes Service for Google Cloud.