Subscribe to our blog
Thanks for subscribing to the blog.
Something big is happening with BlueXP that will change everything you thought you knew about backup.
NetApp has always offered backup features. Now there's a way to manage all of them in one place: BlueXP backup and recovery.
With its latest update, BlueXP backup and recovery makes protecting your data and aligning with 3-2-1 or any other backup strategy easier than ever. Manage local NetApp Snapshot™ copies, replicate between primary and secondary ONTAP systems with SnapMirror®, leverage object storage for backups, and back up multiple data types (NAS, databases, VM, and Kubernetes) all from a single console.
To find out more, read on, or use these link to jump down:
Why Data Protection Is Still a Major Challenge
Backup has never been easy at the enterprise level, and with exponentially growing data sets and new backup demands that require additional tools, it's only gotten more challenging. Coordinating the various resource managers and data protection tools involved can be a difficult task (think: "herding cats"), and that doesn't even take into account the reliability of the back up process itself.
Here are some major concerns that are making backup such a nightmare:
Overhead overload: Customers with ONTAP systems in different environments have to manage data protection for each of those systems independently, on top of minding day-to-day operations.

There are local Snapshot copies to manage, data volumes replicating to different environments, and backup copies for each of these environments to look after. For admins in organizations with petabytes of data on hand, these data protection duties require a huge investment of time and resources.

Lack of indexing tools: For those organizations with PB-scale data sets located in diverse environments, data restoration also becomes extremely difficult, especially without the help of an indexing mechanism. Browsing through all your backup copies to restore a single relevant file can be a mind-numbing, exhausting task. PB-scale deployments need backup solutions with fully fledged data indexing and search capabilities.

Losing the audit trail: It's important for backup jobs to be properly monitored, observe which jobs are in process, and audit the end-to-end process. But that's easier said than done.

When back up jobs involve different sources, different tools, and different systems, it's extremely difficult to keep track of them all to make sure everything is working properly. Also, lack of an audit trail will create problems validating compliance with regulations.
Trying to coordinate an effective backup approach with all these factors at play can result in an error-prone mess that may still leave your system unprotected.
Of course, NetApp users have had a number of capabilities to mitigate these issues.
The NetApp Backup Landscape Up Till Now
Despite the challenges, NetApp has offered bedrock data protection capabilities for ONTAP systems that have been essential to enterprise backup strategies.
Locally stored Snapshot copies help customers protect their data with read-only images that capture the state of the ONTAP system at a specific point in time.
Replication with SnapMirror gives admins the ability to copy Snapshot data to a secondary ONTAP environment.
Leveraging object storage with BlueXP backup and recovery automatically stores backup copies in object storage in the cloud, on ONTAP S3, or with StorageGRID® appliances on-premises.
While all these features are great in and of themselves, until now they've lacked a level of cohesion. There were still separate processes and interfaces involved, which meant extra admin overhead and possible data protection holes. That's all changed with the latest update to BlueXP, which makes BlueXP backup and recovery the single control plane for all your ONTAP-based backup operations.
The Solution: BlueXP Backup and Recovery Now Covers the Entire Backup Spectrum
With its latest release, BlueXP backup and recovery now provides a single control plane for the entire backup spectrum, whether you're using 3-2-1, 3-2-0, 3-2-1-1, or any flavor of backup strategy.
Now you can manage all copies of your ONTAP data via a single control plane. That includes working with source and destination repositories both on-prem and in the cloud to create and manage local snapshots, replications to secondary ONTAP systems, and backing up to object storage.
As you can see in the image below, BlueXP backup and recovery will be the one destination to holistically take care of all of your ONTAP data protection tasks:
Create and manage your local snapshots at the source (the first "copy" of the data)
Replicate data copies to secondary ONTAP systems
Back up the data to object storage automatically, either on-prem or in the cloud

BlueXP backup and recovery is now a single control plane for all your backup needs.
This is a major change to the way backup has worked for ONTAP systems, and one that will make all of these jobs much easier and more uniform than they used to be.
A Closer Look at the Expanded BlueXP Backup and Recovery
With BlueXP backup and recovery acting as a single control plane for backup, storage and backup administrators get a single workflow to align with backup strategy goals from the start.
When you begin on the Activate Backup and recovery workflow, you'll see three options listed on the first screen: Local Snapshot, Replication, and Backup.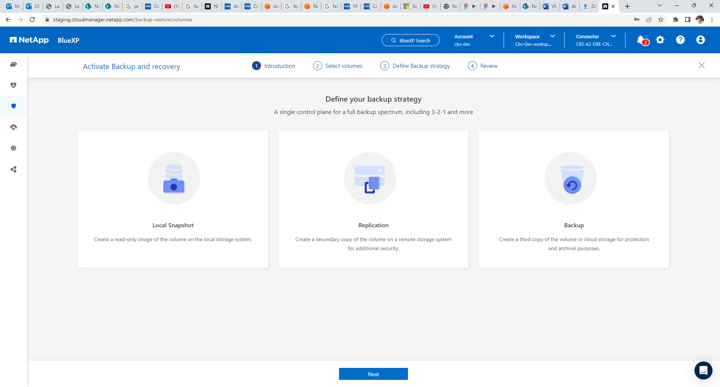 The BlueXP backup and recovery activation screen
Local Snapshot is for creating a read-only local snapshot copy of the ONTAP volume
Replication is for copying the data to a secondary ONTAP volume
Backup lets you choose to store copies of data in object storage for long term protection and archiving
In the "Select Volumes" step, you'll select the target volumes from the ONTAP working environment that you need to back up.
From the volumes view you can see details of each of your available volumes: the volume type, capacity, security style, as well as the existing copies for those volumes, including whether local Snapshot copies, replication, or backing up to object storage are already enabled.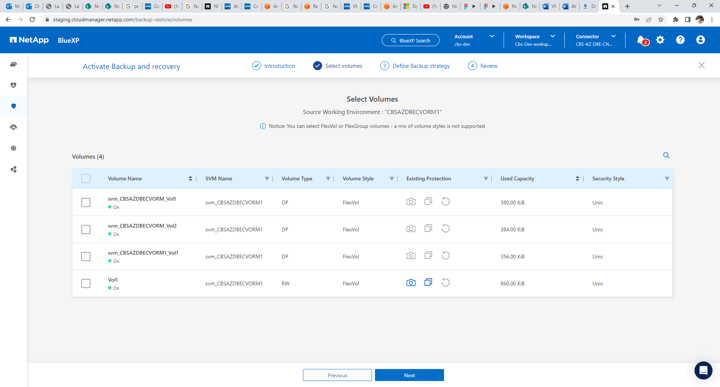 Selecting volumes to back up on the Select Volumes screen
Moving on, "Define Backup Strategy" will let you establish your replication and object storage usage, allowing you to align with 3-2-1 or other backup strategies.
Here, you'll choose the copy types you want to create for the volume(s) you selected in the previous step (i.e., the Snapshot copies, replications to secondary ONTAP systems, and backup copies in object storage).
Clicking on each item, you'll be able to define its parameters. For local Snapshot copies, you can define labels and policies. For replicated copies, you can set the replication policy, the target, and add labels. For object-based backups, you can select the provider, encryption level, networking parameters, add DataLock capabilities to fight ransomware, set an archiving policy, and more.
Further down in this step you'll also be able to choose the architecture for your backup strategy: fanout or cascade.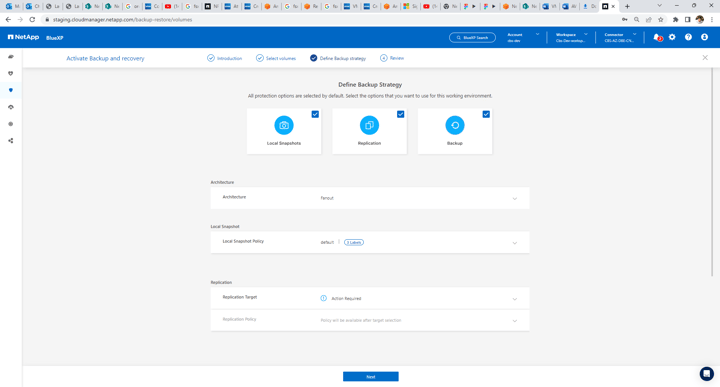 Selecting a backup architecture.
In the fourth and last step, BlueXP backup and recovery will present a summary of the architecture you chose for the selected volumes.
The "Review" step.
Once the backups are initiated, you can leverage job monitoring capabilities, which have also been upgraded, to see the status of backup jobs, check on the working environment, delve into details of the volumes being backed up, and more.
What the Unified Control Plane Brings to ONTAP Backup
With BlueXP backup and recovery acting as a unified control plane for all your backup operations, you'll get multiple advantages that haven't been possible before:
Unified control plane: BlueXP provides you with insight into your entire data estate thanks to its unified control plane. From a single console you can view the status of all your local snapshots, data replication, and backup copies in object storage, and initiate backup/restore operations. This simplifies the life of storage admins as you won't have to juggle between multiple consoles for managing data and backup.

Indexed catalog: This is a first for NetApp: an indexed catalog for all your ONTAP data —even local Snapshot copies!—only available through BlueXP backup and recovery.

Using a Google-like search capability, you can find and restore specific files from all your available backups. You can search for specific files to be restored using parameters such as file names, partial file names, creation dates, and more.

The catalog can be applied to any copy of the data: local Snapshot copies, secondary ONTAP copies, and backup copies, regardless of where they are stored.

3-2-1 alignment: BlueXP backup and recovery helps you achieve a fully fledged 3-2-1 backup strategy: three copies, across two different formats, with one copy offsite.

Keep in mind, you're not required to use 3-2-1: you can pick and choose from any configuration of local snapshots, replication, or backing up to object storage, so you can align with any backup strategy: 3-2-2, 3-2-0, 4-2-2, you name it.

Auditing and compliance: BlueXP backup and recovery offers a detailed view of your data estate and its backup status, including when backups were initiated and the types of backup data available. This provides a clear picture of the level of compliance your data protection process adheres to that you can use during internal and external audits.

Improved job monitoring: Enhanced job monitoring lets you search for specific jobs and check their status. You can also download jobs in JSON format for further analysis and more granular, reportable visibility into the data protection status of your environments.
Backup for ONTAP Is Better Than Ever with BlueXP
NetApp has a long history of providing enterprise-grade data protection capabilities. Now it gives you one console to put them all together: BlueXP backup and recovery.
BlueXP backup and recovery unifies local Snapshot copies, replications, and backing up to object storage all in one place and provides an easy way to implement any backup strategy, whether it's 3-2-1, 3-2-2, 4-2-2, or any other configuration. Protect your data the way that matters to you, easier than ever.