We are super excited to announce that we have updated NetApp® AstraTM Control Service (ACS) to support Microsoft Azure Disk Storage in addition to Azure NetApp Files (ANF), making it even easier to protect and move your workloads running on AKS using Azure Disk Storage within and across clusters in the same or different Azure regions. Azure Disk Storage offers high-performance, durable block storage for business-critical applications, including Azure Kubernetes Service (AKS).
NetApp® Astra Control Service (ACS) is a fully managed application-aware data management service that protects, recovers, and moves your data-rich Azure Kubernetes Service (AKS) workloads with just a few clicks. Astra Control Service provides automatic storage provisioning, application-aware backups, disaster recovery, and mobility for workloads running on AKS using NetApp's industry-leading data management services.
With support for Azure Disk Storage as a storage provider for ACS, your business critical workloads using Azure Disks will benefit from the rich storage and data management functionality offered by ACS. Additionally, since ACS already supports Azure NetApp Files (ANF), your workloads that use both Azure Disk Storage and Azure NetApp Files can now be fully protected by ACS. ACS provides data management for both existing and new stateful workloads using volumes provisioned via the Azure Disk Container Storage Interface (CSI) driver -- a CSI specification compliant driver used by Azure Kubernetes Service (AKS) to manage the lifecycle of Azure Disks.
To enable data protection and mobility for your AKS workloads, start by providing ACS the credentials (service principal) required to access your Azure subscription. You can then add your AKS clusters containing the applications you want to manage to ACS. ACS automatically discovers the eligible AKS clusters in your Azure subscription. When adding a new cluster, ACS prompts you to select the storage class that you want to set as default from the built-in Azure Disk Storage classes:
"managed-csi" that uses Azure Standard SSD locally redundant storage (LRS) managed disks.
"managed-csi-premium" that uses Azure Premium SSD LRS managed disks.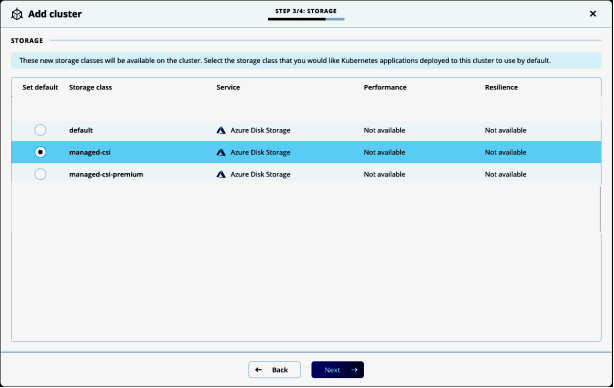 After reviewing the selection of your AKS cluster and the default storage class, you approve the addition of the cluster to ACS. ACS then allocates a native storage account (from Azure Blob Storage) for its internal needs and shows the cluster as Available. You can also add your own storage accounts to meet your data residency, sovereignty, and governance requirements.

At this point, if applications are running on your AKS cluster, ACS discovers them automatically and allows you to manage them, including their namespaces. After an AKS cluster is added to ACS, all applications (and namespaces) that you add to the cluster are discovered automatically until you unmanage the cluster. From the list of automatically discovered applications, you select the workloads you want ACS to manage by promoting these applications to the Managed state.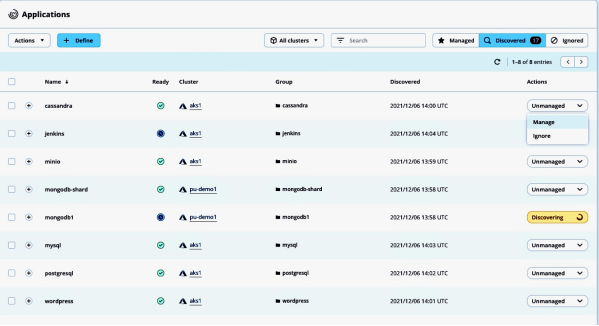 The applications that ACS manages show up as Available and offer a catalog of application-aware data management functionality that you can invoke to match your applications' data management requirements, including application-aware snapshots, backups, restore, and clones.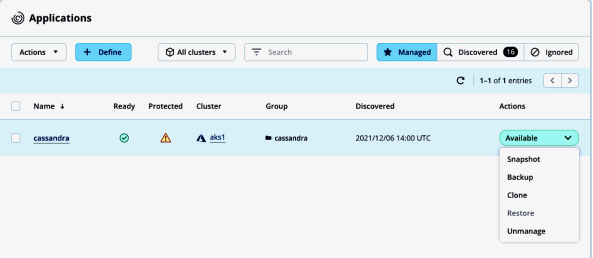 With the ACS support of Azure Disk Storage, you can protect and move a broad set of stateful workloads running on AKS that require performant and durable block storage and other applications that use Azure Disk Storage. You can use ACS to take application-aware snapshots for local data protection, remote backups for recovering after a disaster, and create instant-active clones for various dev and test use cases across multiple AKS clusters. All ACS functionality is exposed using a set of well documented APIs and a toolkit that wraps the APIs with Python bindings for popular languages, making it easier to programmatically invoke the rich set of data management functionality provided by ACS.
Get started today by signing up for a free Astra Control Service trial