Every good cloud migration strategy makes use of tools designed to automate and streamline the transfer of your data. Knowing this, Google Cloud, AWS, Azure and many third-party vendors have created data migration tools for these purposes. When choosing which of these tools is best for you, you'll need to consider price, functionality, and compatibility.
In this post, we'll review available data migration tools and their features and show how NetApp Cloud Volumes ONTAP can help with your cloud migration process.
In this article, you will learn:
Free vs. Paid Cloud Migration Tools
All public cloud providers offer mature, free tools that can help you automate your cloud migration process. Amazon, Azure and Google Cloud Platform all offer an easy segway to the cloud, whether you are currently on-premises or working with a competing cloud vendor. The only catch is that these tools are proprietary to each cloud vendor and do not support a multi-cloud strategy.
If you want to go with a multi-cloud architecture, and potentially migrate your applications between multiple cloud providers, you should consider one of the full-featured paid tools, such as Corent, Densify and Turbonomics. These tools are vendor-agnostic and allow you to migrate your workloads to any public cloud as well as to private cloud based on technology like OpenStack, VMware or Kubernetes.
Free Tools by the Big Three Cloud Providers
Following is an overview of key data migration tools provided by Amazon Web Services, Microsoft Azure and Google Cloud Platform. While these tools are free, you are charged by all three clouds for resources you use during your migration, such as S3 storage, AWS EBS snapshots and EC2 instances on Amazon.
AWS Server Migration Service (SMS)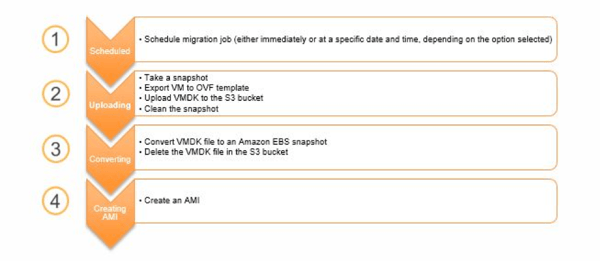 Source: Amazon Web Services
Official page: https://aws.amazon.com/server-migration-service/
Supports: VMWare
How it works
Amazon's Server Migration Service (SMS) is an agentless service that functions as a virtual appliance and is designed to migrate large-scale deployments with minimal downtime.
AWS SMS produces an Amazon Machine Image (AMI) for each replication you run. It supports up to 50 concurrent VM migrations. You can define multiple VMs for migration; they will be transferred to Amazon S3 as VMDK files and then recreated on Amazon as a snapshot backup. Replication is rerun every 12-24 hours, allowing you to test the cloud deployment and plan the cutover. After 90 days, the replication is terminated.
Azure Server Migration Service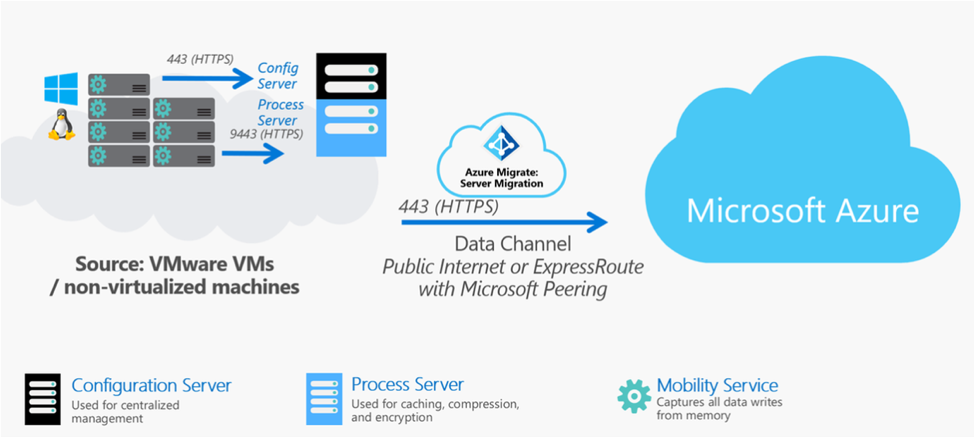 Source: Microsoft Azure
Official Page: https://docs.microsoft.com/en-us/azure/migrate/tutorial-migrate-physical-virtual-machines
Supports: VM migration from Xen, KVM, Hyper-V, VMware, private clouds, Amazon Web Services, Google Cloud Platform
The Azure Server Migration Service is part of Microsoft's suite of migration solutions, called Azure Migrate. It offers both agentless and agent-based migration of VMs.
You deploy a virtual replication appliance on-premises that discovers and migrates machines to Azure and install the Mobility service on machines intended for migration. In the Azure Migrate interface, you set up Server Migration, select machines for migration, and enable replication. Finally, you run a test migration to ensure everything is working and perform the final Azure migration.
Google Migrate for Compute Engine (Velostrata)
Official page: https://cloud.google.com/migrate/compute-engine/docs/4.5/getting-started
Supports: VMware, Amazon EC2, Azure
Google Migrate for Compute Engine uses a lift-and-shift approach, moving enterprise applications into GCP while migrating data in the background. Google Cloud migration is based on the Velostrata On-Premises Backend virtual appliance, deployed on-premise or on another cloud, and the Velostrata Manager, which is part of Google Compute Engine.
Paid Vendor-Agnostic Cloud Migration Tools
Here, we'll look at some third-party tools that can be used in a variety of cloud migration processes.
Turbonomic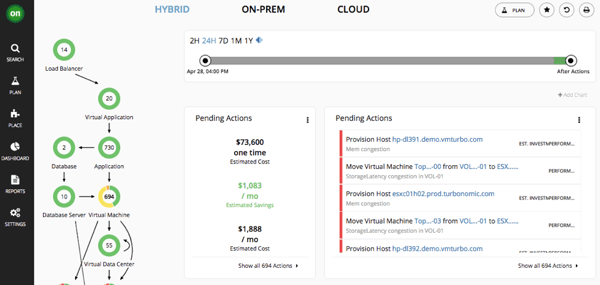 Official page: https://turbonomic.com/solutions/accelerate-de-risk-cloud-migrations/
Turbonomic quickly discovers inventory on AWS or Azure and automatically generates cloud migration plans, showing comparisons of compute and storage costs across the two clouds. It can help you optimize costs according to actual application needs, for example, sizing up or down on either cloud and automatically move workloads between the two clouds as necessary.Supports: AWS and Azure
Corent SurPass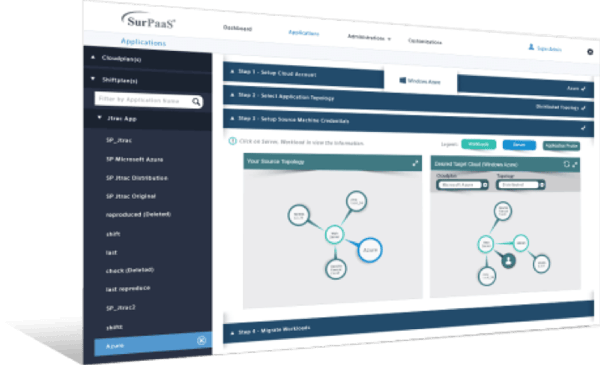 Official page:https://www.corenttech.com/SurPaaS-Migration-As-A-Service.html
Supports: Microsoft Azure, AWS, Google Cloud, Oracle Cloud, IBM Cloud, VMware, OpenStack
Corent SurPass uses the concept of Migration as a Service (MaaS) and allows you to provide migration to your IT organization's customers, whether internal or external. It migrates applications by extracting them from installed infrastructure and deploying on the cloud using the original deployment topology. Corent provides a cloud knowledge system that stores data about how cloud workloads behave and operate across different clouds. It can help you predict and customize migration cost and compare cost between cloud providers.
Micro Focus PlateSpin
Official page: https://www.microfocus.com/products/platespin/migration-factory/
Supports: AWS, Azure, VMware, Microsoft Hyper-V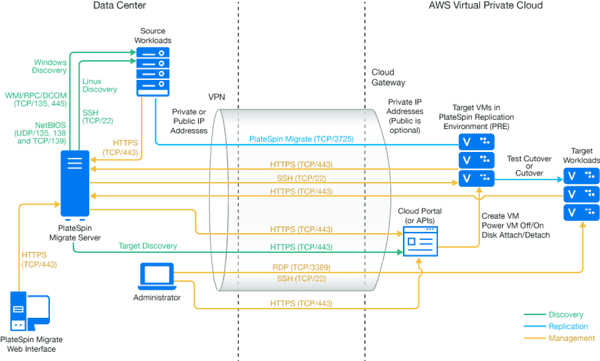 Micro Focus PlateSpin provides an automated migration solution, letting you reconfigure system resources on the fly to adjust cloud resources to your workloads. Migrations start with a migration planning system called PlateSpin Transformations Manager and you can automatically execute a test migration, or a full production switchover based on the plan. PlateSpin supports live transfer of active production servers.
Carbonite Migrate
Official page: https://www.carbonite.com/products/cloud-migration
Supports: All popular OSs, VMware ESXi, vSphere, vCloud Director, Microsoft Hyper-V, Azure, AWS, Google Cloud
Carbonite migrates data and systems between physical, virtual, and cloud-based platforms. It provides orchestration of migration configurations with an SDK facilitating integration with existing tools and automation. It offers continuous replication, enabling migration with minimal downtime. All data in transit is encrypted using strong encryption (AES 256-bit).
Cloud Migration with Cloud Volumes ONTAP
NetApp Cloud Volumes ONTAP, the leading enterprise-grade storage management solution, delivers secure, proven storage management services on AWS, Azure and Google Cloud. Cloud Volumes ONTAP supports up to a capacity of 368TB, and supports various use cases such as file services, databases, DevOps or any other enterprise workload.
Cloud Volumes ONTAP can assist with cloud migration through the use of the built in SnapMirror® data replication feature and alongside the Cloud Sync service. SnapMirror moves data from existing on-prem NetApp devices tot the cloud, and Cloud Sync can move data from any storage repository to AWS, Google Cloud, or Azure storage, where Cloud Volumes ONTAP can then begin to use it. Both of these cloud migration tools make it easy and fast to get your data to the cloud whether you're going all-in with a cloud migration, or maintaining a hybrid deployment between multiple storage environments.
NetApp BlueXP classification is a tool that can automatically discover, map, classify, and act on enterprise data. For companies planning migrations, these capabilities help to identify private data that need protection, and pinpoint duplicate and stale data so you can carry out clean migration.