As one of the world's leading technology companies, Fujitsu helps organizations around the world with systems integration and managed services. In this way Fujitsu is able to bridge the gaps between its clients' deployments, whether they are in the cloud, on-prem, or in architectures that span both. In some cases, VMware Cloud services can be a vital component to these deployments.
But, as with any large integration of enterprise IT, costs and complexity are always a concern even when relying on scalable cloud resources.
By incorporating NetApp Cloud Volumes ONTAP into one of their client's VMware Cloud on AWS (VMC on AWS) solution, Fujitsu was able to offload hundreds of terabytes of storage from the client's estate, saving millions of dollars overall and requiring 30% fewer VMC on AWS hosts while still being able to meet the same business needs.
In this post we'll take a closer look at this use case and case study to see how Fujitsu used Cloud Volumes ONTAP to make deploying VMware Cloud on AWS for a huge cost savings, and how it can be a success for your enterprise.
The VMware Cloud Challenge
What is VMware Cloud?
VMware software has been a mainstay of enterprise deployment and now that functionality has been extended into the cloud with VMware Cloud. VMware Cloud allows enterprises to integrate hybrid operability across data centers and clouds through a number of fully managed services, including VMware Cloud for AWS.
VMC for AWS is a hybrid cloud deployment service that operates as a software-defined data center (SDDC) built on bare metal AWS resources, allowing critical applications based on vSphere to move seamlessly into the cloud.
Migration Challenges
The migration of IT systems and infrastructure to the cloud can give organizations increased efficiencies, improved cash flow, and greater agility and resilience, to name just a few of its benefits. That being said, migrating to the cloud can pose a number of challenges. Customer cloud strategies can run into application design complexities, potentially requiring a transformation of their applications and/or architecture. This is true when it comes to VMware migrations or any other attempt to bridge existing on-prem operations into the cloud.
The same way that existing NetApp storage system users can easily gain a foothold in the cloud using Cloud Volumes ONTAP to lift and shift operations to the cloud, VMware users can gain similar benefits from VMware Cloud. Migrating from an on-premises VMware platform to VMC on AWS is a sensible strategic approach since it uses the same underlying VMware architecture in both source and target environments. It can reduce the refactoring element and reduce risk in addition to allowing organizations to avoid lengthy retraining periods by leveraging their existing VMware skillsets.
Cost Challenges
VMC on AWS is a hyper-converged Infrastructure (HCI), meaning that all the compute, memory, and storage are integrated within the HCI host. This can be costly if a user has large volumes of data to store, as this will require more integrated HCI hosts and a larger footprint just to deliver the storage components
That was exactly the position that one of Fujitsu's clients found themselves in. And Fujitsu had a solution: using NetApp Cloud Volumes ONTAP.
Incorporating Cloud Volumes ONTAP into VMC on AWS: A Case Study
Fujitsu's customer, a large company in the finance market, had a considerable deployment on VMC on AWS, and as described above, the scale of the operation was driving up costs. Fujitsu needed a way to lower the costs and saw an ideal way to do that with NetApp Cloud Volumes ONTAP.
By integrating Cloud Volumes ONTAP into the native AWS public cloud, the storage component could be offloaded from the VMware hyper-converged infrastructure. This allowed the VMC on AWS solution to be optimized for compute and memory.
Solution Configuration
A Cloud Volumes ONTAP AWS high availability configuration was put in place to provide storage services to the SQL workloads in the two VMware SDDCs (software-defined data centers). This gave the storage in use the ability to:
Gain flexibility through the direct use of cloud-native AWS services including Amazon EC2 and Amazon EBS storage volumes. This allowed the client to decouple compute and storage, lowering their overall costs.
Use Cloud Volumes ONTAP high availability that is composed of dual-instance configuration across Availability Zones for the SQL data and logs, preventing data loss and limiting downtime.
Replicate all data in a secondary Disaster Recovery copy.
Remove the dependency on scale out of storage at the ESX host level (VMC on AWS).
Access NetApp storage efficiency features and data tiering which will be used by the client in the future to cut cloud data storage costs even further.
Connectivity between Cloud Volumes ONTAP in the native AWS data center and VMC on AWS is provided by the high speed, low latency Elastic Network Interface (ENI) between the two components. For an idea of how this architecture looks, see the graphic below: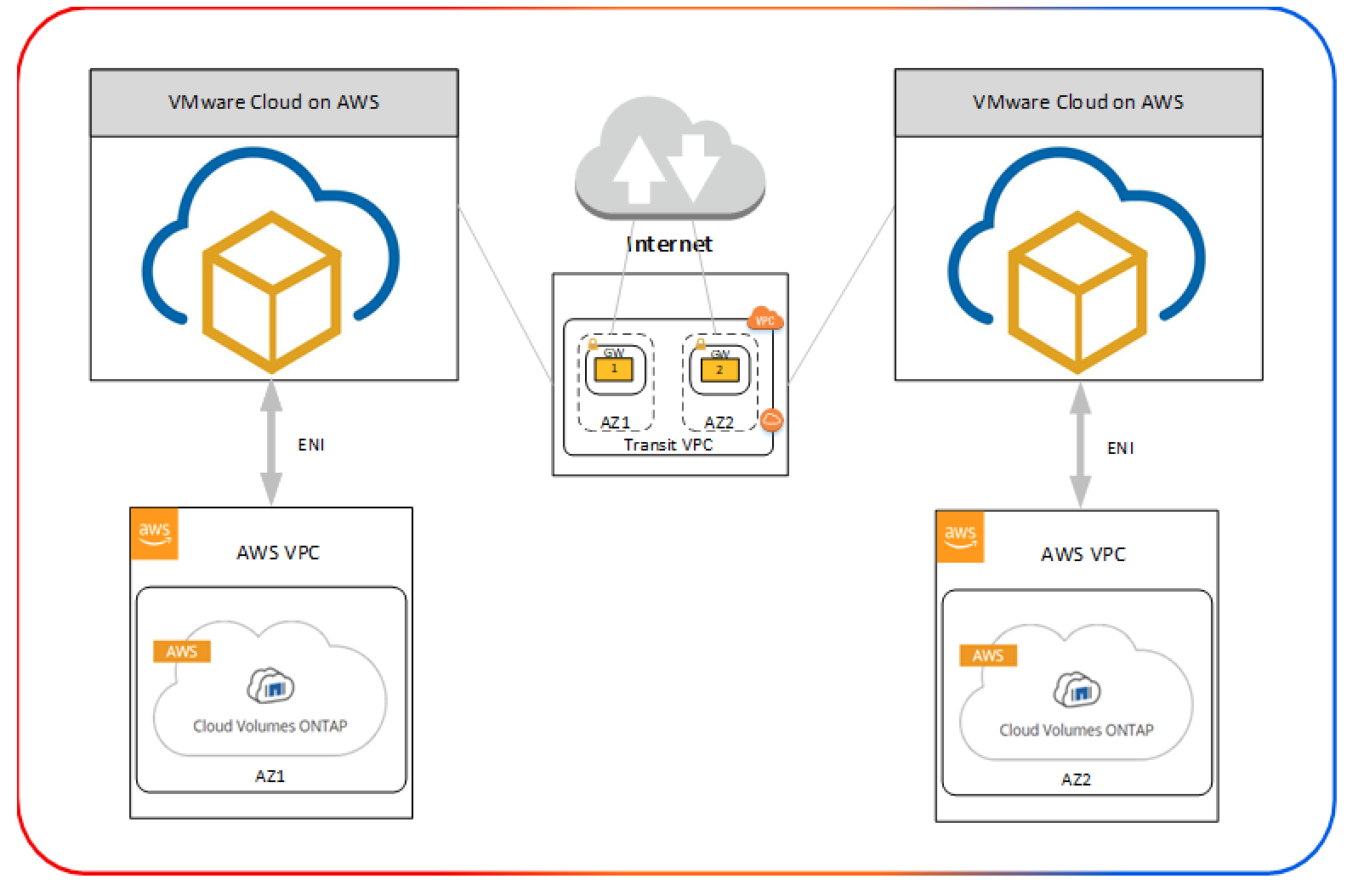 A VMware Cloud on AWS solution using NetApp Cloud Volumes ONTAP for storage-intensive requirements.
Huge Cost Savings Benefits
By optimizing the VMC on AWS solution to include all of the features of Cloud Volumes ONTAP, Fujitsu was able to reduce its client's costs by approximately $3 million over the course of the three year contract. This represents a substantial savings over the initial solution design.
How did such a huge savings take place? The instance type that is supported by VMC on AWS for storage purposes is R5.metal that has a capacity of 35 TB and costs ~$19 an hour (in the EU, this includes all costing elements such as EBS and Elastic vSAN ). The Cloud Volumes ONTAP configuration allowed for more flexibility, providing access to many lower-cost Amazon EC2 instance types and support for a maximum capacity of up to 368 TB capacity per instance.
Providing access to these less-expensive instance types with more storage capacity on AWS was solely responsible for the overall cost reduction of $3 million over the contract term. That equates to around a 30% reduction of the number of hosts the client required. An additional major cost reduction is expected by applying Cloud Volumes ONTAP's storage efficiency features including data deduplication, data compression, and data tiering to lower-cost AWS storage.
Conclusion
By incorporating NetApp Cloud Volumes ONTAP into VMC on AWS, Fujitsu has enabled this customer to gain the benefits of the VMware HCI platform and leverage NetApp Cloud Volumes ONTAP capabilities. In so doing, Fujitsu has provided this customer with a very compelling, highly efficient, and highly scalable solution for a potentially cost-heavy and complex issue.
If you're trying to find a way to reduce VMware Cloud costs, read these case studies on how Cloud Volumes ONTAP enhances VMware Cloud deployment.