For enterprises that have large virtual data center platforms deployed on Virtual Machines (VMs) hosted on VMware vSphere, VMware Cloud on AWS (VMC on AWS) has become an easy way to embrace the public cloud while benefiting from cloud-native services without making significant changes. But there are some challenges to VMware cloud deployment that you'll need to understand first.
This article will take a deeper look at the ins and outs of using VMWonAWS and how Cloud Volumes ONTAP can address some of the common challenges.
Introduction to VMware Cloud on AWS
VMware Cloud on AWS (VMWonAWS) brings the popular VMware Software Defined Data Center (SDDC) to the largest public cloud platform in the world, seamlessly extending traditional workloads within vSphere-backed data centers to AWS. VMWonAWS enables customers to run production and business-critical applications on AWS via the familiar VMware technologies and vCenter management console.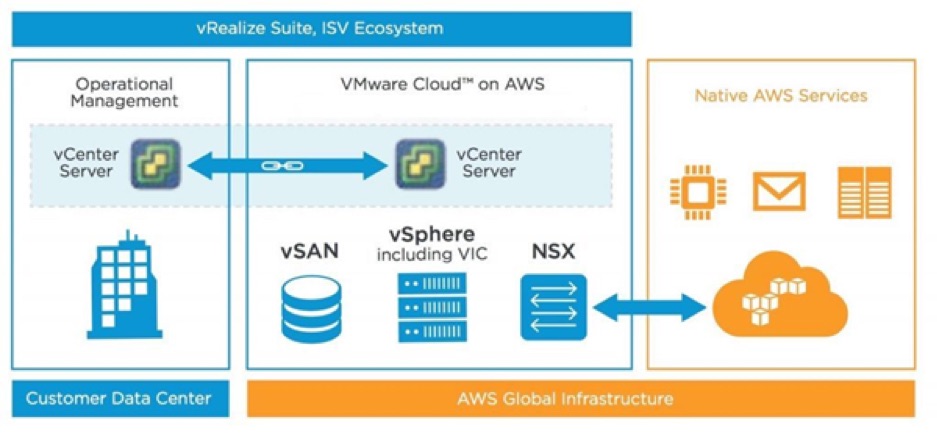 VMWonAWS consists of the same three components that make up the on-prem SDDC: VMware vSphere, VMware vSAN, and VMware NSX. These are now available as a VMware-managed infrastructure (IaaS) platform in almost all the main AWS regions. Given VMWonAWS's identical infrastructure to on-prem SDDC, customers can avoid the hassle and overheads of learning new skills or processes. For more on the basics of the platform, read our introductory post on VMware Cloud here.
Applications previously deployed on vSphere can move to VMonAWS as is, without any conversions or re-architecting. The back-end integration with native AWS cloud services such as Amazon S3 storage and various data base services such as Amazon Redshift ensures that customers can also consume cloud-native services from AWS directly from within VMonAWS without fundamental changes to their applications.
Common Challenges with VMware on AWS: VMware VSAN, VMware Storage Design, and More
VMC on AWS is a useful tool for the AWS hybrid cloud. However, while it enables enterprise customers to benefit from the best of both traditional and cloud native infrastructure worlds, this can come at an increased premium for some workloads.
Storage constraints and costs. In the underlying VMware storage architecture of VMware VSAN, which underpins the storage within VMWonAWS, local storage on each ESXi host is virtually aggregated in a shared storage pool (VMware VSAN datastore). Due to this architecture, VMWonAWS customers are limited to a maximum of 10.1TiB of raw local storage per each VSAN node when using the typically available i3.metal AWS server type (refer to the VMWonAWS pricing tool here).
Given the storage overhead and the recommended slack space that is mandatory as per the underlying VSAN storage design, the actual usable storage will be less, and can vary based on the storage policy assigned to each VM. Typically, this can reduce the usable space per node by 30% which is also the recommended slack space.
With this mandatory slack space and various Failures To Tolerate (FTT) settings potentially reducing the customer usable storage, VMWonAWS customers can find the costs of storage-heavy workloads to be significantly expensive.
VMware VSAN customers typically need to expand their VMWonAWS cluster with additional nodes each time they require additional underlying VMware storage, irrespective of the actual need for additional compute or networking. This extra capacity use comes with the addition of each node that is effectively included within the cost of a node. While this may be acceptable for customers where both their compute (VM) and the storage requirements grow at the same rate, customers with greater storage demands, such as large amounts of unstructured files and user home folder data, will pay disproportionately higher costs.
While customers could benefit from Amazon EBS storage with the introduction of r5.metal instances (currently in preview) which can each scale scale up to 35TiB of EBS storage capacity, the scale of VMware storage growth still brings with it the potentially unnecessary compute and networking costs that customers are having to pay. VMWonAWS with r5.metal instances are also significantly more expensive than the default i3.metal instances which can compound that cost.
Data protection. Customers may find it challenging to protect specialist workloads such as database workloads or VMware VDI workloads efficiently on VMWonAWS as efficiently as they may have been accustomed to in their data centers. The lack of storage level snapshots and integration with applications such as Microsoft SQL server or Oracle can prove to be tricky for enterprise customers looking to quickly and efficiently take application-consistent backups.
Other enterprise data management features. In addition to these, enterprise customers may find it challenging to address various other enterprise storage requirements natively within VMWonAWS. As a hyper-converged storage solution, VMWonAWS doesn't count high availability and failover across Availability Zones, data replication, and instant data cloning for dev/test among its capabilities. Also, given that VMWonAWS is a VMware-specific solution available exclusively within AWS, customers are inadvertently partnered with AWS as a cloud platform.
Cloud Volumes ONTAP Storage Management for Enterprises
Similar to VMWonAWS, Cloud Volumes ONTAP enables advanced data storage and service requirements for enterprises. Available on all the major cloud platforms, including AWS, Cloud Volumes ONTAP lets customers gain data storage services not available in the cloud natively, such as cost- and space-efficient NetApp Snapshot™ copies, cloud data storage cost cutting via storage efficiencies, a dual-node high availability configuration, and more.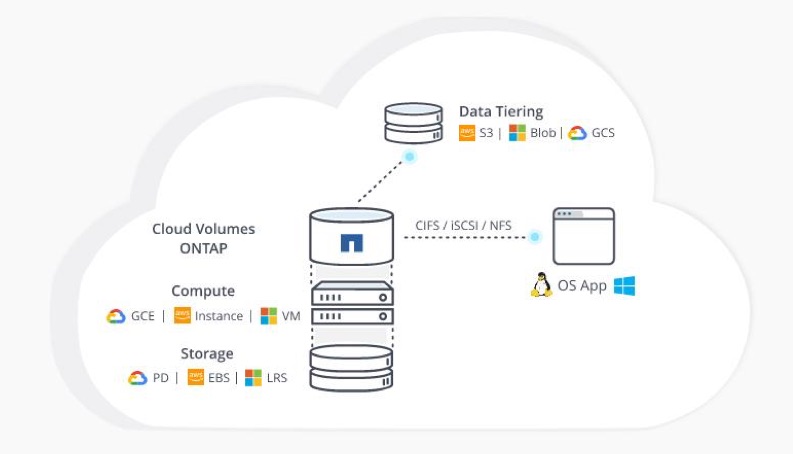 Cloud Volumes ONTAP for AWS utilizes underlying AWS EBS storage volumes and provides built in multi-protocol storage access (iSCSI, NFS, SMB) to their consumers on the cloud platform, whether using native EC2 instances or VMware vSphere virtual machines residing on VMWonAWS.
Cloud Volumes ONTAP is a key component of the NetApp Data Fabric that is designed to provide customers the choice to store their data across the full spectrum of the hybrid and multi cloud without the fear of platform locking of data due to proprietary infrastructure or cloud platform technologies.
Benefits of Using Cloud Volumes ONTAP with VMWonAWS
Cloud Volumes ONTAP storage and data services can be extended to the VMWonAWS customers who can now easily address the VMWonAWS challenges mentioned above.
Avoid space constraints and added costs. The ability of NetApp Cloud Volumes ONTAP to provision NFS or SMB data volumes through the AWS backend infrastructure (via ENI) can directly address the VMware storage related cost challenges for many VMware Cloud on AWS customers. With Cloud Volumes ONTAP, iSCSI, NFS, or SMB storage volumes can independently scale up to 365TB of capacity and customers can achieve substantial costs savings by right-sizing the VMWonAWS environment based only on genuine compute requirements.
Specialist applications such as database servers running on VMWonAWS can also benefit from Cloud Volumes ONTAP iSCSI LUNs presented directly in to the guest operating system of the VMWonAWS virtual machine, enabling these storage-heavy applications to consume storage directly from Cloud Volumes ONTAP, and negating the need for additional, expensive compute nodes in the VMWonAWS cluster.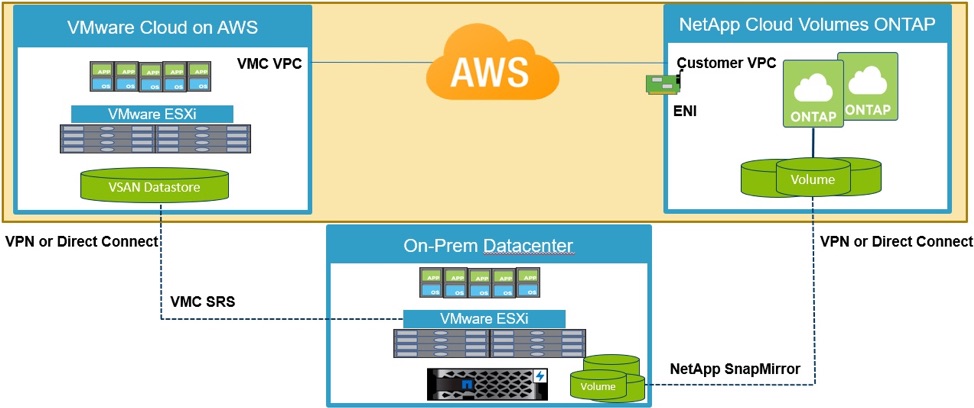 Using this technology, Fujitsu, a global NetApp partner managed to save over $3M costs for one of its clients through the use of Cloud Volumes ONTAP with VMWonAWS. Read more about Fujitsu's case study using Cloud Volumes ONTAP with VMware Cloud on AWS here.
Cloud migration with ease. For customers using VMWonAWS as a steppingstone to an all-cloud strategy, Cloud Volumes ONTAP can be used to dramatically simplify their future application migration plans from VMWonAWS to native AWS EC2 instances or various Platform as a Service (PaaS) services. Since the Cloud Volumes ONTAP data can be accessed from anywhere on AWS, customers can simply migrate or re-architect their applications from VMware vSphere-based VMs to be cloud native, and point them to the same Cloud Volumes ONTAP data volumes to continue accessing their data.
Superior data protection. Storage volumes presented from Cloud Volumes ONTAP to VMs running on VMWonAWS can benefit from the popular NetApp Snapshot capabilities which provide users a seamless data protection experience, especially if you are an existing NetApp customer on premises. Scheduling the creation of snapshot copies can automatically ensure customers meet their enterprise Recovery Time and Point Objectives easily.
NetApp Snapshot copies also give VMWonAWS users a fully automated way to synchronously replicate business-critical production data volumes to other clouds or back to an on-premises NetApp solution. This is not possible to achieve natively within VMWonAWS and it can meet the multi cloud failover and failback requirements that are at the top of the agenda for many enterprise CTOs today to avoid vendor lock-in.
Cloud Volumes ONTAP's AWS high availability configuration is also an additional benefit for VMWonAWS customers who would need high availability across multiple Availability Zones (AZ).
A single-pane-of-glass management interface. Cloud Manager makes it possible to orchestrate all of your storage volumes in AWS and other public clouds from the GUI console or through API calls.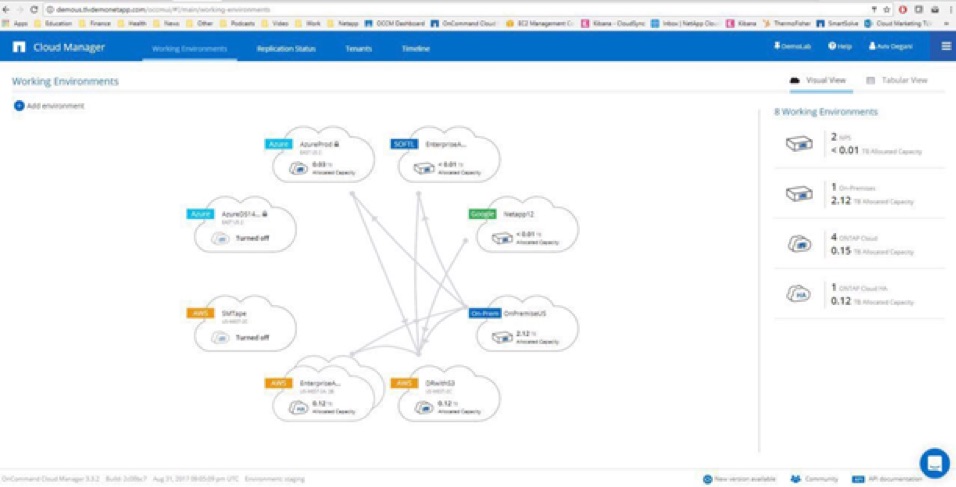 Automatic data tiering between AWS storage formats. Cloud Volumes ONTAP also introduces the ability for customers to use AWS storage tiers, sending inactive data to AWS S3 which can significantly reduce the storage cost footprint of VMWon AWS.
Conclusion
Cloud Volumes ONTAP introduces a number of significant cost savings and a large number of additional enterprise data services to VMware Cloud on AWS. According to IDC, it is anticipated that by 2024, 90% of the global 1000 organizations will mitigate the cloud platform lock-in through the use of hybrid cloud technologies to ensure mobility of their data between multiple cloud platforms and the traditional data center. Hybrid cloud solutions such as VMware Cloud on AWS and NetApp Cloud Volumes ONTAP are the leaders in this space enabling customers benefit from the innovation and the scale of public cloud without being locked out of flexibility.
To find out more read these case studies on VMC and Cloud Volumes ONTAP.