What is VMware Migration to Azure?
Microsoft offers the Azure VMware Solution, a technology that can help you perform automated Azure migration for on-premises VMware workloads. It offers a private, single-tenant, vSphere-based cloud dedicated to VMware workloads, within Azure data centers.
The solution was jointly designed by Azure and VMware, to seamlessly shift existing VMware workloads to Azure. It is deployed on Azure-based bare-metal infrastructure optimized for VMware workloads. You can use it to migrate from on-premises environments to Azure, directly connect workloads to Azure services, and deploy new virtual machines (VMs) in a VMware-compatible environment within Azure.
This is part of our series of articles about VMware Cloud and other solutions for running VMware workloads on the public cloud.
In this article, you will learn:
Azure VMware Solution Features
Azure VMware Solution offers a comprehensive VMware environment on Azure. Migrating to it allows you to:
Leverage existing VMware investments

—the solution is based on vSphere and vCenter, so there is no need to learn new tools and skills. You can manage your VMware environments without having to retrain staff or refactor the underlying hypervisor.

Provide a consistent experience for administrators

—the solution enables you to continue to use the same VMware tools in the cloud, to ensure operational consistency. Administrators can directly manage the VMware vSphere interface, and the Azure portal is only used for infrastructure deployment and management tasks.

Single point of support

—Azure VMware solutions are developed, operated, and supported by Microsoft. Microsoft is the single point of support, coordinating support with VMware as needed.
Learn more in our detailed guide to VMware on Azure
Azure VMware Solution Use Cases
Here are several use cases suitable for Azure VMware Solution. Note that the solution is not suitable for organizations that want to continue using their on-premises infrastructure, in a hybrid cloud model.
Migrate existing assets "as is"
Quickly move virtualized resources to the cloud using a "lift and shift" migration. This entails replicating existing IT systems, applications, and workloads and shifting them to Azure, without making any changes in advance.
Learn more in our guide to What Is a Lift and Shift Cloud Migration?
Reducing data centers
If you are looking to shut down data centers, or reduce the scale of existing data centers, you can move resources to Azure, and decommission existing infrastructure to cut costs.
Disaster recovery and business continuity
Move applications to the cloud in the event of disaster, without disrupting business operations. VMware resources can be deployed in Azure as a primary or secondary on-demand recovery site, providing business continuity in case of failure in existing on-premises data center resources.
Learn more in our guide to Disaster Recovery Solutions for Azure
Modernize your workloads
Azure VMware Solution provides a way to innovate and extend the value of your cloud investment. It lets you leverage Azure tools and services to quickly modernize applications as well as data centers.
Quick Tutorial: Migrate VMware to Azure
In this tutorial we'll show the basic steps involved in assessing your on-premises resources for migration readiness, and deploying the Azure VMware Solution.
Assess the Migration Pattern by Using Azure Migrate
Azure Migrate can help you evaluate whether your on-premises VMware environment is ready for migration to Azure VMware Solution.
Follow these steps to verify that your VMware resources are ready for migration:
Create a support ticket

to request an additional host quota. Azure needs to allocate hosts especially for your Azure VMware Solution, because it runs on bare-metal hosts. If you have a Cloud Solutions Provider (CSP) Azure subscription, you can request the host quotas through the Partner Center. This can take up to five days.

Create an Azure Migrate project

, which will collect data and provide recommendations about your migration.

Set up an

Azure Migration appliance

in your on-premises environment. This is a physical or virtualized server that collects information about your VMware deployment and sends it to your Azure Migrate project. Wait for the appliance to discover VMs running on-premises.

Perform an assessment by visiting your Azure Migrate project in the Azure Portal, clicking Assess, and selecting Azure VMware Solution from the Assessment type dropdown. Select the machines you want to assess and click Review + create assessment. The following report is displayed.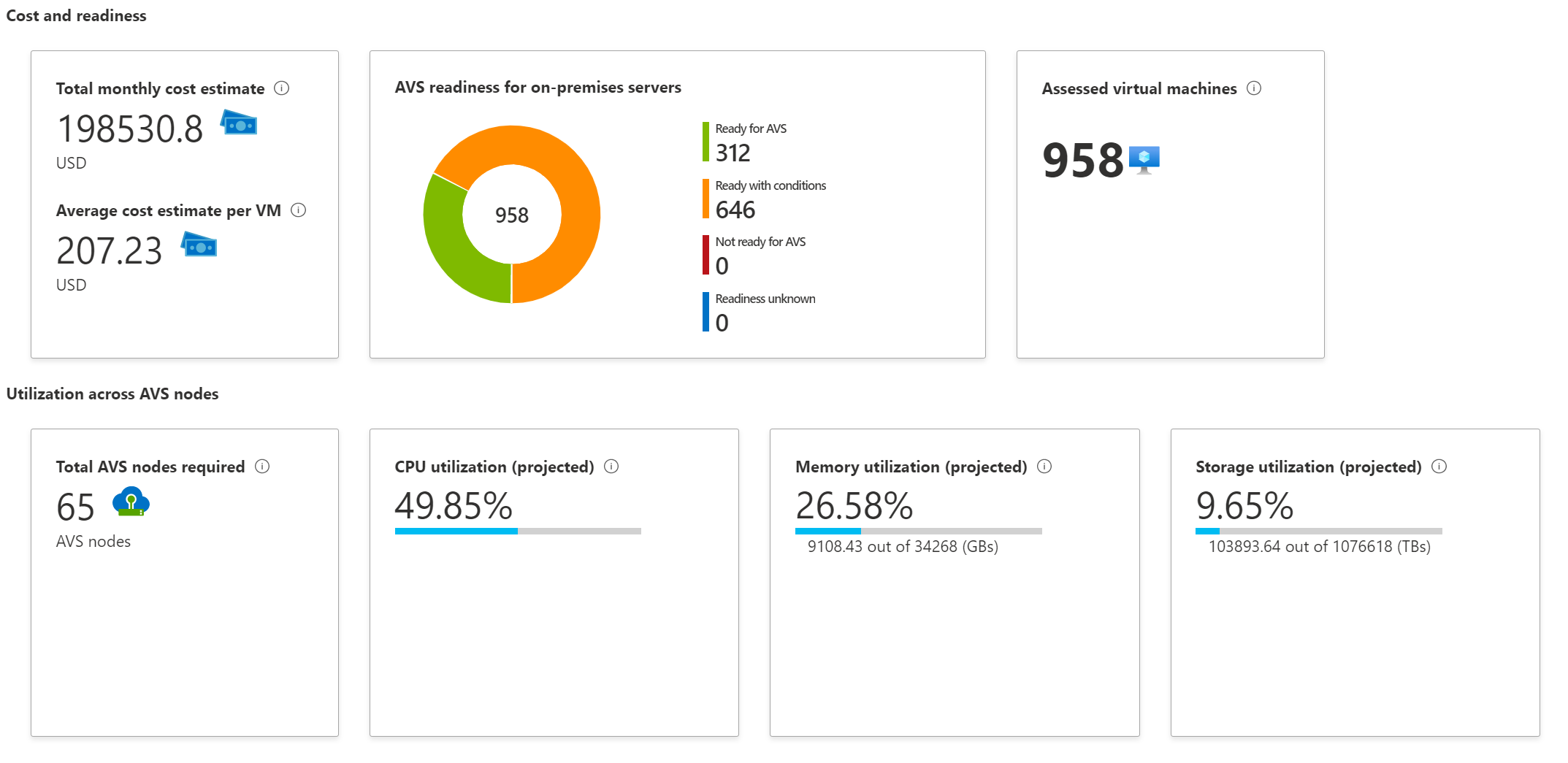 Image Source: Azure
The Azure Migrate assessment provides valuable information that can help your migration:
Number of Azure nodes required—take note of this for the deployment stage

The estimated monthly cost

Suggested tools for migration

A migration confidence score reflecting the level of risk in your migration
Deploy the Azure VMware Solution
After completing the planning steps, you can build your Azure VMware Solution environment. You must have contributor rights to your Azure subscription to proceed.
To deploy Azure VMware Solution and migrate your VMs:
In the Azure Portal, click Create a resource, find the Search the Marketplace box, and type in Azure VMware Solution to find the solution in the marketplace. Select it and click Create.
Fill in the fields in the Basics tab. These include your Azure subscription, the resource group in which you want to run the VMware deployment, the number of hosts (which was projected in the migration assessment stage), and Virtual Network (VNet) details if you want to run the resources in a secure private network.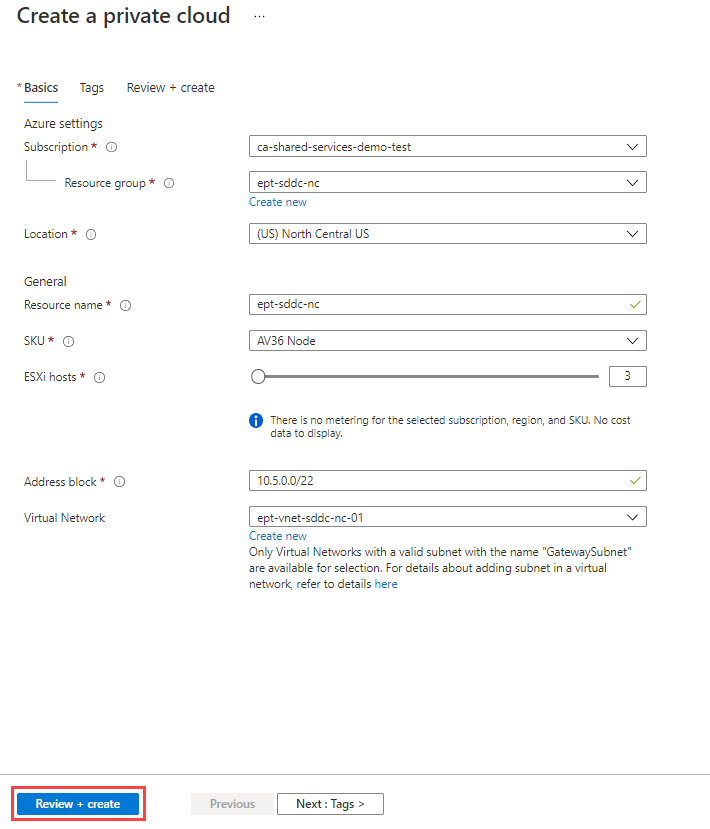 Image Source: Azure
3. Click Review + Create. Deployment can take up to 2 hours. To check status, select your resource group and click Private Cloud—the Azure VMware Solution is deployed as an Azure Private Cloud. When the status is "Successful", this means the solution has finished deploying.
Completing the Migration
Once you have deployed the Azure VMware Solution, you will need to:
Connect to your on-premises vSphere environment and configure NSX-T to communicate with Azure—see Azure's networking tutorial.

Migrate VMs using HCX, a VMware product that is included with Azure VMware Solution. See HCX deployment quick start guide.
Migrate from VMware to Azure Q&A
How Often is VMware Patched or Updated in the Azure VMware Solution?
Azure tracks new releases of each VMware software component and upgrades them without any downtime. Azure commits to keeping each VMware component within one version of the latest VMware software bundle—this includes vSAN, ESXi, NSX-T, and vCenter. As part of the automated upgrade process, Azure also updates drivers, network switches, and firmware on bare metal servers.
You are notified before nodes are updated, and Azure coordinates maintenance windows to ensure that you are aware of upgrades and can make the necessary changes to your workloads.
Can Azure VMware Solution VMs be Managed by VMRC?
Yes, you can use VMware Remote Control (VMRC) to manage VMware resources in Azure. This requires that your machine has network access to vCenter within your Azure private cloud and uses public DNS to resolve the ESXi hostname.
Can You Migrate vSphere VMs from On-Premises to Azure VMware Solution?
Yes. You can use standard Virtual Machine migration methods, including vMotion, to move virtual machines to an Azure private cloud. VMs must meet the regular requirements for vMotion migration (as if you were migrating them within your data center).
Migrate from VMware to Azure with Cloud Volumes ONTAP
NetApp Cloud Volumes ONTAP, the leading enterprise-grade storage management solution, delivers secure, proven storage management services on AWS, Azure and Google Cloud. Cloud Volumes ONTAP capacity can scale into the petabytes, and it supports various use cases such as file services, databases, DevOps or any other enterprise workload, with a strong set of features including high availability, data protection, storage efficiencies, Kubernetes integration, and more.
In particular, Cloud Volumes ONTAP assists with lift and shift cloud migration. NetApp's data replication tools SnapMirror® and Cloud Sync service will get your data to the cloud.
Learn more about how Cloud Volumes ONTAP helps to address the challenges of VMware Cloud, and read here about our Cloud Migration Case Studies and VMware Cloud Case Studies with Cloud Volumes ONTAP.