Subscribe to our blog
Thanks for subscribing to the blog.
This article is part of a series on the cloud journeys of various verticals, with this one focusing on cloud managed service providers.

With cloud adoption now firmly entrenched across sectors that are accustomed to outsourcing managed IT services, it is not surprising that cloud managed services are in great and rising demand.

This blog examines the special needs of the cloud MSPs sector, including real-life success stories of providers who use NetApp's Cloud Volumes ONTAP to provide customized hybrid solutions for their customers.


What Are Cloud Managed Service Providers?

The cloud challenges both the traditional business model as well as the value proposition of managed service providers. All the major integrators—Accenture, IBM, Alcatel-Lucent, and Ericsson, to name but a few—offer managed cloud-based services for business, security, network, next-generation data center, and mobility to organizations of all sizes and sectors. It's a market expected to be worth nearly $54 billion by 2022.

Cloud managed service providers are making this success through:

Offering a robust and comprehensive portfolio of managed cloud services: storage, security, communications, networking, mobility, DR, cloud migration, managed hybrid environments, and so on.
Building deep cloud expertise, including an intimate understanding of the key players in the cloud ecosystem, in order to help customers to develop and implement forward-looking cloud strategies.
Leveraging cloud economies of scale and discounts in order to provide performance at competitive costs.
Supporting a wide range of verticals, each with its own specific digital transformation requirements.
Managed Services for Cloud Computing: Key Considerations

In light of the scale and complexity of their managed cloud services, providers face a number of key considerations for their cloud deployments.

First, they must efficiently manage storage and backups in order to minimize their data footprint and contain costs; however, data and object storage optimization cannot be at the expense of data availability, performance, data protection and business continuity. The providers must, for example, maintain snapshots at a frequency that will ensure they can meet their customers' RPO and RTO SLAs during a failure or disaster.

Second, cloud MSPs must implement iron-clad multi-tenancy in order to uphold the privacy of their customers' data. Inadvertent or malicious unauthorized access to a customer's sensitive business data, including personal information of customers or employees, would be disastrous both for the customer and the provider. Strict compartmentalization of services per customer is also important for reliable monitoring of usage and building a trustworthy billing system. It's also important for the cloud managed service provider to be able to monitor and manage each of their customers' separate environments securely and with ease.

Last, cloud managed service providers must provide their customers with cutting-edge automation and orchestration, offering their customers and partners an intuitive management platform and dashboard that provides visibility across diverse and complex deployments.


Cloud Volumes ONTAP Overview

NetApp Cloud Volumes ONTAP is a customer-deployed data storage management platform that runs on AWS storage and Azure storage to enhance their native storage services.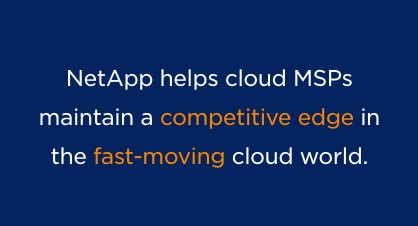 Cloud Volumes ONTAP offers the scale and performance that cloud MSPs need to efficiently lift and shift thousands of workloads to the cloud, cost-effectively manage storage and secondary backups, reliably meet each customer's DR objectives, and gain single-pane visibility and control for both themselves and their customers across even the most complex cloud infrastructures.

Cloud Volumes ONTAP transforms multicloud and hybrid architectures into a seamless data fabric on which the cloud managed service provider can deploy a wide range of value-added services—all within a highly secure multi-tenancy architecture that fully isolates VMs, customers, business units, security zones, and layers.

The key Cloud Volumes ONTAP features include:

Customer Case Studies

In this section, we'll take a closer look at three case studies of customers in cloud computing who leveraged Cloud Volumes ONTAP for major operational and cost benefits.


Concerto Cloud Services: Data Retention and Disaster Recovery

Concerto Cloud Services is a fully-managed cloud provider that specializes in the seamless deployment of enterprise applications across on-premises, third-party, and managed cloud solutions to deliver a tightly integrated, customizable, secure hybrid cloud platform. Concerto maintains large on-premises data centers as well as a public cloud footprint.

In order to enhance its performance capabilities, Concerto deployed Cloud Volumes ONTAP for AWS for data retention and disaster recovery purposes. Using the SnapMirror technology, Concerto rolled out a replication target for both of its data centers in less than two days, after which data deltas only are written to the Cloud Volumes ONTAP instance in AWS in order to keep the replica updated.

The benefits realized by Concerto Cloud Services and its customers through partnering with NetApp:

Customized hybrid cloud solutions that allow customers to switch seamlessly between private and public cloud as well as between performance tiers.
A remarkable four-hour RTO SLA no matter what the customer environment (public, private, hybrid).
Concerto reclaimed 50% of the high-cost storage in its data centers by shifting its DR target to Cloud Volumes ONTAP for AWS.
Cloud Volumes ONTAP built-in deduplication and compression storage efficiencies let the company achieve 96% data reduction for its production data backed up on AWS.

According to Eric Tuley, Director of Cloud Platform Operations at Concerto Cloud Services: "When the bill for ONTAP Cloud came at the end of the month, I couldn't believe my eyes. We're actually able to offer more features that customers need while maintaining our margins. It's a win for everyone." You can read here for more about Concerto's cloud journey with NetApp.


TechnologyOne: High-performing Cloud Data Services with Seven-Figure Cost Savings

TechnologyOne is Australia's largest enterprise software company, serving 1,000+ customers worldwide. After the Brisbane Floods in 2011 stymied TechnologyOne's disaster recovery plan and the company decided to buy Infrastructure-as-a-Service from AWS. After several years, however, TechnologyOne saw that data storage in their hybrid environment was a weak link that was both hard to manage and expensive. They sought a secure, reliable, portable data storage solution that could meet the following challenges:

99.999% uptime.
Extremely high performance.
Synchronous, frequent, low-latency data back-up across their hybrid infrastructure.
Real-time data portability to accommodate seasonal and other workload spikes.

TechnologyOne chose Cloud Volumes ONTAP for AWS as the backbone of a data storage managed service from NetApp. TechnologyOne and its customers are reaping the following benefits, at a predictable monthly fee and with no need for upfront investment:

A flexible, end-to-end solution that covers archive and object storage as well as high-performing and mid-tier performing disk.
Extends AWS' 99.95% resiliency SLA to 99.999% availability.
Exceeds the performance of AWS' fastest storage by a factor of 10.
Seamless data portability across hybrid, multicloud environments.
Over three years, an 85% reduction of their production data footprint, which represents seven-figure budget savings.
Single-pane data management and monitoring across all systems, including managing TechnologyOne's customer chargeback model for data storage consumption.
Its Australian customers can show compliance with data sovereignty regulations.

TechnologyOne's R&D Group Director for Cloud, Iain Rouse, sums it up as follows: "This is the cloud service we were looking for. Looking back at where we were in 2011, we have definitely achieved our business goals. And with NetApp technology, we've also exceeded customer expectations." You can read here for more about TechnologyOne' cloud journey with NetApp.


Optimizing Customers' SaaS Applications

This business unit at a major American computer technology company specializes in API-based cloud integration and data management. They provide their customers with the industry's first graphic point-and-click interface for implementing cloud integrations.

The business challenges that brought them to NetApp included:

The decision to migrate their customers' SaaS environments to AWS.
Providing a high level of automation and availability for shared storage resources.
The need for centralized management capabilities.
An unsuccessful attempt using a well-known open-source framework to manage and scale cloud storage capacity, performance and availability.

The customer deployed three Cloud Volumes ONTAP HA pairs for AWS and then completely automated and orchestrated the deployment using the AWS Cloud Formation API. They can offer their customers superior operability and availability on AWS and their business is growing considerably.


Summary

The cloud managed service industry is helping to navigate a hybrid world. NetApp Cloud Volumes ONTAP's data storage management platform helps cloud managed service providers maintain a competitive edge in the fast-moving cloud world. They can offer their customers cutting-edge and secure hybrid cloud solutions with powerful single-pane visibility and control while maintaining margins through industry-leading storage efficiencies.