Subscribe to our blog
Thanks for subscribing to the blog.
Part of a series that examines the cloud challenges and opportunities of specific verticals, this blog post focuses on cloud computing in education—both higher education institutions and education software vendors.

The education industry has been transformed by the cloud, from student email and mission-critical business systems, to online distance learning platforms and student information systems. With cloud computing in the education sector already valued at $8.13 billion in 2016, it is expected to grow to $25.36 billion by 2021, at a remarkable compound annual growth rate of just over 25%.

This blog looks at the special challenges of cloud computing in education, including real-life success stories of education customers who have used NetApp's Cloud Volumes ONTAP to achieve huge benefits for themselves and their users.
How the Cloud Is Solving Challenges in Education
Cloud scalability and elasticity and the IaaS and SaaS service models are a perfect fit for addressing the trends and challenges in higher education at the end of 2018 and beyond.

Institutions of higher learning foster a unique culture of collaboration across faculty, students, and administrative staff, often in the face geographically-dispersed campuses. Today, nearly 70% of North American institutions of higher education have moved, or are in the process of moving, their admin systems to the cloud, and about 50% have adopted cloud-based collaboration systems to enhance the sharing of information across campus.
Why Educational Technology is Important
Demographically, university students are one of the most highly-networked and connected populations. According to a recent study, university students bring 3-4 devices to campus and expect to be able to use them all seamlessly across the university's IT backbone in order to access content and collaborate. In most cases, the cloud is making it possible to meet those expectations.

Cloud services allow universities to cost-effectively upgrade communication and learning systems without massive capital investments in infrastructure. In the US, such savings are crucial in the face of shrinking government support for institutions of higher learning.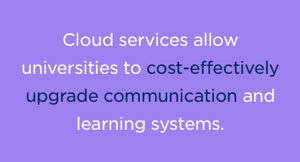 Like many other sectors, there are different approaches to educational technology taking place. Higher education faces the challenge of managing and gaining insight from massive and growing quantities of data—from student and faculty information to sophisticated research analytics. Furthermore, this data requires high levels of security and governance in order to meet both privacy and intellectual property requirements. Cloud deployments—whether public, private, hybrid, or community—have proven highly effective in meeting these needs.

Yet another example is the support of Massive Open Online Courses (MOOCs), which first appeared on the higher education scene in 2012, with a modest worldwide enrollment of 1.5 million. By 2016, through leveraging cloud-based infrastructures, global MOOC enrollment figures had reached 58 million, with courses being offered by the world's foremost universities such as Stanford, Harvard, and Columbia.

Last but certainly not least, higher education has become an increasingly competitive market. In order to remain attractive to faculty and students, institutions of higher learning are under pressure to rapidly and continuously launch new courses and introduce innovative learning methods and materials. As in the software world, cloud-enabled DevOps has become critical in the education sector for maintaining agility and a competitive edge. Being perceived at the cutting edge is also important for hiring and retaining top-tier IT personnel with cloud expertise.
Cloud Volumes ONTAP Is Enhancing Educational Technology
NetApp Cloud Volumes ONTAP is a customer-deployed data storage management platform that runs on and enhances the AWS storage and Azure storage in the public cloud. Cloud Volumes ONTAP helps NetApp's education customers efficiently lift and shift workloads to the cloud, cost-effectively manage storage and secondary backups, and gain single-pane visibility across even the most complex infrastructures. Its key benefits include:
Education Success Stories with Cloud Volumes ONTAP
This section presents success stories of Cloud Volumes ONTAP customers in the education sector: a leading institution of higher learning and two education software vendors.
Monash University: From Cloud-First to Cloud-Only
Monash University is the largest university in Australia, employing and educating 80,000+ students, faculty, and administrative staff members in campus locations on four different continents. Driven by its mission "to inspire and equip students to be agents of change," Monash University has been placed within the ranks of the top 1% of universities across the globe.

Monash University had made the strategic decision to move from a cloud-first to a cloud-only strategy and adopted a multicloud model based on AWS and Azure. It was faced with the task of migrating 3,500 workloads to the cloud within a 12-month period.

Using Cloud Volumes ONTAP's lift & shift and data replication features and Cloud Manager's intuitive interface, they were able to transition to the cloud seamlessly with 1-click full-stack provisioning. They ended up reducing their AWS storage spend by more than 25% and soon realized the benefits of being able to spin up and tear down new environments quickly (in minutes rather than months) as well as retaining data indefinitely.

To find out more about Monash's digital transformation read the full case study here.
D2L: Moving Their Online Learning Platform to the Public Cloud
Founded in 1999, D2L (Desire to Learn) is a leading online learning platform for K-12, higher education, and corporate customers. Today, they support millions of users and thousands of schools, academic institutions, and corporations around the globe. In their highly competitive market, they stand out for their innovation, high availability, and quality.

In D2L's early days, the public cloud was not mature enough to reliably meet their data storage and data management needs. So what D2L did was establish its own data center. As the company expanded, they found themselves managing petabytes of data (course materials, test scores, video content, and more). Maintaining their on-prem infrastructure was taking up too much time and money, resources they would rather have been using to move their core business forward.

That's why D2L decided to transition its platform to AWS for on-demand scalability while using Cloud Volumes ONTAP for optimized management, enhanced storage efficiency, and better data protection. Well aware of the risk in shifting petabytes of production data to the public cloud, D2L relies on Cloud Volume ONTAP's Snapshot copies and SnapMirror replication to quickly move their data while protecting it with cost-effective backup and disaster recovery capabilities.

Cloud Volume ONTAP's built-in storage efficiencies (compression, deduplication) have also reduced the number of files to move, with 20-60% storage space savings depending on the type of workload. Cloud Volume ONTAP's centralized data management and operational efficiencies were also essential in making it possible for D2L to implement a scalable all-cloud platform for their large (and growing) volume of data. The resources they have freed up have been reallocated to innovation that will enhance the customer experience.

To find out more about D2L's move to the cloud view the customer webinar here.
Global eLearning Provider: On-Premises to the Cloud
One of the world's largest education software companies, this customer provides managed web solutions for different types of educational software, including higher education technology, for tens of thousands of educational institutions around the world. Their operations include fully-dedicated and isolated development, staging, and production environments for each customer.

A veteran NetApp customer, they decided to deploy Cloud Volumes ONTAP to migrate their on-premises systems from globally dispersed data centers to AWS. Already familiar with the benefits of SnapMirror and FlexClone, they now use these features to create highly-available NFS shares in AWS and to create a seamless data fabric for their education software applications.

Moving to Cloud Volumes ONTAP also gave them much greater control over the management of their Amazon EBS storage, with thin provisioning, data compression, and data deduplication lowering their cloud storage costs.
Summary
Cloud computing in education has transformed the classroom experience. NetApp's Cloud Volumes ONTAP allows education institutions and solution providers to reap all the advantages of cloud computing in education, such as scalability and elasticity, while supporting complex infrastructures, containing storage costs, and protecting highly sensitive data from loss or corruption. This boost for educational technology benefits not just institutions and their educational technology applications, but the students they serve.

Click here to join our webinar and learn more about cloud computing in education with Cloud Volumes ONTAP.