Subscribe to our blog
Thanks for subscribing to the blog.
Energy, primarily derived from fossil fuels, drives the world's economy. The traditional energy sector—which includes some of the world's largest corporations—extracts, refines, distributes, and sells gas, oil, and coal products that are then used to power our factories, keep our cars moving, heat and/or cool our homes, produce electricity, and much more.

Once highly centralized and monopolistic, the energy sector is being transformed by the introduction of local energy grids using alternative and renewable sources such as the sun and wind. Suddenly faced with regulator and consumer demands for greater transparency and efficiency, the energy sector has had no choice but to become smarter and more competitive.

In this blog, part of a series that explores the cloud challenges and success stories of various verticals, we look at how the cloud is integral to the paradigm shift that we are witnessing in the energy industry, including case studies of how NetApp's Cloud Volumes ONTAP has helped energy companies stay ahead of the curve.


The Energy Industry's Slow but Sure Journey to the Cloud

The energy industry has been traditionally slow to embrace new technologies. Today, however, there are numerous factors that are driving both downstream and upstream energy companies to accelerate their digital transformations, including the need to:


Enable global exploration and discovery activities, using big data and predictive analytics.
Reduce costs so that profit margins can be maintained despite competitive, highly-regulated market conditions.
Foster collaboration with suppliers and partners in an increasingly dispersed and complex ecosystem.

With the cloud's on-demand, OPEX business model and the opportunity to relieve their IT teams, utilities are looking to advanced cloud-based technologies in order to:


Leverage big data for business intelligence and consumption optimization.
Create online portals for fostering customer engagement and saving customer service costs.
Support more flexible and innovative business models in the face of a decentralized power grid architectures.
Embrace X-as-a-Service and OPEX models that reduce costs and risks.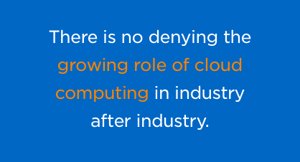 According to the Markets and Markets research firm, the energy cloud market is expected to grow to $15.18 billion by 2021, at a 25% annual growth rate. The kinds of cloud solutions that are getting the most traction are: enterprise asset management, supply chain management, customer relationship management, risk and compliance management, workforce management, reporting, and analytics.


Cloud Volumes ONTAP for the Energy Sector

NetApp's Cloud Volumes ONTAP is a data storage management solution that runs as an instance on AWS storage or Azure storage. It enhances cloud-native services through highly-efficient and secure data storage management, data migration, and single-pane frontend control across complex hybrid infrastructures.

Along with its many other benefits, energy companies can use Cloud Volumes ONTAP to:

Energy Sector Success Stories Using Cloud Volumes ONTAP
Green Energy: A Disaster Recovery in the Cloud Case Study

This customer is the first and the foremost 100% green-electricity supplier in Germany. Its innovative electricity products have already saved the equivalent of over 10,000 soccer fields of rainforest.

The customer chose Cloud Volumes ONTAP for AWS in order to leverage the cloud for disaster recovery, improve accessibility to R&D resources, and reduce developer downtime. The benefits that the company has reaped include:


Significant savings, with ~30:1 storage efficiency that reduces more than 1PB of data to only ~60TB of underlying AWS data storage.
Robust disaster recovery using Cloud Manager.
Allowing DevOps teams to easily spin up and tear down dev/test environments with FlexClone.

In the customer's own words:

It really is astonishing how fast and simple you can change from slow disks to fast SSD Storage within Cloud Volumes ONTAP, perform a test, and change it back to cheap disks in minutes.


Global Crude Oil/Gas Producer: Data Migration Case Study

This multinational US-based energy corporation is the world's largest independent, pure-play exploration and production company has 3,000+ employees dispersed across 21 countries.

Following a CIO directive to move 10% of on-premises environments to AWS, the IT team decided to start with selected Oracle apps. With high availability a top priority, they installed several Cloud Volume ONTAP HA pairs AWS instances.

Using Cloud Manager they managed to lift-and-shift the apps and storage to the cloud as well as integrate their ongoing operational processes and reporting tools.


Energy Manufacturing and Logistics: Production Workloads and File Shares Case Study

This global US energy company has three main divisions: refining (capacity of ~2.2 million barrels of crude oil per day), midstream transportation and storage, and marketing and sales of refined petroleum products.

Following the company adopting a cloud-first strategy, the corporate IT team began seeking a solution that would be cost-effective, easy to deploy, and easy to operate. They deployed several instances of Cloud Volumes ONTAP HA for AWS and one instance of Cloud Volumes ONTAP for Azure.

With superior support from the Cloud Volumes ONTAP team and using Cloud Manager's intuitive single-pane interface provided, they were able to easily and quickly deploy the instances. They have found that Cloud Volumes ONTAP seamlessly and cost-effectively supports their data storage and migration requirements across their very complex hybrid and multicloud infrastructure.


Conclusion

There is no denying the growing role of cloud computing in industry after industry. Although its journey to the cloud has been slower than other sectors, there are powerful forces accelerating the migration of energy companies to the cloud. NetApp Cloud Volumes ONTAP is there to provide an enterprise-grade data storage management solution that will help them reap maximum benefit from the cloud.