Subscribe to our blog
Thanks for subscribing to the blog.
With the launch of NetApp's new Cloud Volumes there are some changes coming. What does this mean, both for customers who are currently using the cloud for their data management needs, and for those who are interested in making the shift to the cloud in the future? Let's take a look at some of the great things that Cloud Volumes has to offer.
What's Different?
With the launch of NetApp's Cloud Volumes, customers can now select from two models to best meet their needs for data management in the cloud: The Cloud Volumes Service service model and the Cloud Volumes ONTAP (formerly ONTAP Cloud) product model.
For customers seeking full control over their data management, Cloud Volumes ONTAP is the way to go. Cloud Volumes ONTAP has a brand-new name, but it brings all the same premium, enterprise-grade data management capabilities as NetApp's flagship ONTAP software into the cloud for use with AWS and Azure.
The Benefits of Cloud Volumes ONTAP
Cloud Volumes ONTAP is available with NetApp's data protection, storage efficiency features, replication technology, and hybrid multi-cloud platforms control, leveraging the NetApp Cloud Manager management and automation capabilities.
Click below to learn about 10 Good Reasons for NetApp Cloud Volumes ONTAP: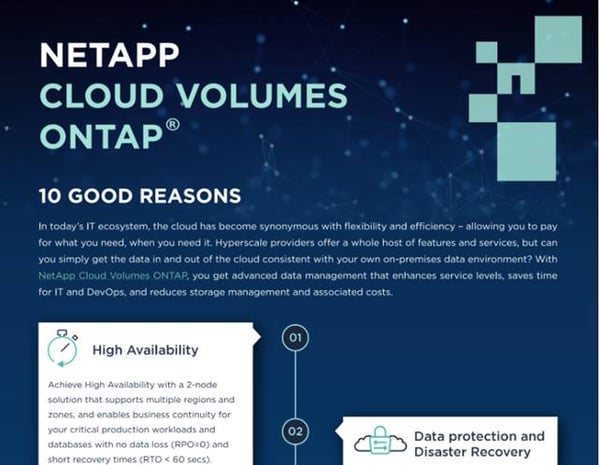 Click on the image for the infographic
Cloud Volumes ONTAP has all of the powerful capabilities that made ONTAP the cornerstone of storage systems, now made available for use with the cloud.
With Cloud Volumes ONTAP you get:
Shared file storage that can be accessed interchangeably by NFS, SMB/ CIFS, as well as iSCSI protocols.

A wide range of storage efficiencies such as data deduplication and data tiering to inexpensive object storage formats such as Amazon S3 and Azure Blob. Taken together these features allow organizations to reduce their storage footprint and costs by as much as 70%.
Cloud Volumes ONTAP's high availability dual-node configuration ensures that your operation can meet the strictest, zero-second RPOs and under 60-second RTOs in case of failure.
SnapMirror®

data replication

makes sure that your data is protected, using efficient ONTAP Snapshot™ technology to update disaster recovery copies quickly and at low costs. SnapMirror also makes it easy to lift and shift from existing NetApp storage systems to the cloud.

Full manageability of storage across platforms, both on-premises and in multiple clouds.

Easy-to-create and extremely space-efficient cloning capabilities using FlexClone®. This helps you reduce time to market and control the costs of dev/test processes.
Dynamically allocated persistent storage for stateful sets in Kubernetes with NetApp's open-source provisioning tool, Trident.
To get a look at Cloud Volumes ONTAP at work, take a look at this video: