Subscribe to our blog
Thanks for subscribing to the blog.
One of the cloud's greatest advantages is its flexibility: cloud storage allows you to continuously right-size the infrastructure to fit your needs. You provision infrastructure when you need it and release the infrastructure—and stop paying for it—when you don't. Cloud Volumes Service's metered payment model enables you to customize your cloud storage to suit your data infrastructure needs. In addition, Cloud Volumes Service metered service allows you to use the AWS cost explorer tool to better understand your usage, forecast future costs, and set budgets.
In this blog post, we provide an overview of Cloud Volumes Service metered billing in AWS marketplace.
Understanding Metered Billing in AWS
Metering refers to the methods and tools used to track the usage of infrastructure and software delivered via the cloud. IaaS, PaaS, and SaaS vendors have a variety of options for metering the usage of the solutions they provide to clients, including per user metering, per account metering, and per transaction metering. Cloud Volumes Service metering is based on allocated and used capacity and the respective service tier(s).
Cloud Volumes Service Metered Version: Pay for What You Use
Cloud Volumes Service metered model provides a pay-for-what-you-use subscription with a pay-as-you-go approach to pricing. With Cloud Volumes Service metering, you pay only for the capacity allocated or used per service level without the need for long-term contracts. It's just like paying for water and electricity. You only pay for what you consume, and once you stop flip the off switch, you don't incur additional costs or termination fees.
Pay-as-you-go pricing allows you to easily adapt to changing business needs without overcommitting budgets. With a pay as you go model, you can respond quickly to actual needs, rather than abstract forecasts, reducing the risk of over- and under-provisioning capacity.
By paying for services on an as-needed basis, you can focus on innovation and invention, reducing procurement complexity and enabling your business to be fully elastic.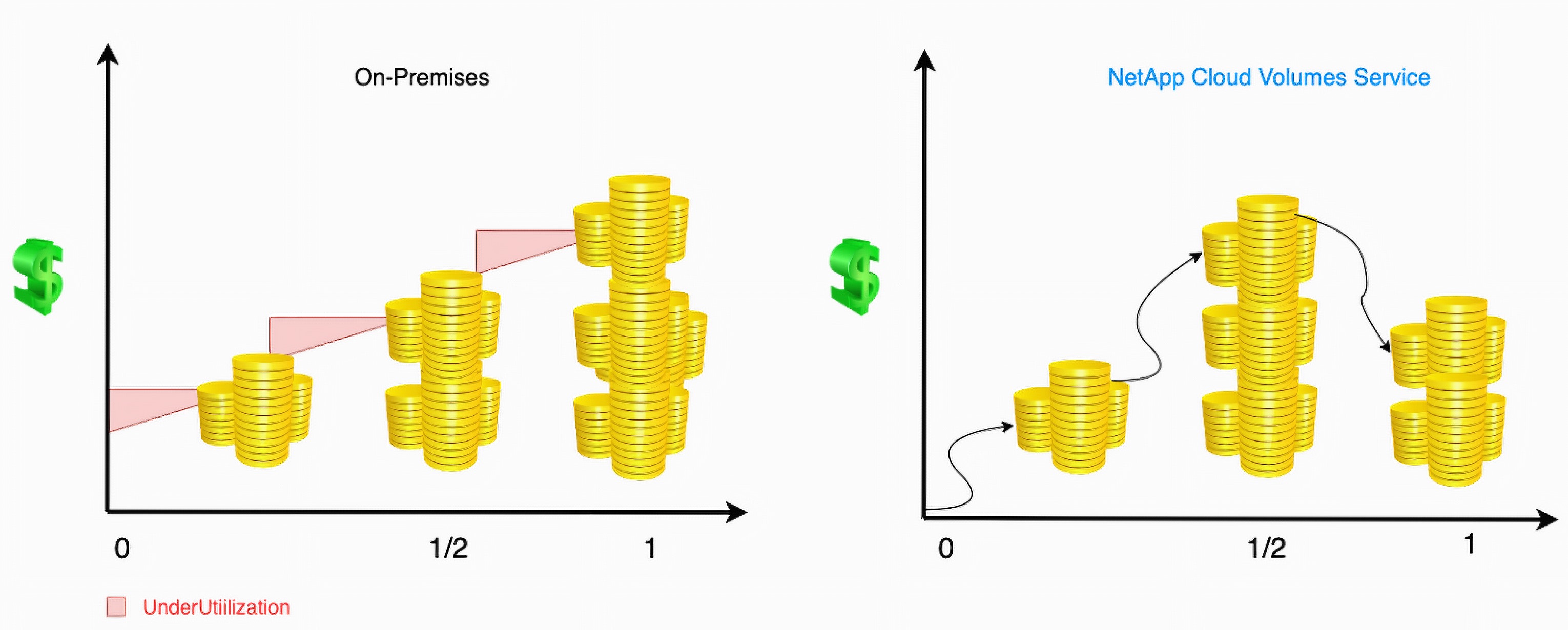 Pricing Information: Metered Billing in AWS, Lower Cloud Costs
Pricing is calculated per gigabyte per 7.2 hours (7 hours 12 minutes); in other words, we report usage every 1/100th of an AWS-defined month (720 hours).
There are three performance levels for Cloud Volumes Service, each of which is backed by a Service Level Agreement. A customer can dynamically change their service level without needing to move data. Customers will be charged for the capacity they use and the amount of time their data spends on each service level.
Pricing for each service level is:
STANDARD: $0.001 per 7.2 hours metered unit
PREMIUM: $0.002 per 7.2 hours metered unit
EXTREME: $0.003 per 7.2 hours metered unit
Pricing is calculated as Storage allocated multiplied by the number of time periods (7.2 hour units), according to the unit price per GB of service level. The formula looks like this:

For 1TB of data on the Standard tier, that's:

The following table includes the total cost of hosting 1TB of data on the Standard, Premium and Extreme levels, respectively.

Minimum Volume Size at the Time of Subscription
You can subscribe to the metered Cloud Volumes Service with a minimum volume size of 100GB. This service prorates the billing, which means that customers only pay for the amount of capacity allocated or used per service level. Pricing information reveals that the 7.2 hour unit per GB per tier amounts to 1/100th of an AWS month.
You can control cloud performance by dynamically adjusting service levels. If you need to increase performance, you can increase capacity allocation and/or choose a different service level.
Read our blog about changing performance on the fly for more details.
Existing Customers: Stay on Current Plan or Move to Metered
If you're an existing customer on a contract model and would like to migrate from your contract to metered subscription, you need to subscribe to the new Cloud Volumes Service metered model in the AWS marketplace. To do that, go to the AWS marketplace page and sign into your AWS account; type "Cloud Volumes Service metered" in the search bar. Then select the Cloud Volumes Service metered product listing in the AWS marketplace and proceed with the subscription. Follow the on-boarding link for more details. Once the subscription is successfully created, go to exiting subscription in the AWS Marketplace and click on the "Manage Subscriptions". Search for NetApp Cloud Volumes Service subscription and proceed to cancel the Auto-Renewal.
Cloud Volumes Service Metered in the Cost Explorer
Cost Explorer is a tool that enables you to view and analyze your costs and usage. You can explore your usage and costs using the main graph, the Cost Explorer cost and usage reports, or the Cost Explorer reports.
You can view data for up to the last 12 months, forecast how much you're likely to spend for the next three months, and get recommendations for what to purchase. You can use Cost Explorer to identify areas that need further inquiry and see trends that you can use to understand your costs.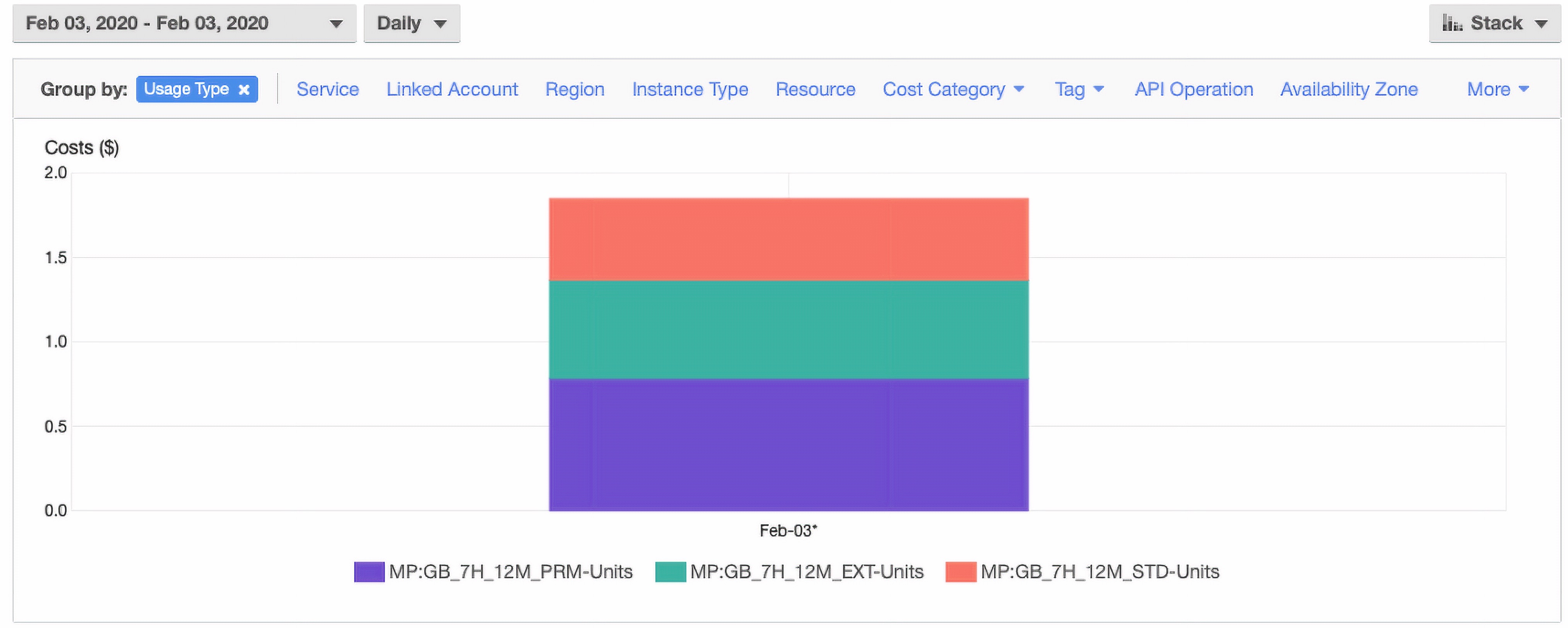 In the above graph, you can see an example of the three service tiers and their costs in an AWS cost report that's been filtered for Cloud Volumes Service, which revealed costs incurred from CVS's metered data storage. The next graph shows more detailed information: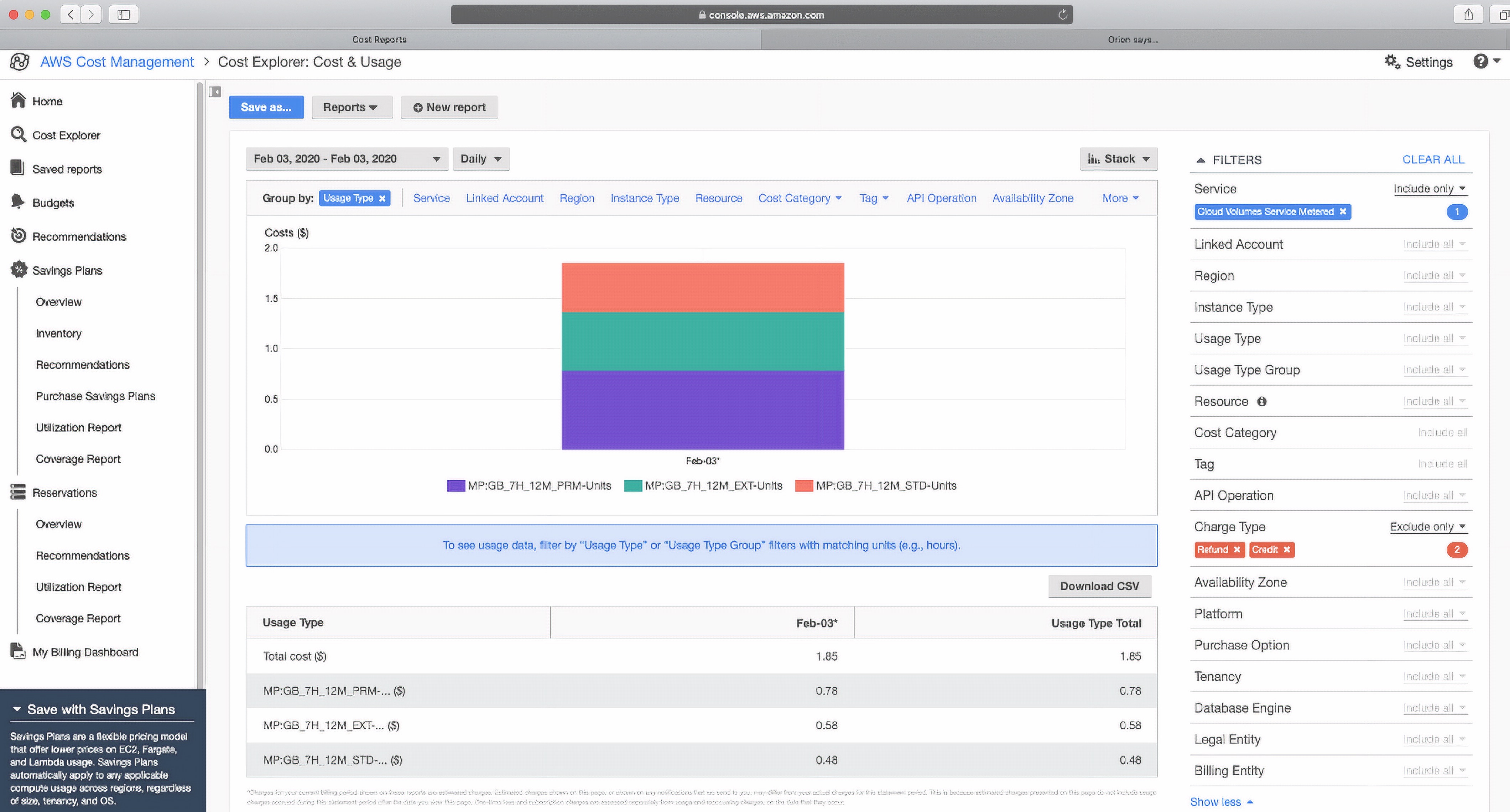 Likewise, you can filter by region to see the three Service Tiers and their costs across multiple regions. I have filtered by Cloud Volumes Service and date to see the cost incurred from data storage in Cloud Volumes Service metered across all regions.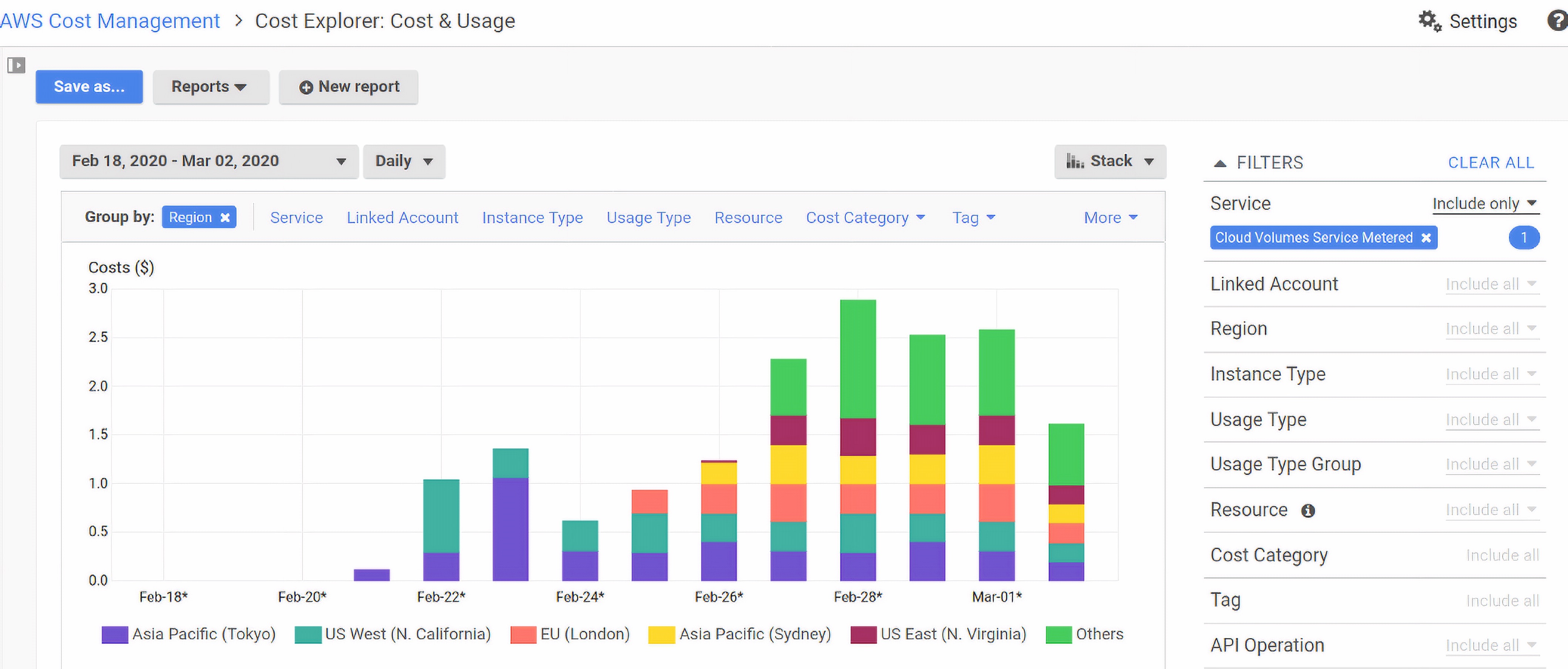 For more details on AWS billing, visit AWS Billing and Cost Management.
Cost Savings With Metered Billing
Learn more about Cloud Volumes Service for AWS today.