Subscribe to our blog
Thanks for subscribing to the blog.
Enterprises often turn to cloud storage solutions to gain advanced storage management capabilities. However, even after subscribing to an enterprise-grade cloud storage platform, organizations still need to overcome complex architectural challenges, and figure out how to meet their high-availability, cost-efficiency and data protection requirements. This calls for the adoption of certain best practices.
IT Central Station has published a peer paper report in which it details some of these best practices, based on organizations' hands-on experience with NetApp's Cloud Volumes ONTAP.
The reviews were given by architects, storage supervisors, senior IT managers, lead storage engineers, system programmers, and application directors. IT Central Station surveyed companies from a wide range of sectors, including energy/utilities companies, tech services, and vendors, finance and insurance companies, universities, and manufacturing companies. All the companies are large enterprise with over 10,000 employees that needed to scale up storage, in some cases as much as hundreds of terabytes.
In this blog post we introduce Cloud Volumes ONTAP, an enterprise-grade storage management solution, and invite you to explore how it enhances its users' storage management practices, as detailed in IT Central Station's report.
IT Central Station: A Short Intro
IT Central Station is an online platform that specializes in enterprise technology. One of the fastest growing crowdsourced-knowledge platforms, the site connects technology end-users and independent experts from around the world, allowing them to share unbiased reviews, recommendations and advice regarding enterprise technology.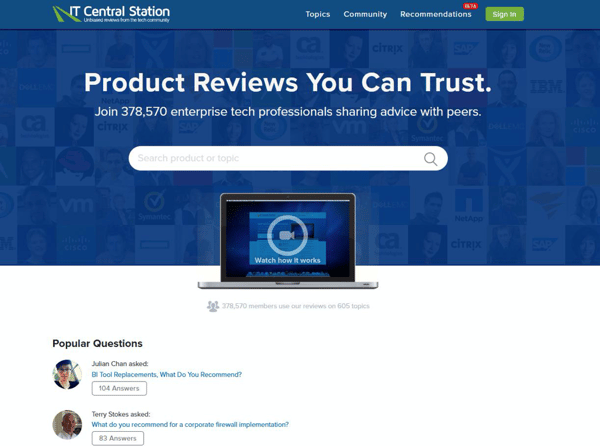 The content published in this dynamic community allows enterprises to make informed decisions about the technology that they are considering purchasing. In a changing IT landscape, this is the kind of hands-on knowledge that can be a handy decision-making tool when searching for solutions for your enterprise deployments.
The Report on Enterprise Data Management
IT Central's report delves into the best practices for cloud-based enterprise data management, focusing on how NetApp Cloud Volumes ONTAP makes this possible. The bulk of this report is based on first-hand reports of using Cloud Volumes ONTAP as shared on IT Central Station.
To find out more about best storage management practices gathered from hands-on enterprise experiences, check out IT Central Station's Best Practices for Enterprise Cloud Storage Management report.
NetApp Cloud Volumes ONTAP is an enterprise-grade data management solution available in AWS, Azure, Google Cloud, and in hybrid environments. Cloud Volumes ONTAP enables its users to boost efficiency and reduce costs through NetApp's array of storage efficiency features, and comes with a wide range of additional capabilities such as cloud file sharing, instant data cloning, and backup and disaster recovery. Plus, NetApp Cloud Manager helps enterprises enable intricate hybrid architectures, providing single-pane visibility as well as monitoring and automation tools needed to effectively manage storage across hybrid and multicloud architectures.