Subscribe to our blog
Thanks for subscribing to the blog.
We are proud to announce the general availability of a new Monitoring capability in Cloud Manager that gives you insights and analytics on the performance of your Cloud Volumes ONTAP environments.
Effortless storage performance monitoring and optimization
Cloud storage environments need to be correctly sized before deployment to guarantee they meet the performance requirements of the attached applications and databases. But it doesn't end there. It's also necessary to ensure that the storage environment continues to operate optimally over time. While there are plenty of monitoring tools available, they typically require extensive customization. They also demand the ongoing effort of extracting the information necessary for isolating and fixing problems in your storage environment. The new Monitoring capability on Cloud Manager eliminates both of these difficulties.
It is effortless because it is built into Cloud Manager and activated with a single click. With Monitoring enabled, you get vital information on the health of your Cloud Volumes ONTAP environments delivered automatically to your Monitoring dashboard on Cloud Manager.
Monitoring is supported from Cloud Manager release 3.8.4 for Cloud Volumes ONTAP on AWS. Support for Cloud Volumes ONTAP on Azure and GCP will be added in upcoming releases.
Gain valuable insights, eliminate risk and drive efficiency
Cloud Manager's Monitoring gives you actionable insights about your Cloud Volumes ONTAP storage infrastructure health and performance. All of the necessary analytics appear in a concise dashboard on Cloud Manager without the need to setup or configure anything.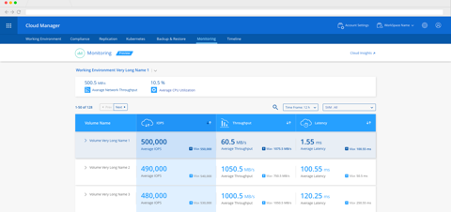 Figure 1 - Visual Metrics of your Cloud Volumes ONTAP environments
Network Throughput and CPU utilization are provided per node. Performance monitoring is shown on the volume level including IOPS, Throughput and Latency. Having continuous access to these important metrics lets you quickly identify over-utilized and under-utilized resources and take actions to resolve problems and optimize your infrastructure. This proactive approach can significantly reduce troubleshooting time and help control costs.
Figure 2 - Real-time dashboard for each volume
The Monitoring capability in Cloud Manager is a subset of the NetApp Cloud Insights service. Learn more about the full capabilities of Cloud Insights.
When you enable Monitoring on Cloud Manager, your cloud account will be charged for a small virtual machine that Cloud Manager deploys in your cloud account for data acquisition. Other than that, there is no charge for using Monitoring on Cloud Manager.
Start monitoring your cloud storage environment in minutes
Monitoring with Cloud Manager is easy. Within minutes you'll be able to:
Monitor the health of your storage environments
Identify over-utilization and under-utilization
Resolve faults before they occur
Reduce costs & improve performance
To get started with Monitoring on Cloud Manager - Login to your NetApp Cloud Central account and select Fabric View > Cloud Volumes ONTAP > View Cloud Managers.