NetApp's Cloud Data Sense has been awared as a leader and outperformer in the 2022 GigaOm Radar Report. This year, the solution has made it to two Radar Reports for unstructured data management: business and infrastructure.
In this post, we'll take a closer look at the GigaOm reports and what they had to say about Data Sense.
Data Sense's Top Marks for Unstructured Storage: Understanding the GigaOm Radar Report
Cloud Data Sense has been named a leader in the GigaOm Radar Report for 2022 in both the business and infrastructure categories, clearly showing the value of this NetApp data governance toolkit.
In 2021 GigaOm reported Data Sense as a "challenger" in the market. This year's award aligns with the NetApp commitment to provide best-in-category products and top solutions for both business and infrastructure applications.
GigaOm Radar Reports: The Results
The two radar report categories represent different solutions for unstructured data, with infrastructure applications focusing on the management of data, compliance, and data policies, while business applications focus on how to leverage the data for business decision-making. NetApp was the only vendor to score "Exceptional" in both categories in the GigaOm Radar Reports.
GigaOm's Radar Reports regularly identifies the top vendors in key enterprise software fields. In the area of unstructured data management, the reports assess the ability of the solutions to help companies understand what data is stored across the enterprise as well as the ability of a solution to build a strategy to reduce costs and improve ROI for data storage.
Cloud Data Sense performed exceptionally in the innovation and platform play categories in The Business Focused Radar. This report assesses different solutions in terms of their ability to provide business insights and intelligence that can be applied to business decision-making.
It also performed exceptionally in terms of maturity and platform play in The Infrastructure Focused Radar. The infrastructure report concerns itself with the management of data itself in terms of understanding infrastructure, data flows, and metadata.
What the GigaOm Reports Have to Say About Cloud Data Sense
By excelling in both categories, it appears that Cloud Data Sense has managed to provide both innovation and maturity while maintaining a platform-level approach to enterprise data management. It also points to the fact that the NetApp solution for unstructured data management is highly effective for IT, security, and business intelligence teams.
According to the infrastructure GigaOm Radar report, "NetApp offers unparalleled business-related unstructured data management capabilities." The business assessment also pointed out Cloud Data Sense's standout business capabilities, highlighting its "unmatched regulatory compliance management [...], a comprehensive data source support, a contextual AI engine that automatically categorizes data based on context understanding, and support of NetApp's rich on-premises and cloud-based ecosystem."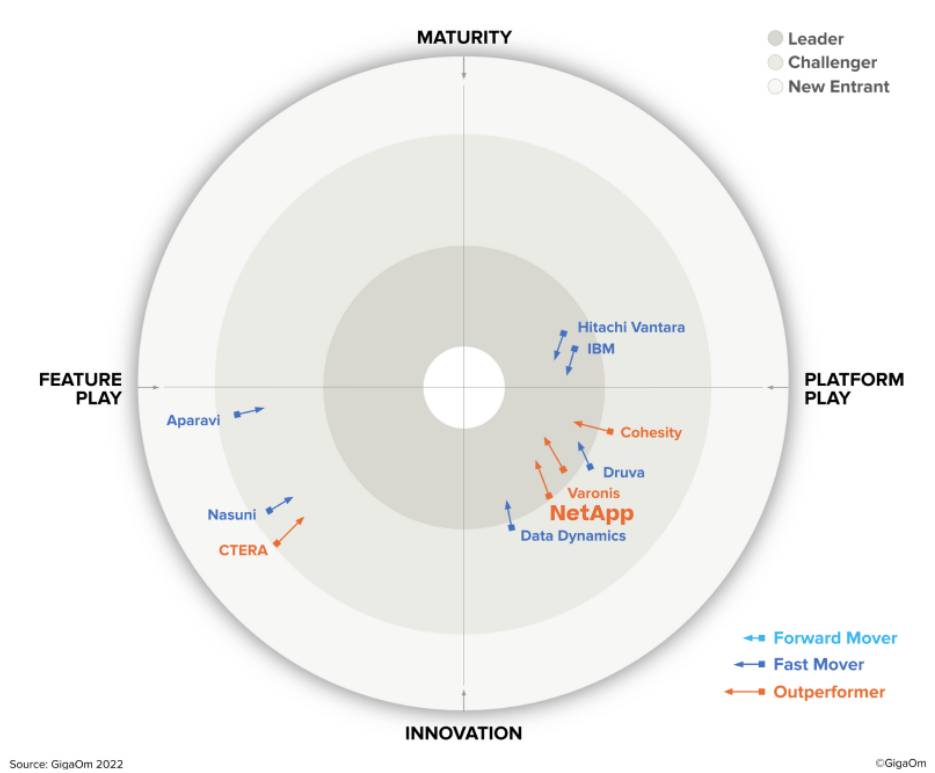 Major Technological Leaps in 2021 for Unstructured Data
The main advantages of Cloud Data Sense cited in the reports were its ability to identify DSARs (Data Subject Access Request), PII (Personal Identifying Information), and support compliance regulations. Compliance is particularly complex for multinationals, particularly in light of changing regulatory and market environments. Cloud Data Sense provides an advantage in addressing compliance even when dealing with highly complex data spread over different systems in an enterprise.
Cloud Data Sense has made huge leaps over the past 18 months. In fact, the product underwent a name change to reflect the gains in its capabilities to manage unstructured data.
The following are some of the capabilities that have contributed to GigaOm Radar Reports upgrading Cloud Data Sense from a "challenger" to a leader in the area of unstructured storage:
Data mapping across any storage repositories
Continuous change monitoring
Identification of sensitive personal data
Finding out where old unnecessary data resides
Classification on data based on content
Visualize duplicate data to be consolidated
Automatic data labeling
Categorization of business and non-business data
The GigaOm Radar report states that "NetApp has a remarkable set of capabilities related to metadata analytics, compliance, and security, to name a few. The company also is innovating at a very rapid pace." The integration of Cloud Data Sense with the full NetApp suite of products provides an advantage for companies who are looking to have a complete cloud management solution that includes unstructured data storage.
Read the full GigaOm Radar Reports to see how Cloud Data Sense stacks up to the competition:
GigaOm Radar for Unstructured Data Management: Business-Focused Solutions
GigaOm Radar for Unstructured Data Management: Infrastructure-Focused Solutions