Understanding, monitoring and optimizing your costs on Azure can get complex fast, as you grow to use more managed services, more virtual machines, and start provisioning resources automatically or in a self-service model. Azure Cost Calculator is a free cost management tool that can help you estimate your cloud costs for new Azure deployments, or variations of your existing workloads.
In this post, we'll briefly explain Azure's pricing and show how the calculator can help you estimate your costs. In addition, we'll show how NetApp Cloud Volumes ONTAP can reduce your storage costs on Azure.
In this article, you will learn:
What is Azure Pricing Calculator?
Azure Pricing Calculator is a tool you can use to gain real-time cost estimates for your services. You can customize these estimates with personal configurations for greater accuracy, and can access and modify the estimates through a central dashboard.

Azure Cost Calculator Features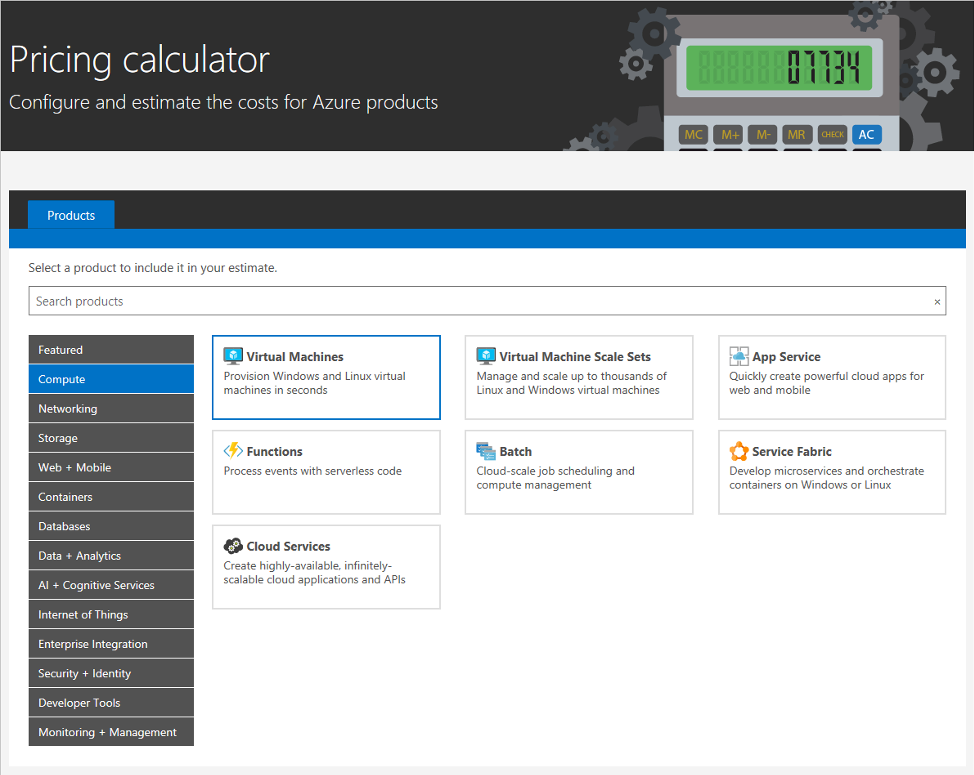 Source: Microsoft Azure
The Azure Cost Calculator provides several capabilities, including:
See all Azure products and services, with a short description and a link to a product page. Each page has detailed specs and cost estimates.
Customize services you wish to include per your storage requirements, resource consumption, performance expectations, and budget. As you read about and select services, the calculator caches your selections to ensure that progress is not lost.
As you select services, you can swap back and forth between product screens and cost estimates. Each service you've selected is displayed with a cost breakdown on the estimates page. You can also return to product pages from the estimates screen in case you want to re-evaluate your options.
If you find that you no longer want a service or want to edit your parameters, you can do so from the Estimate screen.
Once you're satisfied with your estimate, you can click Purchase options. You can then either purchase resources directly through the Azure site, via your Microsoft representative, or via a managed service partner.
Understanding Azure's Price Structure
To get the greatest benefit from the Pricing Calculator, you should first understand Azure's pricing structure. Below are the main components you should familiarize yourself with:
Virtual Machine (VM) types
The most common choices are General Purpose, Memory Optimized, or Compute Optimized. VMs are available as pay-as-you-go or reserved.
Pay as you go—you pay for VMs as you use resources. These are priced according to the number of CPUs or GPUs and available GB of memory.
Reserved VM instances (RI)—you can commit to use for one to three years. In exchange for contracted time, you get up to a 72% price discount.
Storage
Azure provides several storage services with different pricing models.
Azure Blob Storage—you're charged a base rate for the first 50 TB. You can get discounts for use over this amount with the greatest discount for over 500 TB drives. You can also pay a lower rate for less frequently accessed data in exchange for higher latency during retrieval. This storage has two price levels, infrequent access and archive storage.
Azure Files—price starts from $0.24 / GB / month, with additional charges for operations performed on the data, data redundancy options, and the storage tier (premium with SSD drive, or standard).
Azure NetApp Files—offers three performance tiers, price is $0.000202 / GB / hour for Standard tier, $0.000403 for Premium, and $0.000538 for Ultra.
Azure Table Storage—price starts from $0.045 / GB / month, with additional charges for data options and improved redundancy.
Learn more in our in-depth article about Azure storage pricing.
Additional factors
Some additional factors also affect Azure costs, including rating frequency and price matching.
Rating frequency—many services cost per hour of use, rounded up. Some services, such as Windows VMs and Container instances, offer per second costs.
Price matching—Azure offers price matching with comparable AWS services. This applies to publicly available pricing only.
How to Use Azure Cost Calculator
Using the Azure Cost Calculator is very straightforward. Below is a brief outline you can use to access and operate the calculator.
1. From the Azure pricing page, click on Pricing calculator.
2. Search for the product you want or select from the featured products below the search bar. You can also click the Example Scenarios tab if you'd rather modify a template set-up.
3. Once you've added your product, you can see the estimate and provide product specifications in the Saved Estimates tab. Make sure to rename your estimate by clicking on "Your Estimate" to the left of the estimated total.
4. Next, input your specifications, including region, type, service tier, and billing options. You can see the estimate by either use hours, days, or by month. The estimate will also include services needed to use your selected product, such as storage and support.
5. As you add products, you can modify the configuration of each product in your estimate to optimize your costs. You can also see how resources overlap, for example if two Azure services use the same underlying storage or compute services.
6. After you finish, you have the option to Export to Excel, Save, or Share your estimate report. Saved reports remain in the Saved Estimates tab. If you want to save reports to return to in a later session, make sure to log in via the Log in link under the calculator tabs before you end your session.
Reducing Azure Storage Costs with Cloud Volumes ONTAP
NetApp Cloud Volumes ONTAP, the leading enterprise-grade storage management solution, delivers secure, proven storage management services on AWS, Azure and Google Cloud. Cloud Volumes ONTAP supports up to a capacity of 368TB, and supports various use cases such as file services, databases, DevOps or any other enterprise workload.
In particular, Cloud Volumes ONTAP provides storage efficiency features, including thin provisioning, data compression, and deduplication, reducing the storage footprint and costs by up to 70%.