Subscribe to our blog
Thanks for subscribing to the blog.
Rajan Pillay - Global Head, Agile Infrastructure CoE, TCS
Ganesh Kumar Kasiviswanathan – Practice Lead, Agile Infrastructure CoE, TCS
Soumitra Mandal - Architect, Container & DevOps Solutions, BFSI, TCS
Arvind Ramakrishnan - Sr. Solutions Architect, Cloud Services, NetApp
Background
In the post pandemic era, Enterprises are accelerating digital transformation to be agile, improve productivity, optimise resource utilization, and launch new products and services at a faster pace to meet the ever-growing needs of the customers. However, to do that, Enterprises need to move beyond their legacy systems and embrace new technologies to fulfil their transformation objectives. They need to operate at scale, be flexible and with greater efficiency. Technologies like Containers are being actively pursued and adopted by Enterprises. In simple terms, Containers comprises of a production environment, application workloads, and its dependencies, including hardware and middleware, all composed in one modular entity that enabling easier deployment. Containers can be leveraged to run a small microservices to a large application across many compute environments. The benefits of Container adoption include portability, improved availability, agility (time to market) have been driving customers and business to leverage container as a key transformation lever.
According to the CNCF Annual Survey 2021, 96% of the organizations are either using or evaluating Kubernetes- which are open source platforms for automating and managing container deployments. Two out of three application developers are adopting Kubernetes and containerization for their mainstream applications in production. The CNCF survey clearly calls out the year 2022 to be the watershed for containers as the default for application deployments.
Kubernetes Adoption Challenges
While benefits are aplenty, adoption of Kubernetes and containers come with their own challenges. To name a few –
Adoption of a new platform architecture means a technology ramp-up is imminent
A plethora of new products and tools in a dynamically evolving ecosystem can be overwhelming
Platform transformation leads to a culture transformation and the associated OCM challenges
Need for revisiting application and data protection strategies
Steep learning curve associated with the new technologies
Building a standardized container platform from scratch in an organization requires significant upfront investments, robust test processes, and on-going maintenance as the platform components are revised over time.
To illustrate how the above challenges have manifested in business, A multi-national Insurer in UK was unable to migrate their Windows workload, A leading banker in US is focusing on supporting their multi-protocol workload with secure Servicemesh, A leading retailer in UK did not have the governance in place, and must realign the team, A leading bank in EMEA had started their cloud journey but found the costs unmanageable, A multi-national healthcare company in Europe experienced over provisioning due to lack of chargeback.
Incorrect decision making can cost an organization tens of million dollars, more critically it can be regressive to transformation journey by many months or restrict technical capability.
With TCS Cognix Enterprise CaaS solution you can drive the digital transformation focusing on your business outcomes, While TCS and NetApp as partners can help you in container technology adoption.
About TCS Cognix Enterprise Container as a Service
Tata Consultancy Services (TCS) has set out on a mission to help its customers overcome the above said container adoption and platform operational challenges and expedite their cloud-native application modernization and datacenter transformation goals.
TCS Cognix Enterprise Container-as-a-Service (CaaS) is a holistic solution that enables to overcome adoption and operational challenges in a typical Kubernetes Platform by an Automation first approach right from platform provisioning to Operations. Cognix Enterprise CaaS help customers to provide their consumers a true Container-as-a-service consumption model inclusive of Security, DevSecOps and IaC capabilities across On-Prem, Private and Public Clouds. It comes with pre-built integrations, OOB (out-of-box) configurations and is Hybrid / Multi-Cloud ready.
Cognix Enterprise CaaS powered by Machine First Delivery Model, accelerates Digital Transformation with pre-built Digital Solutions, Assessment Frameworks, Platform agnostic Architectures, Re-usable automation toolkits, focused on Industry specific use-cases. Visit here to know more about TCS Cognix.
Using a ready-to-consume framework, TCS provides mandatory and optional components for the following key aspects of an enterprise-grade container platform:
| | | |
| --- | --- | --- |
| Observability | Persistent Storage | Backup and restore |
| Disaster Recovery | Networking | Security |
| Multi-cluster Management | Image Registry | FinOps |
Each functional layer is put to test and evaluated on the grounds of simplicity, stability, and versatility. The diligent efforts have resulted in a set of tools that can be the foundation for the TCS Cognix Enterprise CaaS solution.
Below is an illustration of the high-level architecture of the TCS Cognix Enterprise CaaS solution. It starts with an entry point for the Application developers and then leads to a Kubernetes Platform of choice, a complete suite of software and tools is made available to run on the Kubernetes platform in addition to the end-user applications.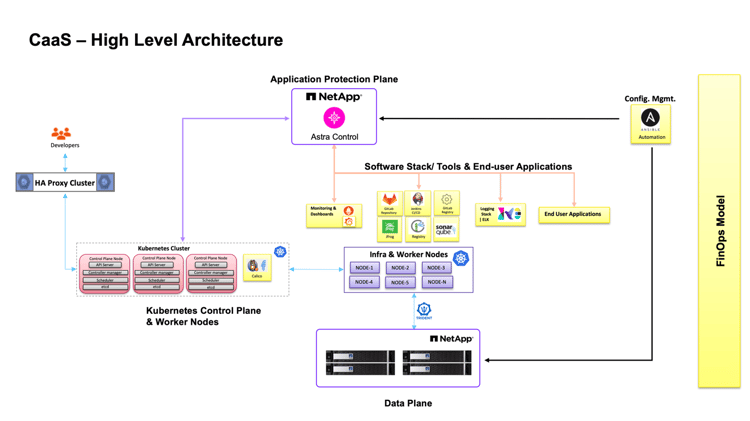 Figure 1) High Level Architecture
NetApp's role in the TCS Cognix Enterprise CaaS
With NetApp as a trusted partner, TCS has built data management and application protection capabilities for cloud-native applications in hybrid cloud deployments.
The data plane for the CaaS solution is powered by NetApp's hybrid cloud data services portfolio that spans across edge, core, and cloud Data Fabric, delivering high-performance unified storage for persistent and ephemeral storage needs. As the data services are the same across the edge, core and cloud, the storage presentation to the applications is uniform in all deployments.
For integration of those capabilities with containerized workloads, NetApp Astra product portfolio, comprised of Astra Trident CSI provider and Astra Control, delivers application protection plane.
Customers leveraging the TCS Cognix Enterprise CaaS solution can benefit from the Kubernetes data protection capabilities provided by NetApp Astra in several ways –
Protect and manage the Application Protection Plane and the Data Plane in the CaaS ; in an automated approach using Ansible and the Astra APIs.
Migrate and replicate application between deployments (to optimize resource utilization, enable disaster recovery and business continuity)
Capture application consistent snapshots and backups for all your cloud-native applications that can be used for point and click recovery on-demand.
Ability to clone and port applications including the stateful persistent data across Kubernetes environments (cloud and on-premises)
Confidently meet business SLAs by setting up a one-click application-level fully automatic Business Continuity and Disaster Recovery plan by leveraging ONTAP SnapMirror technology to meet the business SLA set by the customers
Customers will be empowered with a unified containerized application management solution across all major public cloud service providers and on-premises environments
Key Features of TCS Cognix Enterprise CaaS solution

Benefits
TCS Cognix Enterprise CaaS helps customers to provide their consumers a true Container-as-a-service consumption model providing portability of applications across many platforms, Business Resiliency, Technology Agility, Scalability, Security and Strategic Governance leading to higher productivity and ease of management.
To summarize, the TCS Cognix Enterprise CaaS in partnership with NetApp is helping customers to accelerate their application modernization programs with cloud-native applications by simplifying the delivery and consumption models.
Contact:
For more information on,
Email:
References: