Subscribe to our blog
Thanks for subscribing to the blog.
A sound disaster recovery strategy is critical to a business's survival. As enterprises increase their adoption of containers, maintaining the same level of business continuity as traditional applications is on top of every customer's mind. In addition, many industries and geographies have regulations that require the implementation and periodic testing of a disaster recovery plan. And although containers and Kubernetes bring a host of benefits regarding efficient orchestration and scaling of apps, implementing a seamless disaster recovery strategy has been a challenge.
With the release of NetApp® Astra™ Control 22.08, we're excited to provide your Kubernetes applications with a simplified business continuity solution—one that offers low recovery point objectives (RPOs) and recovery time objectives (RTOs) thanks to our flagship NetApp SnapMirror® replication technology. Astra Control is an application-aware data protection and mobility solution that manages, protects, and moves data-rich Kubernetes workloads both in public clouds and on premises. Astra Control now uses the SnapMirror feature of NetApp ONTAP® data management software to seamlessly replicate the persistent volumes and Kubernetes applications while preserving application consistency.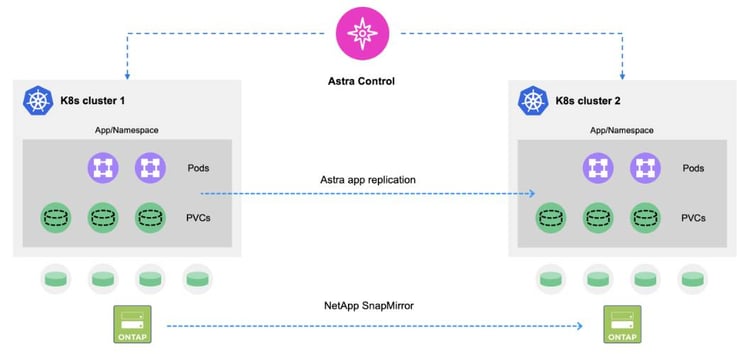 What is SnapMirror?
NetApp SnapMirror has long been the industry standard for enterprise data replication. SnapMirror provides efficient high-speed data replication between ONTAP storage instances across hybrid and multicloud environments.
SnapMirror transfers are incremental and retain storage efficiencies from deduplication, compression, and compaction on the secondary copy while supporting network compression and encryption. The secondary copy is continuously available and can be activated with minimal disruption if a disaster occurs at the primary site.
Using Astra Control to achieve business continuity
You start with managing the source and destination Kubernetes clusters in Astra Control. Each of these clusters can be in different sites and use different ONTAP storage systems to provision persistent volumes for your applications.
After you manage your application in Astra Control, setting up replication for your app is a matter of a few clicks. You choose the destination Kubernetes cluster, destination storage class, and a replication schedule.
Astra Control does the heavy lifting of volume creation on secondary SnapMirror relationship configuration and periodic updates to the secondary copy. The replication schedule triggers application-consistent updates to the secondary copy—with the consistency extending across all the persistent volumes and the application Kubernetes objects.
Astra Control provides detailed health and status of the replication, including the last update time and the transfer time, so that you can monitor adherence to business continuity objectives.
If a disaster occurs, you can easily initiate a failover to the latest snapshot on the secondary site. Astra Control abstracts the complexity of promoting and mapping the individual volumes and application objects to provide a consistent state of your application.
After you recover the primary site, Astra Control gives you options to resynchronize and switch the application back to the original site. Astra Control also allows you to perform planned operations like disaster recovery testing, or load-balancing and migrating your applications across clusters.
Using Astra Control for disaster recovery to the cloud
In a hybrid multicloud environment, you can replicate your applications between an on-premises Kubernetes cluster that has an ONTAP back end and a cloud-based Kubernetes cluster that uses NetApp Cloud Volumes ONTAP. The same Astra Control workflows extend to the cloud to manage replication between two Kubernetes clusters with Cloud Volumes ONTAP storage back ends.
The following video demonstrates how you can use Astra Control to protect your mission-critical Kubernetes applications if a disaster occurs.
Watch the demonstration
You can learn more about replication capabilities and operations in the Astra Control documentation.
Try out Astra Control today
Sign up to try the latest version of the self-managed Astra Control Center free trial, or the fully managed Astra Control Service free plan.
Please let us know your thoughts and feedback at astra.feedback@netapp.com. You can also reach us on Discord.