Subscribe to our blog
Thanks for subscribing to the blog.
Have you ever dreamed of quickly moving your dev/test SAP HANA system into the cloud as part of your AWS migration? Fully automated with a one-click workflow? Without the hassle of installing or investing in additional tools and hardware, creating a VPN, or shipping "snowballs"?
SAP customers running agile development projects are often confronted with requests from their project teams to provision additional test or sandbox systems.
In the past, those systems needed to be provisioned using resources in the customer's own data center. Today, the possibilities of using on-demand cloud resources are an intriguing alternative:
no additional hardware to install and maintain

pay-as-you-go cost models that charge costs directly to the requesting cost centers

and almost infinite resources.
There are many considerations to take into account before migrating any on-premises storage system to the cloud. Customers need to address the questions of how to move their SAP systems to the cloud, how to operate and manage those systems, and how to guarantee the safety of their data while their systems run in the cloud.
In this blog post, I'll show how NetApp® Data Fabric technology can help fully automate the move of SAP HANA databases from on-premises to Amazon Web Services (AWS). For this proof-of-concept use case, we used the NetApp Cloud Sync service to transfer the data, NetApp Cloud Volumes ONTAP® (formerly ONTAP Cloud) software as enterprise-grade storage management for the cloud, and SAP Landscape Management (LaMa) for the SAP-specific one-click provisioning workflow.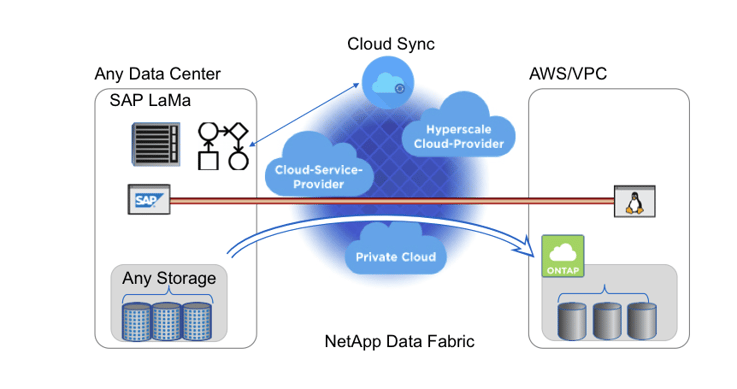 The Magic of Cloud Sync
Cloud Sync, part of the NetApp Data Fabric cloud services, offers a way to copy data from a local NFS server to Amazon Simple Storage Service (Amazon S3). The copy process is fast, reliable, and secure, and can be managed by a simple cloud-like interface or REST API calls.
Cloud Volumes ONTAP: Enterprise-Grade Storage as a Service
NetApp Cloud Volumes ONTAP is an enterprise-grade storage system that runs as a cloud appliance with most of the hyperscalers, such as AWS and Microsoft Azure. It offers super-fast NetApp Snapshot™ copies, data compression, data encryption, and all the NetApp tools to provide automated application-consistent backups for SAP—a huge advantage that reduces overall project risks. Countless companies have leveraged these features to make their journey to the cloud a success.
Along with SAP HANA backup in a few seconds, these features are all available as a service when you use Cloud Volumes ONTAP together with NetApp SnapCenter® software for your projects.
SAP Landscape Management
Copying SAP HANA databases or SAP systems, requires that many tasks be combined in the right order, for example:
shutting down the SAP system
cloning or moving the data
and configuring the network and firewalls.
These activities all require interaction with SAP systems and with infrastructure components on both sides—on-premises and with cloud resources. This is the domain of SAP Landscape Management, which enables you to extend the built-in workflows with custom-tailored functions.
One-Click Custom Provisioning Workflow
In this proof of concept, we used SAP Landscape Management with a custom provisioning workflow to automate the required steps, from system shutdown on the source to system start-up in the cloud.
We did all of this with a one-click configurable and extendable workflow, which can be used as a base for upcoming pilot projects. The following short video demonstrates the whole workflow and explains the steps and activities.
NetApp Data Fabric services can help you move your development and test systems to the cloud. These services offer all the enterprise operational efficiencies you need to speed up your projects and reduce overall risk.
Want to get started? Try out Cloud Volumes ONTAP today with a 30-day free trial.