Subscribe to our blog
Thanks for subscribing to the blog.
NetApp BlueXP provides a unified and comprehensive console for customers to manage their entire data estates. Part of that mission is to give users in-depth views of storage health so problems can be identified and resolved before they get serious.
The BlueXP digital advisor does that by giving users an extended set of monitoring capabilities and enhanced visibility powered by NetApp Active IQ® technology.
In this blog we'll take a closer look at the BlueXP digital advisor and how the insights it provides can help unify operations across your hybrid multicloud data estate.
Use the links below to jump down to read more about:
NetApp BlueXP Overview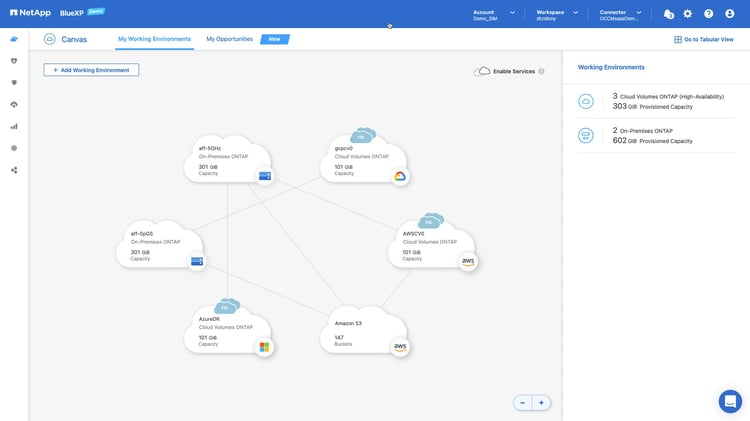 NetApp BlueXP is an enterprise-grade data management control plane that puts customers in control of their data estate operations across environments, from on-premises to all the major public clouds.
With the increased adoption of the hybrid cloud strategy, enterprise storage admins have been inundated with multiple tools and platforms to manage their data. For example, a storage admin working with a multicloud deployment will need to contend with multiple cloud management tools—Azure Resource Manager, AWS management console, and the Google Cloud console—leveraging each one to manage data on its respective cloud platform. They would also need to access various on-premises solutions to manage and monitor their on-premises data too.
These isolated data management tools can lead to operational inefficiency, especially for large enterprise customers.
BlueXP overcomes that challenge by providing a single pane of glass for all build, protect, and govern operations for the entire data estate. Customers can deploy, discover, move, protect, and govern their data across their hybrid and multicloud environments using the centralized, API-driven control plane.
What Is NetApp BlueXP Digital Advisor?
BlueXP digital advisor is a cloud-based, AI-powered, intelligent tool powered by the NetApp Active IQ technology that enables users to optimize their data storage by delivering predictive analytics, intelligent insights, and proactive support.
BlueXP digital advisor utilizes AIOps to analyze storage data from across the NetApp Data Fabric and provide opportunities for the customers to improve the overall health of their storage. BlueXP digital advisor also provides insights and guidance in the form of actionable intelligence that users can follow up on.
Together, these capabilities can help users improve data availability and security while maximizing the efficiency of day-to-day storage operations.

How Active IQ works
BlueXP digital advisor can be leveraged by NetApp customers to gather valuable information about the overall health and wellness of their NetApp storage solutions, both on-premises as well as in the cloud.
It can also be leveraged to provide inventory, planning, and upgrade information at a watchlist level (which provides the flexibility to group multiple systems into a single watchlist). Each watchlist contains various widgets, including widgets to monitor wellness, inventory, planning, upgrades, storage efficiency, performance, and more. These widgets provide a quick summary view of the selected NetApp solutions inside the watchlist.
BlueXP digital advisor intelligently recognizes a variety of on-premises storage solutions including NetApp AFF, NetApp E-Series, and NetApp SolidFire storage solutions as well as various cloud-based NetApp storage solutions, including Cloud Volumes ONTAP. BlueXP digital advisor only displays the relevant widgets with compatible actionable tasks to the end users depending on what platforms they have in use, for maximum efficiency.
Where Do BlueXP Insights Come From?
How does BlueXP digital advisor provide these insights? Using Active IQ, NetApp receives vast amounts of telemetry data from NetApp systems. This data is stored within a petabyte-scale data lake and then analyzed using machine learning and predictive analytics algorithms. The analysis can identify risks and optimization opportunities which are either presented back to the customers via BlueXP digital advisor with guidance, or automatically remediated.
For example, storage misconfigurations, security vulnerabilities such as ransomware protection actions, and impeding capacity issues can be highlighted by BlueXP digital advisor along with recommended remediation actions.
BlueXP digital advisor also integrates with NetApp AutoSupport in order to enable customers to view AutoSupport incidents at a high level or in detail, including system details, possible reasons for issues, and suggested remediation actions.
Managing Your Data Estate with BlueXP Digital Advisor
BlueXP digital advisor uses a series of dashboards to provide insights that can help users proactively manage their data estates.
Let's take a look at some of the major dashboard features that you'll find with the BlueXP digital advisor and how you can use them.
Wellness Dashboard
When the BlueXP digital advisor is opened, the default Wellness dashboard is displayed, as illustrated below.
The Wellness dashboard
The Wellness dashboard provides the basic wellness information about your storage deployment, including actions, risks, inventory, planning, and upgrade information. The wellness information presented within the dashboard can be filtered based on customer name or NetApp Support Site user accounts, which can be useful for enterprise organizations that use multiple NetApp support contracts.
This multi-account feature can also be leveraged by NetApp partners that provide value added services such as value-added resellers, managed service providers, and systems integrators.
Cloud Recommendations
High-level wellness information can be leveraged easily by admins to perform various optimization activities with the help of the cloud.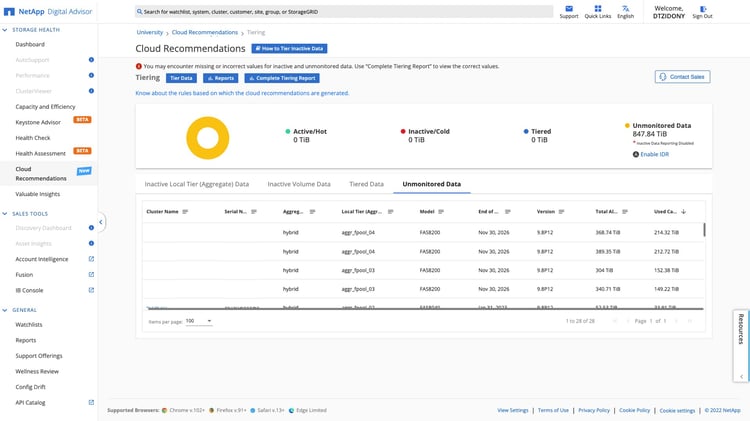 The Cloud Recommendations page shows potential data to tier
For example, BlueXP digital advisor can check a user's on-premises storage environments for cold data that is suitable to tier to the cloud with the BlueXP tiering functionality. The results will be presented within the dashboard and customers can easily navigate to the tiering capability from within that same dashboard to immediately start tiering their data to low-cost cloud object storage platforms.
Wellness Widgets
In addition to the Wellness dashboard, there are specific Wellness widgets that provide indicators across the data estate. Each widget displays specific actions for the users to follow up on, unique risks that might be present, and affected systems, where applicable. The complete list of these Wellness widgets can be found here.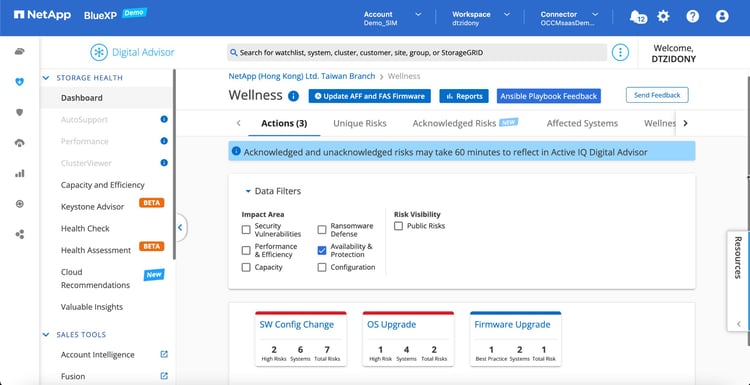 Availability and Protection Actions
Users can drill down into various widgets by clicking on the Actions link within the tile. Once clicked, users are presented with all of the combined Actions recommended by the analytics platform for the selected storage solutions. These can be easily followed up and actioned upon using the built-in navigation links, which provide operational ease across platforms.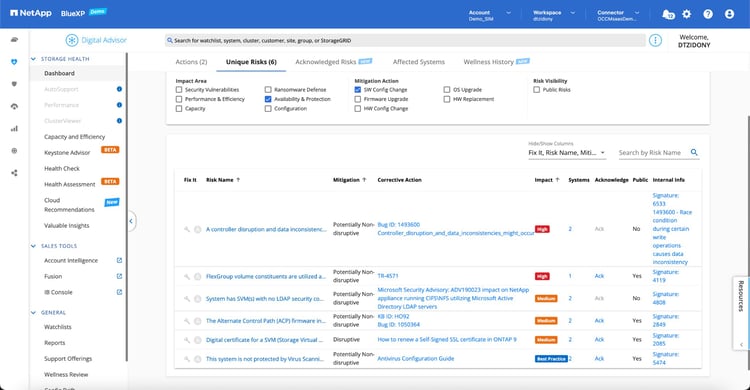 SW Config change mitigation actions
Under Risks, users will find specific risk indicators, details to understand those risks, and recommended remediation actions for a swift, informed resolution.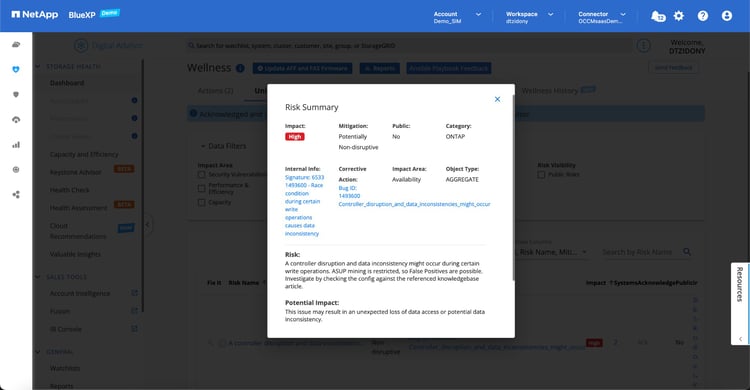 The Risk Summary view
Additional filters include:
Security Vulnerabilities from across the customer's NetApp solution base, are graded based on their severity, along with specific corrective actions users need to take to remedy them.
The Ransomware Defense widget shows where anti-ransomware configurations should be addressed.
Health Check View
The Health Check dashboard provides a summary of the customer's storage solutions across the hybrid cloud.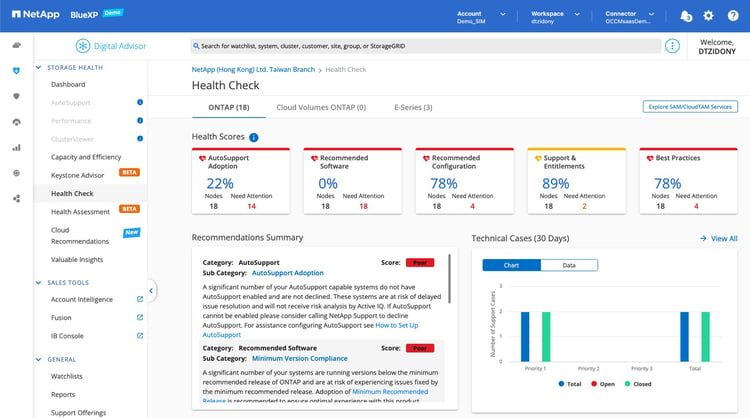 Health Check view
This dashboard contains various helpful widgets such as:
AutoSupport Adoption: Shows the systems enabled with AutoSupport
Recommended Software: Shows software and firmware upgrade recommendations
Recommended Configuration: Shows all the recommended configuration items for all the storage platforms
Support & Entitlements: Shows all support contracts, active and expired
Best Practices: Best practice-based assessment score for each system
There is also additional information such as recent technical support cases raised (shown in the bar graph above) as well as details of recent health check recommendations for the operational teams to digest and act upon.
All of these Wellness widgets and dashboards provide critical intelligence for users, making BlueXP even more versatile.
For details about all the dashboards and widgets available on BlueXP digital advisor, please refer to the product documentation here.
Summary
BlueXP is indispensable for managing NetApp storage solutions across hybrid cloud deployments. With the power of Active IQ technology, BlueXP digital advisor is able to provide customers with deep visibility inside their storage solutions so they can govern these platforms with actionable intelligence.
With NetApp BlueXP digital advisor, enterprise customers can predict and proactively address nearly all storage health concerns, achieving problem resolution that's twice as fast, with increased security, availability, and overall efficiency.
It's all part of one data estate, it's all part of BlueXP.