Subscribe to our blog
Thanks for subscribing to the blog.
Have you heard? We recently introduced NetApp BlueXP, the go-to place for building and operating your hybrid multicloud data estate from a single control plane. Here are all the details on what BlueXP does, how it simplifies your work, and why it's important for your data-driven organization.
Getting to Know BlueXP
So, what does BlueXP do?
NetApp BlueXP unifies all of NetApp's storage and data services into a single tool that lets you build, protect, and govern your hybrid multicloud data estate. What does that mean exactly? Let's break it down:
Your data estate is your organization's combined storage infrastructure and the data stored in it. It's like your IT stack, but for data.
As you may have noticed, your data estate is constantly growing and expanding across on-premises and multiple clouds—i.e., across the hybrid multicloud.
As your data estate expands and evolves, it gets more and more complex. You will need a way to ensure that you have methods to easily and efficiently:
Build the foundation of your data estate by discovering, deploying, and managing storage, and moving data to the storage you've discovered or created
Protect the data estate against data loss and cyber threats by consistently applying enterprise-grade resilience and security
Govern your data estate with full visibility into the health, usage, and performance of your data across all locations and environments
BlueXP is designed to make these data estate operations simpler and more robust. To do that, it unifies all of the NetApp technologies that make those things possible under a single roof, allowing you to work faster and smarter.
Expanding on a leading technology, with a new approach.
NetApp has been providing data and storage operations solutions to enterprises for decades. If you are an existing NetApp user, you've probably noticed our shift towards consolidation and simplicity: over the past few years, we've been slowly moving the management functions of NetApp's cloud storage, mobility, protection, and analysis products to a unified management tool known as Cloud Manager.
We've now taken a giant leap forward. Instead of offering a portfolio of independent, siloed products with a common management tool, we are delivering a single product that leverages all of NetApp's integrated technologies that help you build and operate your entire data estate. That product is BlueXP.
Ok, I think I get it. How does BlueXP specifically help me?
Whether you're an IT manager, architect, storage admin, or application owner, you're required to work with many different data and storage systems and services from different providers. This creates high levels of complexity and interoperability issues due to the fundamental differences that can be found among multiple on-premises systems and cloud providers.
It also requires you and your teams to develop and maintain up-to-date knowledge and skills in each of the different systems and services, their architectures, and configuration tools, which is no simple task.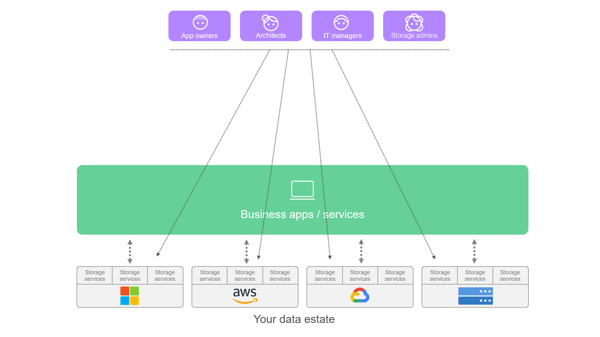 An enterprise data estate can be a complicated sprawl.
This is where NetApp BlueXP comes in. BlueXP provides your organization with a single control plane for building, protecting, and governing a unified data estate across all of your on-premises and cloud deployments.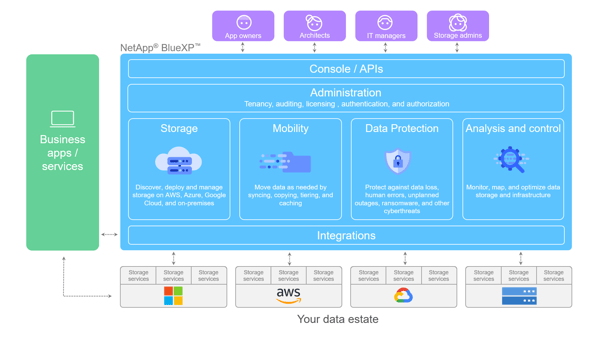 One data estate, one unified control plane
The BlueXP platform provides four main pillars of data management: storage, mobility, protection, and analysis/control.
Storage lets you discover, deploy, and manage storage, whether it's on AWS, Azure, Google Cloud, or on-premises.
Mobility helps you move data where it's needed by syncing, copying, tiering, and caching data.
Protection puts automated protection mechanisms in place so you can protect data against data loss, unplanned outages, ransomware, and other cyber threats.
Analysis and Control gives you tools to monitor, map, and optimize your data storage and infrastructure.
Let's take a closer look at what each of these BlueXP capabilities provide.
Storage
Building a unified data estate starts with a solid storage foundation. Data storage is typically scattered across multiple locations and environments. BlueXP lets you control them all from one place: from discovering existing NetApp storage volumes on-premises and in the public cloud to creating new storage environments, you can manage them all from the BlueXP canvas.
BlueXP gives you control over: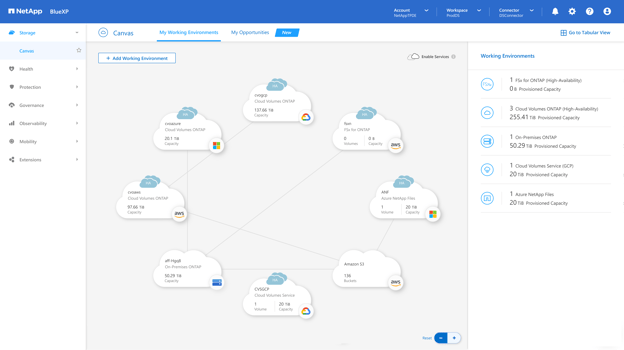 The BlueXP canvas
The BlueXP console lets you manage all of these services, from performing basic operations such as creating new volumes, Snapshot copies, and backups to performing advanced administration tasks such as managing qtrees, quotas, and SVMs.
Mobility
When you're using a hybrid multicloud deployment, you want the ability to move data seamlessly throughout your data estate. BlueXP's data mobility features help you create relationships between storage environments so data can move between them as needed.
Unlike standard data transfer tools, BlueXP features several methods of moving data to and from locations, enabling different data strategies and architectures:
Copy and Sync lets you move data between different storage systems and services across on-prem and cloud deployments. You can continuously sync data between different locations, mirroring the data in one location to another.
Tiering allows you to move infrequently-used data from on-premises storage to cost effective object storage, either on-prem or in the cloud. The tiered data is still fully accessible to apps and users in the original location, but the unused blocks are stored in object storage, freeing up much needed storage space on-premises.
Edge Caching creates copies of frequently used data from a central location, and caches them closer to globally dispersed locations, such as remote offices. The complete data set remains in the original location, but data can be accessed by users and apps as if it were in the cached location or multiple cached locations.
Protection
Once you've built the foundation for a hybrid multicloud data estate using storage and mobility, the next step is to apply the necessary protection and security measures to meet your strict enterprise requirements.
BlueXP features NetApp's native data protection capabilities and automation, integrated into your storage environments:
Analysis and Control
Building and protecting your data estate is an ongoing process. In order to make sure that you are doing it right, BlueXP has an extensive set of integrated analysis and control capabilities that let you keep track of the current condition and health of your data.
BlueXP's analysis and control features provide you with actionable insights to help you resolve any data and storage deficiencies your hybrid multicloud deployment evolves:
Classification gives you visibility into the contents of your data, providing insights to address compliance requirements, detect security vulnerabilities, and optimize costs.
Digital Advisor and Storage Health provide visibility into the storage layer of your data estate, with crucial insights to help address misconfigurations, security vulnerabilities, and performance issues.
Observability dives into the infrastructure and application layers of your data estate, providing insights to troubleshoot workflows across multi-vendor systems and protect against ransomware.
Looking to the Future
Whether your organization's IT started on-prem and evolved into a hybrid cloud, or started in the cloud and has become multicloud, the ongoing responsibility for provisioning storage, moving data, protecting it, and monitoring your environments is growing more and more complex and challenging.
BlueXP solves that problem.
BlueXP is designed with one purpose—to unify your data estate—making data and storage operations simple, efficient, resilient, and performant. In the coming months, more of NetApp's data and storage services will be integrated into BlueXP, which will further simplify and expand your operational scope.
Learn more about Hybrid and Multicloud Customer Success Stories with NetApp and get ready to unlock the full potential of your hybrid multicloud data estate.