Subscribe to our blog
Thanks for subscribing to the blog.
If you're thinking about how to optimize your data in the cloud, consider the fact that NetApp® Cloud Volumes Service is about more than just NFS or SMB. With Cloud Volumes Service, you can be confident that your data is durable, encrypted, and highly available.

But what about protection from user errors, wouldn't you love the ability to roll back time to undo choices that you made but wish that you hadn't? We have you covered there, too, with the NetApp Cloud Volumes Service Snapshot™ capability.


Proven Durability

With Cloud Volumes Service, your data is protected not just against multiple drive failures, but also against numerous types of disk errors that could otherwise affect your data durability and your data integrity. And with 99.999999% durability—based on the experience of over 300,000 customers—you don't have to worry that your data is going to disappear.


Superior Encryption

NetApp Cloud Volumes Service uses at-rest encryption, relying on the XTS-AES 256-bit encryption algorithm and without compromising your storage application performance. With NetApp managing encryption keys for you, this single-source solution can increase your organization's overall compliance with industry and government regulations without compromising your user experience.


High Availability

Built on industry-leading, proven rock-solid enterprise-class hardware and software, NetApp Cloud Volumes Service gives you the high availability and consequent uptime that you need. You get this high level of data availability through Cloud Volumes Service architecture features such as redundant network paths, failover, and advanced data protection.

And because NetApp Cloud Volumes Service for AWS sits centrally in relation to each of the Availability Zones within an Amazon Web Services (AWS) region, your service is unaffected by Availability Zone outages. You can access your data from any Availability Zone within the region without having to replicate content.


The Undo Button: Snapshot Copies

Do you sometimes wish that you could press a button and undo configuration or system changes that you made? Consider Cloud Volumes Service Snapshot copies to be that button.

Snapshot copies act as logical backups and therefore are point-in-time representations of your data. From the easy-to-use Cloud Volumes portal, you can schedule the creation of Snapshot copies, or you can create them manually.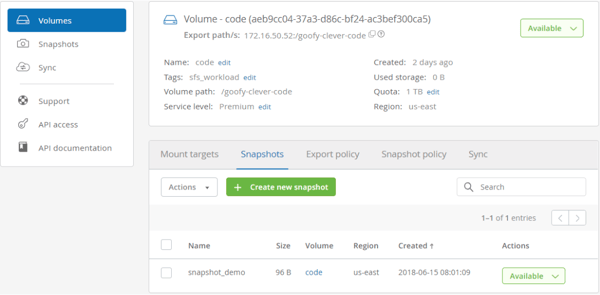 NetApp Cloud Volumes Service is evolving rapidly, and soon it will offer API support for Snapshot creation, giving you even more flexibility and choice.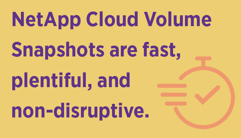 NetApp Cloud Volumes Snapshot copies are fast, plentiful, and nondisruptive. A NetApp Snapshot copy simply manipulates block pointers, creating a "frozen" read-only view of a volume that enables your applications to access older versions of files and directory hierarchies without special programming. Cloud Volumes Snapshot creation takes only a few painless seconds—typically less than 1 second—regardless of the size of the volume or the level of activity within the environment. The following figure shows an example Snapshot copy creation.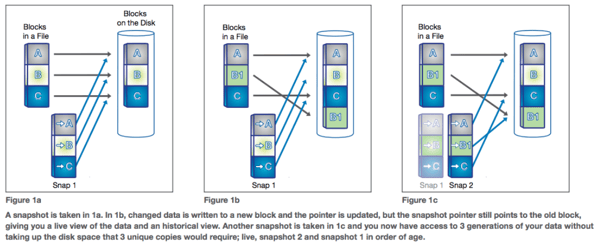 In this figure, a Snapshot copy is created in 1a. In 1b, changed data is written to a new block and the pointer is updated, but the Snapshot pointer still points to the old block. You get both a live view of the data and a historical view. Another Snapshot copy is created in 1c, and you now have access to three generations of your data: live, Snapshot 2, and Snapshot 1, in order of age. And those three generations don't take up the disk space that three unique copies would require.

There is absolutely no performance overhead associated with NetApp Cloud Volumes Snapshot copies, not to the active file system at the time of creation and not after creation, when you're using the Snapshot copy.

But How Well Does It Work?

You might be wondering, "What about the user experience when I'm working with the cloned volume?" Because of the pointer system, when you use the cloned volume, your experience is comparable to when you use the parent volume itself.

You can also comfortably store hundreds of Snapshot copies per volume, all of which are accessible as read-only and online versions of the data. You can access the data within the Snapshot read-only version through the .snapshot directory that's at the root of the file system. You can gain read/write access to the Snapshot copy through the volume clone now, and we're working on giving you access through in-place restore. It's coming soon!


How NetApp Snapshot Copies Compare

The following figure compares NetApp Snapshot technology with competitors' offerings. As you can see, NetApp Snapshot copy creation has much less performance impact, takes much less time, and offers greater protection against data loss than competitor snapshots do.




Boost System Performance Today

Find out how easy it is to get the durability, high availability, and strong encryption that you need for your data in the AWS cloud. And see for yourself how useful an undo button is. Sign up to get started with NetApp Cloud Volumes Service for AWS today.

And if you need help with Windows or Linux file shares, view our on-demand webcast, Struggling with Windows or Linux File Shares in the Cloud?


About NetApp

NetApp is the data authority for hybrid cloud. We provide a full range of hybrid cloud data services that simplify management of data across cloud and on-premises environments to accelerate digital transformation. Together with our partners, we empower global organizations to unleash the full potential of their data to expand customer touchpoints, foster greater innovation and optimize operations. For more information, visit https://bluexp.netapp.com/home.