Subscribe to our blog
Thanks for subscribing to the blog.
By Josh Moore, Principal Technologist, Cloud Analytics, NetApp
A decade ago, data gravity was the biggest challenge in adopting a hybrid cloud model. Latency requirements demanded that an application and its data needed to be together in the same cloud. This meant that moving workloads to the cloud required also moving terabytes of data, which was expensive, time consuming, and in many cases outright impossible.
All of the migration and transition tooling in the world couldn't disguise the fact that moving data from one platform to another was a primary problem.
Today we have data fabrics that offer a consistent data platform across your data centers and private and public clouds. With a data fabric powered by NetApp, moving workloads into the cloud couldn't be easier. Organizations now have freedom of choice, and freedom to change, without the roadblock of data migration.
But removing one roadblock has revealed another.
How do you monitor, troubleshoot, and optimize this complex multicloud infrastructure? Each resource has its own set of tools that you have to manually keep track of to understand where problems are occurring, where you are overprovisioned, and how you are performing against your SLAs and SLOs.
The smorgasbord of new metrics to monitor and resources to optimize in these hybrid platforms means that tooling for these platforms can look drastically different from what you are used to on premises.
Many traditional resource management tools built for on-premises environments do include some element of monitoring or management in the public cloud, but most often this is no more than an afterthought. A "sure, we can do cloud" for the sake of checking a box but not viable for ongoing management of cloud resources.
If you're monitoring cloud resources, then use that cloud's tools to do it. That's what they're designed for. But the result of that approach is that you have different tools for each cloud in your hybrid cloud. So you're left with multiple views of your environment, leaving gaps in visibility and often creating a divide in your administrative teams.
What you really want is a single monitoring tool that can handle the detailed metrics collection and topology mapping required by the cloud as well as the metrics you're accustomed to in your on-premises infrastructure.
This is where NetApp® Cloud Insights comes in. Cloud Insights can remove your hybrid cloud monitoring roadblock.
Cloud Insights is a cloud-based monitoring tool with a consistent data model across multiple cloud platforms. It lets you monitor and optimize your entire hybrid cloud environment as one, regardless of where your resources and workloads are located.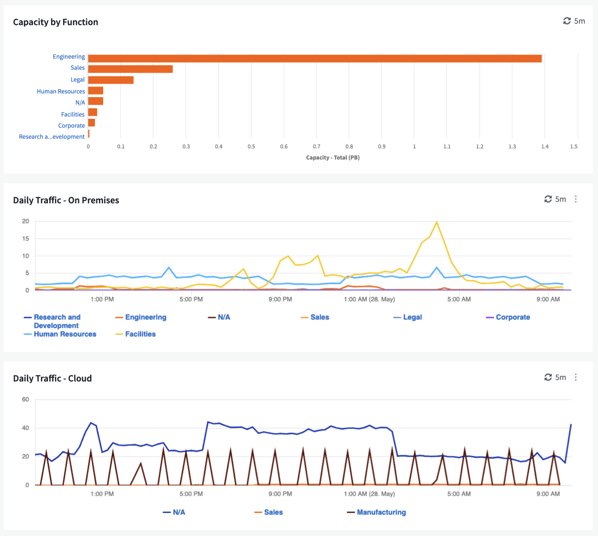 Cloud Insights quickly inventories what resources you have, discovers interdependencies across them, and assembles an easily navigable topology of your environment. This means that you have end-to-end visibility into what infrastructure resources are supporting which applications or business units, regardless of whether the resources are in the cloud or on premises.Cloud Insights dashboard showing capacity by group and daily traffic in cloud and on premises.
Along with this visibility, Cloud Insights offers advanced analytics. You can identify which resources are greedy and degraded through correlation analysis, helping you to identify the root cause of a problem faster and minimizing finger-pointing between support groups. With Cloud Insights, you can set up advanced conditional policies with alerts, with a sophisticated metadata engine to filter the appropriate alerts to the right application and infrastructure teams.​
Whether you're moving applications to the cloud or taking them back into your own data centers, Cloud Insights offers a consistent operational view that enables you and your teams to operate effectively throughout changes in the environment.
In addition, we've added some important new features to further enable your hybrid cloud management:
Integration of alerting to Slack, Discord, ServiceNow, PagerDuty, and a variety of other delivery channels through webhooks support for Cloud Insights alerts.

API access in all editions of Cloud Insights — Premium, Standard, and even Basic — at no additional cost to existing NetApp customers.

Kubernetes topology views, with fully built topologies mapping persistent volume claims to the storage infrastructure — a feature unique to Cloud Insights.

Integration with Spot Cloud Analyzer by NetApp, for cost reporting and optimization of your public cloud resources.
Watch for these updates coming soon:
A cloud-based collector for NetApp ONTAP® that enables you to get up and running instantly with monitoring and alerting against all of your ONTAP systems without needing to deploy and maintain on-premises tooling or collectors.

Deep dive into advanced ONTAP metrics and events, with out-of-the-box monitors to track and alert on ONTAP.
Make NetApp Cloud Insights the monitoring foundation of your data fabric and hybrid cloud.
Take advantage of our 30-day free trial offer and see first-hand how Cloud Insights can dramatically simplify monitoring your hybrid cloud infrastructure.