Subscribe to our blog
Thanks for subscribing to the blog.
Prepare to be virtually astounded by Net_pp. That's not a typo. We're bringing our "A" game to this year's AWS re:Invent.
True, the event is not in Vegas this year, but we've got you covered to score some sweet swag… and your odds of winning are greater than with those pesky one-armed bandits.
NetApp helps you unlock the best of AWS. Your apps and workloads deserve performance, efficiency, and reliability. Working hand in hand with AWS, we speed development cycles and cut costs. Industry-leading cloud storage makes it easy to migrate workloads and run production-level applications. Innovative solutions automate infrastructure optimization. And we're just getting started.
What explains our pre-event excitement? Let us count the ways.
1. So many trials, so few tribulations – take a test spin on us and win
You may be an AWS cloud dynamo, but did you know that NetApp is also a mover and shaker?
Here's what we've got for you at the show:
All of this might sound like hyperbole — except that we'll hand over the keys and let you take these cloud services out for a spin on your own.
Do you have challenges with optimizing AWS compute, migrating tier 1 apps, preventing ransomware, or meeting compliance? You can take our whole cloud portfolio for a test drive at AWS re:Invent and beyond for 30 days.
Check under the hybrid-cloud hood. Sign up for a trial of your choosing. You'll be eligible to win a prize so grand that it can't be described without the proper build-up. (Hint: See reason #7.)
2. We're rolling out the raddest of red carpets
NetApp's Virtual VIP program has completed over 9,000 meetings. We aren't bragging. You've probably been In that many Zoom sessions this year, if not more.
Some of your meetings were probably super productive. Others… well, who knew that watching pixels dry was a thing?
Vacuous or valuable, what's the take-home message from these virtual gatherings? That's right: Some problems are best solved with a one-on-one conversation.
That's why our Virtual VIP Program lets you book a 30- to 60-minute 1:1 meeting with a NetApp subject matter expert. You can use the time for cloud-building skills or meet with NetApp executives. Not sure you're rubbing shoulders with the right person? Take advantage of our assisted concierge support.
Although the toughest cloud challenges weren't created in a day, NetApp might help you solve them in an hour or less.
3. The booth is back
Enjoy the in-show booth experience, check out our demo stations, play a game, and network with some really smart architects.
Our interactive networking booth offers a better-than-in-person booth experience (pants optional).
Remember the feeling of moving through the NetApp booth at other shows, picking up a free T-shirt and having impromptu discussions with some really swell people? That's exactly what you'll do at this year's NetApp AWS re:Invent experience.
Check out this nifty image to see what we mean.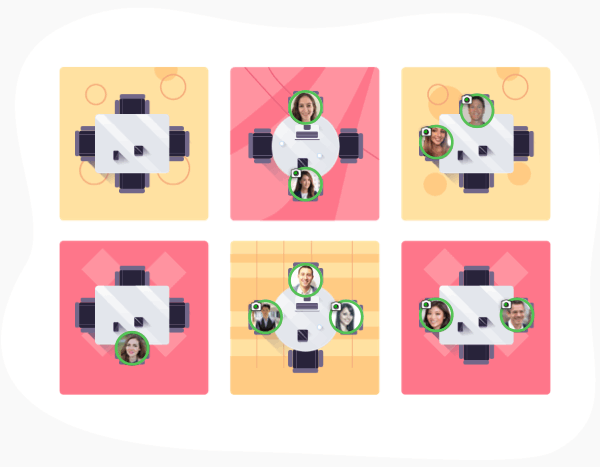 Want to switch tables mid-conversation? Good news: You don't have to pull that pretend-I-just-got-an-urgent-call routine.
Simply click on whatever grabbed your attention and join the action as it happens.Did a topic of interest catch your eye? Talk with the industry lead at the table.
Don't miss your chance to circulate and rub shoulders with our AWS cloud experts.
4. Did somebody say "digital swag bag"?
What would the largest cloud conference in the world be without free swag?
We have no idea, and we're not about find out. Everyone who attends our virtual sessions will receive the prize of invaluable intel.
And free stuff…lots of free stuff.
There'll be scavenger hunts and other fun ways to win freebies. We're talking socks, t-shirts, scratch & wins, and several grand prizes valued at $10,000 each.
(We're supposed to keep certain details on the digital downlow. But hey, we're in parentheses, which is sort of like whispering. So listen up: Consistent engagement is key. The more you interact with us, the better your chances are of winning big.)
5. theCUBE2
Is it theCUBE squared or the theCUBE x2? Either way, we've got two exciting sessions lined up this year to extract the signal from the noise.
Ronen Schwartz will sit down to discuss the NetApp Cloud Volumes Platform and delve into how NetApp is doubling down on our partnership with AWS. Amiram Shachar from Spot by NetApp will discuss CloudOps: how to get the most out of your cloud from automation and continuously optimized infrastructures to deliver cost efficiency and savings of up to 90%.
6. Jam, whoa, jam. Jam, jam, jam for me
Do you have moxie? re:Invent isn't just the place to score some sweet swag. You'll also have the chance to show your mettle, with a curated set of skill-testing challenges that are designed to emulate real-world use cases. We'll have two different AWS Jam sessions to see whether you know your cloud Yin and Yang. In one session, you'll be challenged to set up Cloud Volumes ONTAP to use your storage efficiently. On the flip side, we also have a DevOps Jam from Spot by NetApp to see whether you have the first-hand experience to optimize compute resources for a container infrastructure.
7. How about a little R-E-S-P-E-C-T
Your apps and workloads deserve (more than just a little bit) performance, efficiency, and reliability. Working hand in hand with AWS, we've got you covered to speed development cycles and cut costs. How's that for a little respect from your peers? And we're just getting started… Oh yes, sock it to me, sock it to me, sock it to me, sock it to me. That's right, we've got socks, in addition to exclusive learning opportunities, event details, free trials, and more. Preregister today and we'll ship out your free socks right now.
And hey, that's right: NetApp helps you unlock the best of AWS. Visit NetApp's pre-event registration page for AWS re:Invent.