Subscribe to our blog
Thanks for subscribing to the blog.
We have some exciting news for NetApp Cloud First partners: The AWS Marketplace channel will soon launch a new program, Consulting Partner. Why is it exciting? Because this program can help you overcome some of the challenges of selling through the AWS Marketplace, such as aligning cloud offerings with customer needs, speeding up sales, and simplifying your payout as a partner.


Your Feedback Helped Improve Our Channel Program

My team and I talked to more than 300 partners this year, including NetApp core partners and born-in-the-cloud consulting partners. Many of them have joined the NetApp Cloud First Partner Program that we launched last year. In talking with partners, one of the common themes that we have heard is:



"The cloud channel procurement model is very different and confusing."



Our Cloud First partners have embraced NetApp® cloud data services on Amazon Web Services (AWS), building meaningful go-to-market programs, and they have developed a productive sales pipeline. This achievement is a great start, but we recognize that the cumbersome deal-flow process still needs some work to help increase marketplace sales velocity. The AWS Marketplace channel team has learned a lot over the past 3 years, and they have used both seller and buyer feedback to build programs that align with partner sales requirements.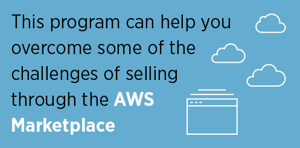 Today, NetApp and AWS Marketplace can pay partners like you for marketplace deals in several different ways. However, the new Consulting Partner program adds key capabilities for a seamless transaction flow of payments for you. You can also get discounted pricing.

So, for the first time, you can realize front-end margins and determine the end-user price for AWS Marketplace transactions. If you're interested in further details, send us an email when you are ready to engage: cloudfirstpartner@netapp.com.


What Is the Consulting Partner Program and How Does It Work?

Let's start with some basic information about the program.

What is it?


Consulting Partner is a new program from the AWS Marketplace channel team that will launch on October 8.
This program allows NetApp to pass along discounted pricing to NetApp Cloud First partners, helping you maintain your financial and contractual relationship with your customers.

How does it work?


NetApp invites you as a Cloud First partner to get access to discounted prices.
You can create private offers that are visible only to your customer, with customized pricing and unique commercial terms to meet your customer's needs.
AWS Marketplace manages the buyer experience for your customer, collects payment from the buyer (customer), and disburses proceeds to both the authorized reseller and the ISV simultaneously, completely streamlining transactions.
AWS Marketplace provides you with enhanced reporting that shows revenue and cost, allowing you to better realize value and to give your customers more accurate estimates.


Meet Customer Needs and Accelerate Sales

The NetApp cloud data services portfolio consists of three industry-leading products, as well as several new and supporting technologies. With these easy-to-order and comprehensive offerings, you can easily meet your customers' need to protect and to accelerate their data:


NetApp Cloud Volumes ONTAP®. With this technology, AWS customers get secure and proven NFS, SMB, and iSCSI data management while running on Amazon Elastic Compute Cloud (Amazon EC2) or Amazon EBS and while tiering data to Amazon S3.
NetApp Cloud Volumes Service. AWS customers get advanced data management services along with NFS and SMB. Your customers also benefit from extremely fast performance and multiprotocol support alongside their cloud applications.
NetApp SaaS Backup (formerly Cloud Control). With this software-as-a-service (SaaS) data protection offering, your customers can protect their business-critical data that is hosted on Microsoft Office 365. SaaS Backup includes support for Microsoft Exchange Online, SharePoint Online, OneDrive for Business, and Office 365 Groups. (And we have more good news: NetApp SaaS Backup is now available for Saleforce.com.)

For more details about these and other upcoming offerings, visit NetApp Cloud Central.


Offer Bring-Your-Own-License Options

Licensing is also easy. Cloud Volumes ONTAP and SaaS Backup are both available for bring-your-own-license (BYOL) purchase. You follow a process that is similar for many of our products, with these familiar steps:


Get a product SKU.
Register a deal with NetApp.
Get a quote from a distribution partner at a discounted price.
Give your customer a quote with your choice of margins and price.
Sell a license to your customer.
Collect front-end margins and pay your sales representatives.


Match Your Customers' Buying Habits

On AWS Marketplace, all products are subscription-based purchases. It's important to note that Cloud Volumes Service is available only on AWS Marketplace. Why? Because to fulfill our promise to customers to deliver leading enterprise data management in the cloud, we will continue to align with customer procurement habits. In other words:

We want to

sell

in the cloud the same way that customers want to

buy

in the cloud.

We believe that this approach is the best way to leverage customers' large cloud budgets and to satisfy their desire for consolidated billing. Otherwise, what's the point of being in the cloud? By having our offerings in the AWS Marketplace, we can win over customers by enabling them to apply their AWS budget to purchase NetApp cloud data services.

To learn more about why NetApp is embracing cloud marketplaces, watch my Partner Academy video, Learn About the Cloud First Partner Program (SSO login is required).


Offer Expertise, Not Just Resale

If you are a NetApp partner, especially one who builds your business on reselling technologies, what do you take away from the "Offer expertise, not just resale" statement? You should understand that just because NetApp or your customer no longer requires you to resell, it does not mean that customers don't also need you to consult and to implement!


We Need You Now More Than Ever

Most of your customers are doing something in the cloud, and if you don't think so, perhaps you're talking to the wrong person in that account. Migration to the cloud is just another inevitable transition. We all lived and made it through virtualization (and made plenty of money along the way), didn't we?

Now, NetApp and your customers need your help in providing cloud services such as:

Migration assessment
Legacy workload transitions
Disaster recovery and backup in the cloud
Managed services
DevOps
And many others…

As you lead with your services in helping customers along their cloud journey, you will notice that many customers have their own accounts and Enterprise License Agreements (ELAs) with AWS. You will also find that customers overwhelmingly prefer to procure directly through the AWS Marketplace. But these customers still really want to engage you to help them understand what they should procure, which of their workloads are suitable, and how to execute and implement their plan.

So, if you are leading the cloud transformation in your customer accounts and you decide that NetApp cloud data services are a good fit, you should participate in the Consulting Partner program. You can better meet your customers' cloud needs and their buying habits, and it's easier and faster to get your partner payout.

Find out what you can start selling today. For the latest product availability dates, contact cloudfirstpartner@netapp.com.


What's Coming Next?

Future releases will offer additional capabilities for larger opportunities that will allow you as a Cloud First partner to work with NetApp on a deal-by-deal basis to completely customize pricing. More features will be based on customer and partner feedback and will focus on automating deal registration, sales execution, and enhanced business reporting.


Start Increasing Your Cloud Marketplace Sales Today

Don't miss this opportunity to help your customers move to the cloud to help unleash the full potential of their data. And don't miss the opportunity to increase and to streamline your cloud service sales and your payout. Learn more about how to join the Cloud First Partner Program. If you're already a Cloud First partner, contact us to get started with the AWS Marketplace Consulting Partner program.