Subscribe to our blog
Thanks for subscribing to the blog.
In 1873, French writer Jules Verne published his novel Around the World in Eighty Days (Le tour du monde en quatre-vingts jours), in which Englishman Phileas Fogg attempts to circumnavigate the world, a distance of 23,739 miles (ca. 38,204 km) in 80 days and for a £20,000 wager.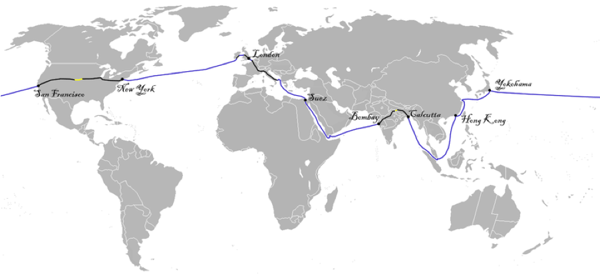 No spoilers, so you'll have to read this magnificent work to find out if he made it in time.

146 years later, we can now send data around the world on the Amazon Web Services' (AWS) network in milliseconds. We can use the same network to replicate and migrate data between NetApp Cloud Volumes in places such as London and Sydney or Oregon and Tokyo. This feature is useful in several ways, including sharing data between global teams and protecting your data against disasters on a global scale.

We use an AWS Direct Connect gateway and add NetApp® Cloud Volumes Service from multiple regions[1] to an account. Direct Connect gateways allow you to add up to 10 Virtual Private Clouds (VPCs), which means that an EC2 instance in any of those VPCs can see cloud volumes in any region. When enabled, you can mount cloud volumes in London and San Jose to the same EC2 instance, and with commands such as cp or rsync, you can copy data between volumes around the world. For small amounts of data, this process is simple, but moving terabytes and keeping volumes in sync is far more challenging. To solve this challenge, we use NetApp Cloud Sync service. Cloud Sync is a simple, secure, and automated way to migrate your data to any target, both in the cloud and on premises—and it can be used in conjunction with Cloud Volumes Service for AWS.

Cloud Sync provides high-performance, multithreaded data transfer to or from a cloud volume and any other NFS[2] export, which is significantly faster than tools like rsync. The other export could be an on-premises storage device for migrations or another cloud volume for cross-region replication. Multiple sync relationships can be created, so you can synchronize between one volume and several other volumes in either direction. Once your data is transferred, it's fully available for use in both the source and target region. Cloud Sync continuously synchronizes the data, according to your predefined schedule, moving only the deltas, so time and money spent on data replication is minimized.

The service comes with a built-in scheduler that allows you to choose how frequently you want to synchronize data. It provides on-demand synchronization and comes with RESTful APIs so you can control it through software.





Cloud Volumes Service provides scheduled NetApp snapshots per volume, so you can create recovery points on the target volume for extra protection from human error, outages, or malicious acts like ransomware.



You'll have to read Verne's novel to find out if Phileas made it back to the Reform Club in London in time to win his wager. But to learn more about migrating and replicating data around the world in milliseconds, you can just watch this short video.

To learn more about NetApp Cloud Volumes Service for AWS, visit us on AWS Marketplace.

[1] NetApp Cloud Volumes Service is currently available in eight regions around the globe: US-East-1, US-West-1, US-West-2, EU-West-1, EU-West-2, EU-Central-1, AP-Northeast-1, and AP-Southeast-2.

[2] Cloud Sync as a standalone product can synchronize between any NFS, SMB, or Amazon S3 storage volume.