Subscribe to our blog
Thanks for subscribing to the blog.
As useful as cloud technology can be, it's a means not an end. As many enterprises have now discovered, simply moving legacy applications to the cloud—popularly known as "lift and shift"—does not automatically yield the benefits of cloud infrastructure.

In fact, that approach can result in IT architectures that are more complex, cumbersome, and costly than before. According to McKinsey & Company, "Many enterprises are stuck supporting both their inefficient traditional data-center environments and inadequately planned cloud implementations that may not be as easy to manage or as affordable as they imagined." Much of the challenge comes down to workloads that have unique data demands and so require different approaches to cloud storage.

To succeed in modernizing your IT with the cloud, you need a complete standardization and automation strategy. Where do you start? With NetApp® Cloud Volumes Service and NetApp Cloud Insights.


Navigate the Winding Road to Digital Transformation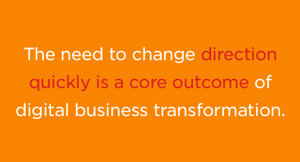 As organizations look to move more workloads out of the data center, they're finding a gap between on-premises storage systems and proprietary storage infrastructure in the cloud. The need to adapt and to change direction quickly is a core outcome of the digital business transformation. To attain the agility that helps you gain a competitive advantage, your enterprise needs a combination of public cloud, private cloud, and on-premises resources. Given the disparity between on-premises and cloud storage, choosing the right balance can be confusing.

In its recently published report Comparing Five Hybrid Cloud Storage Architectures That Enable Hybrid IT [Gartner subscription required to access the full report], Gartner recommends that organizations like yours consider four things when planning a hybrid environment:

1. Align application use cases to hybrid cloud storage architectures and understand that often you need multiple approaches to satisfy your organization's application and architectural requirements.

2. Plan for extensive data mobility and interoperability testing when you evaluate hybrid cloud storage solutions and don't forgo storage best practice methodologies when you consider storage in the cloud.


3. Evaluate your current disaster recovery (DR) strategy to make sure that the distribution of data, regardless of location, is protected. Hybrid cloud architectures require more granular DR processes than traditional data centers do.

4. Minimize risk by considering mature storage vendors who have adopted a cloud-first strategy in their product development.

Although Gartner's advice is highly actionable, customers whom we talk to are often trying, and struggling, to do two things at once. They want to: (1) move more workloads to the cloud this year, and (2) continue to manage their existing environment effectively and efficiently. These customers worry that if they aren't careful, they will end up with a hodgepodge of data and applications that are spread across multiple sites and clouds. This outcome would end up working against their goals of building an agile infrastructure. If you find your organization in this situation, two concepts will help you navigate the gap between on-premises and cloud storage.

First, make sure that any data that you move to the cloud can be moved elsewhere easily. The use of containers and Kubernetes in cloud environments has done a lot to shrink data format barriers and to improve workload mobility. However, true data mobility is still challenging, in part because of a lack of enterprise-grade, high-performing file services. This dearth of file services is problematic, because many industry estimates suggest that as much as 80% of stored data is "unstructured," and much of that 80% is file data. To further complicate matters, often this data is managed by legacy utilities such as rsync. If you manage data by using outdated utilities, your company can incur expensive ingress and egress charges to keep on-premises data consistent with data that's stored in the cloud.

NetApp can help you meet this challenge with Cloud Volumes Service. With Cloud Volumes Service, you get a fully managed cloud storage solution for use with Amazon Web Services (AWS) or Google Cloud Platform (GCP). Or if you use Microsoft Azure, NetApp and Microsoft have created a first-party service called Azure NetApp Files. You get a high-performance file service environment for the Microsoft Azure cloud.

With Cloud Volumes Service and Azure NetApp Files, you don't have to rewrite apps. Each volume provides POSIX compliance shares, which are required by a broad range of file-based workloads. What's more, your data is synchronized to and from multiple data sources for consolidation and cross-business use, for structured data enrichment, and for enterprise data protection.

You can also opt for an additional version of Cloud Volumes, called NetApp Cloud Volumes ONTAP®. This storage service offering for AWS and for Azure operates on top of cloud compute and cloud storage, giving you a traditional storage experience with a complete NetApp ONTAP experience in the cloud. With Cloud Volumes ONTAP, you can easily configure and manage ONTAP and all the cloud resources that are associated with it. Cloud Volumes ONTAP makes it easy for your infrastructure and storage administrators to manage all the details of your organization's storage infrastructure.

Second, keep tabs on your cloud use to make sure that you're getting the ROI and the TCO that you expect. According to the RightScale 2018 State of the Cloud Report, cloud use has been up year over year and is still growing. What's troubling is that this report found that cloud users underestimate the amount of wasted cloud spending. Respondents estimated 30% waste, but RightScale has measured actual waste to be as much as 35% of an organization's annual cloud spending. There's little doubt why "optimizing cloud costs" is the 2018 top initiative among 58% of the organizations that RightScale surveyed.

To help you avoid overspending on cloud, use NetApp Cloud Insights. This monitoring suite gives you visibility into your company's entire infrastructure. With Cloud Insights, you can monitor, troubleshoot, and optimize all your resources, including public clouds and your private data centers. This tool can help you remove inefficiencies by identifying abandoned and unused resources. You can right-size workloads to optimize performance and cost tiers, reducing your costs by an average of 33%. What's more, with the advanced analytics and machine learning of Cloud Insights to identify issues before they become critical outages, you can prevent as much as 80% of cloud issues from affecting end users.


Start Building the Bridge to Increased Performance and Lower Costs

By viewing hybrid environments as a starting point for long-term business transformation, you can work toward having it all: agility, flexibility, efficiency, and cost savings. But to realize these benefits, you need to put workloads in the right place at the right time and for the right cost.

Learn more about how to bridge the gap between on-premises and cloud storage. The first step is learning how to increase your workload mobility. Sign up to try out NetApp Cloud Volumes Service for AWS, NetApp Cloud Volumes Service for Google Cloud Platform, or Azure NetApp Files. And to optimize your resources and avoid overspending on cloud, register for a trial of NetApp Cloud Insights.
Want to get started? Try out Cloud Volumes ONTAP today with a 30-day free trial.