Subscribe to our blog
Thanks for subscribing to the blog.
All-Flash storage systems like NetApp's All Flash Fabric-Attached (AFF) storage offer on-premises storage with speed and efficiency levels that are much higher than traditional storage systems. That's why they're ideal for hosting demanding applications and the critical data those workloads need to use.
The DreamWorks use case is a great example. DreamWorks was able to successfully shorten animated movie production times using NetApp AFF storage and cloud technologies. Additional success stories with AFF come from facility companies, universities, media companies, and hospitals, but they have one thing in common: they all increased the speed of their applications using future-proof technology.
What actions can users take when expensive AFF storage systems finally start running out of space?
How to Efficiently Solve a Maxed Out AFF System
Data is one of those things that will continuously increase in size. An AFF system could realistically reach its max capacity before you notice. While it's possible to solve this challenge easily by adding new shelves and even nodes to your environment, you may not want to waste all that expensive storage on cold data that is not being used.
NetApp has a new solution to make sure you never max out AFF storage capacity: it's called Cloud Tiering. This new service makes it possible to leverage the attractive storage pricing of object storage in AWS and Azure for cold storage on AFF storage systems.
Sign up for the Cloud Tiering preview here.
The technology behind Cloud Tiering's functionality is well-known to NetApp users. It has been in use since the first flash drive storage systems for on-prem flash tiering using Flash Pool technology. Flash Pool sorted hot data onto fast SSD drives and cold data to slower drive types, such as SAS and NLSAS. Cloud Tiering is slightly different but the logic is the same: it keeps the important, hot data in the fast, on-prem AFF storage system and transfers all the cold data to cost-efficient cloud storage on AWS or Azure object storage on Amazon S3 or Azure Blob storage.
One type of cold data is snapshot data. Snapshots are necessary for data protection and data recovery, but can wind up consuming more than 10% of a typical storage environment. With the snapshots-only policy, Cloud Tiering allows you to store snapshots on inexpensive cloud storage, freeing up space on your AFF storage system. This policy is assigned at the volume level and instructs the system to move all the cold snapshot data in the volume that is not being shared or used by an active file system to the cloud-based object storage. If an application needs any of the data that is in cold storage, that data is activated again, becoming hot, and moved to a performance tier.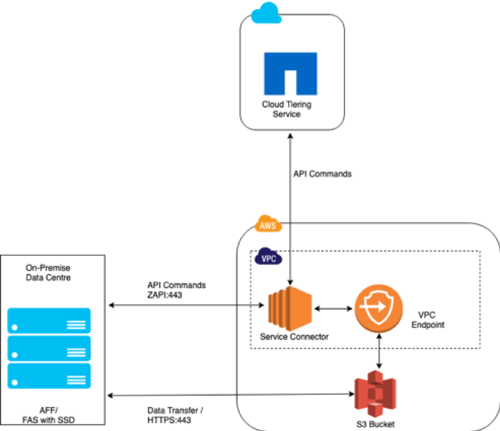 Another option is to set an auto-tiering policy. The auto-tiering policy comes in handy when you have a lot of unstructured data. In many storage environments, unstructured data accounts for more than 50% of the total storage space occupied. Data such as old documents, projects, pictures, or movies that aren't accessed frequently are all good candidates to be tiered.
Cloud Tiering can also help shrink your backup storage footprint. As with snapshots, backup data is also infrequently used and can become expensive to keep even on HDD drives. With Cloud Tiering's backup tiering policy, it's possible to reduce the amount of secondary cluster disk shelves used for backup significantly. The backup tiering policy moves the entire backup copy to the cloud, only keeping WALF metadata on the performance tier, significantly lowering storage consumption.
The backup tiering policy works on a volume level. When initiating a volume move, Cloud Tiering moves the entire designated volume to the cloud tier. This policy can also be used for archive data, such as project versioning or old application data that may not be in use, but still necessary to keep stored.
Most importantly of all, using Cloud Tiering is easy. All that you need to start is a subscription to object storage in one of the supported cloud providers and a Cloud Tiering license. The set up process is very straight forward and carried out directly from NetApp Cloud Central. You can pay for the storage that you tier to the cloud as you go, or choose a predefined cloud storage allocation.
On-premises storage and the cloud tier communicate with each other via InterCluster LIFs. If you are already using InterCluster LIFs with Snapmirror® to replicate data to other clusters, it is best to create new LIFs that have internet access for Cloud Tiering. Once an on-premises AFF storage system is prepared to use Cloud Tiering, it needs to be connected to AWS or Azure by entering your credentials. Once that's done all that has to be done is decide on the Cloud Tiering policy for each volume.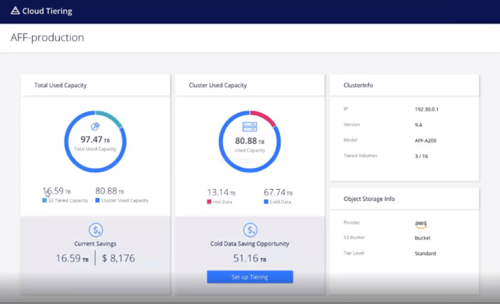 Cloud Tiering management interface.
Never Run Out of AFF Storage Again


Extending the data center to the cloud with zero effort, NetApp's Cloud Tiering service makes this process effortless and doesn't require any changes at the application layer or to your current workflows and processes. Using Cloud Tiering can free up valuable SSD drives in your AFF system, allowing its capacity to scale up to 20x. On average, 80% of the data on most storage systems is a candidate to be moved to low-cost storage in the cloud. Plus, there are no upfront costs: all you pay for is the data that is shifted to the cloud.
Using services like NetApp's Cloud Tier can significantly reduce costs of on-premises system, making sure performant AFF storage systems are used only for the optimal data and can help companies take their initial steps towards adopting a cloud strategy.