Subscribe to our blog
Thanks for subscribing to the blog.
The shared services model has been around in IT for several years. The model itself creates an outstanding opportunity for organizations to increase the cost effectiveness of IT consumption. And many enterprises are jumping on board: According to a report from Deloitte, automation in shared services jumped to 63% in 2019 from 8% in 2017, setting the stage for organizational transformation. During the private preview of Azure NetApp Files (ANF—which is now generally available), the newest joint Microsoft-NetApp service in the Azure portal, some of our most prevalent use cases involved shared services departments.
This is part of a series of articles about Azure files
Who's Implementing ANF to Support Shared Services in IT?
Azure NetApp Files enables IT professionals to provision NFS and/or SMB file-share environments in minutes—a task that, before Azure NetApp Files, would have taken anywhere from several hours (on a good day) to several weeks or longer.
I've had a number of conversations with IT executives and directors who use ANF to manage their shared services model; in almost all of those talks, they've brought up the cost savings they've seen as a result of time savings since adopting ANF. At that root of that transformation was a more efficient approach to their shared services catalog, facilitated by Azure NetApp Files. I also recently read the Deloitte 2019 Global Shared Services Survey, which echoed their conclusion that efficient shared services are a conduit for growth.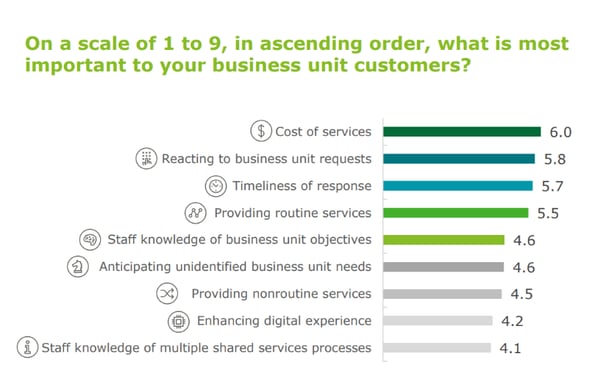 Deloitte Survey Finds Shared Services Essential Nexus of Growth
In the survey, Deloitte identified a crucial trend: shared services are now shifting away from on-premises networks toward environments where digital capabilities can be more rapidly adopted, positioning shared services as "incubators for enterprise-wide digital and operating model transformation…and a generator of tangible business value."

That struck me as profound—enterprise-wide transformation. While I hadn't, at that point, considered our shared services use case to be a transformation engine, I knew that Azure NetApp Files was doing something that wasn't possible before. It delivers unparalleled capabilities to augment enterprise agility.
My experience with ANF –that shared services are a key use case—seems to backup the Deloitte findings. The enterprise shared services sector is evolving. It's gaining complexity and driving great business value. From where I sit, Azure NetApp Files is positioned to become one of the most prominent enablers of IT shared services.
Automation is Essential to Shared Services Value
The report made clear that shared services is becoming increasingly global, complex, and digital, as shared services leaders seek to provide:
Efficient services
Enterprise agility
Better customer service
Tangible business gains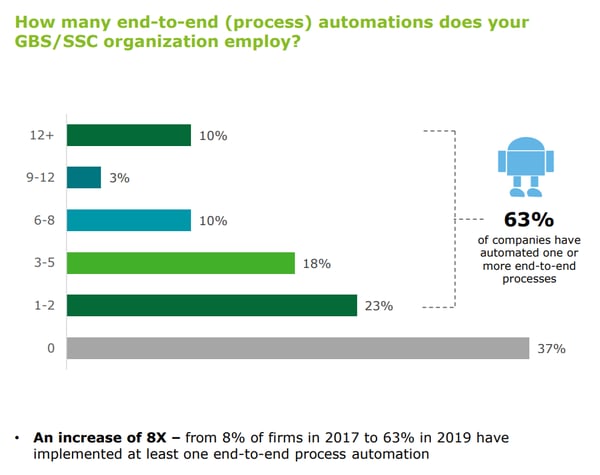 According to the survey results, automation in shared services is a critical factor for enterprises that want to take the leap from a traditional service desk to a digital hub for operational transformation.

Most surprising, the report noted that shared services' automation had jumped to 63% in 2019 from just 8% in 2017. This spike tells me that shared services leaders are actively looking for ways to better enable business transformation by offering a more meaningful and relevant catalog.
IT Shared Services Before the Cloud
In IT shared services, there's typically a catalog of services, aligned to service level agreements (SLAs), that enable any department to pick from a list of IT functions they need.
About a year ago, I met with an oil and gas company. We talked about how long it took to provision their environment. I wanted to understand their world a little better so I asked them to walk me through their process using the example of a business user who needs more storage for their applications.
"How do they get that from you?" I asked. In response, they walked me through the process of requesting an additional petabyte (PB) of storage for developing and testing application enhancements.
Step 1 – Provision the request through the shared services business desk ticketing system. The request includes a business justification or business case for the request.
Time to complete: up to 3 days (depends on the complexity of the business case).
Step 2 – Ticket is routed to an IT specialist who determines if the physical space is available.
Time to complete: 7-24 hours.
Step 3 – If there is space available, then a specialist, who has the skills to set up the environment, takes over. If the space is not available, then it goes to our Provisioning department. Provisioning looks at budgets, projects, timing, performance, and overall requirements, and prioritizes our request against other requests.
Time to complete: between 1 week and 2 months.
Step 4 – If everything is greenlighted (Murphy is out-of-office and the order moves like greased lightning), the ideal scenario would be this: there's budget for it; the PB is in stock; shipping goes smoothly; the loading dock can receive and move the goods into the datacenter; all the correct cables are included; the rack space is the right size; the environment is ready for installation and set-up; the specialist has time to install and configure.
Time to complete: 7-10 days.
Step 5 – If it was an emergency and the CEO and the Board of Directors were demanding immediate fulfilment, my oil and gas customer noted that it might be possible to fulfill this type of urgent request in about 8 hours.
At the end of this conversation I asked my customer, the VP of Infrastructure, "What if it took 30 seconds?"
Governance, Policy, and 30 Seconds to Transformation
What we're seeing with the hundreds of customers that are adopting Azure NetApp Files is that, even though they can (again, in 30 seconds) provision a bare-metal environment in the Azure cloud with performance equal to or better than on premises, they still want to add some governance. After all, you don't give your kid a cell phone without any controls.
For most customers, onboarding Azure NetApp Files involves a 1-3 day oversight process to review the request, confirm budget (usually aligned to a customer's annual Azure commit number), and determine that Azure NetApp Files is the right environment for this particular request.
But once that ticket is approved, it can be fulfilled immediately. That's enterprise transformation, and it sets the stage for shared services to become an engine for innovation.
You can register now and one of our cloud architects will help you get started.