Subscribe to our blog
Thanks for subscribing to the blog.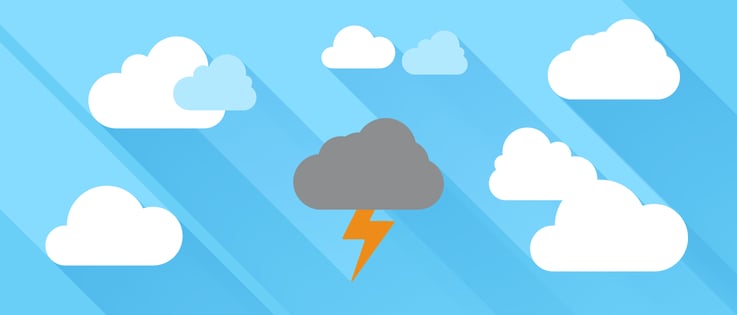 Choosing the right enterprise cloud solution can be risky business. Migrations are expensive, complicated, and occasionally finicky—and their success or failure depends on the suitability of the cloud location they move into.What if that environment isn't suitable for the applications you're hosting?
Enterprises can either resign themselves to sub-optimal cloud storage, or they can take steps that will allow them work around drawbacks in their cloud environment using secondary enterprise storage.
How Can You Pick the Wrong Enterprise Cloud Solution?
There are a few reasons why enterprises may find themselves taking a second look at the cloud solution they've chosen. Mostly, this has to do with tradeoffs. Cloud providers offer a limited menu of features, and companies have a set of strictly-defined needs. Rarely is there a perfect overlap.
As an example, an enterprise might require 3 things from a cloud environment:
Cost Savings

High Availability

Responsive, Well-Organized Storage
If economic buyers of the cloud environment find a solution that offers the first 2, but not the third, they'll most likely tell their admins to find a technical workaround, or live with it.
Here are 3 ways to do that.


1. Pick the Best Storage Operating System
In keeping with the example above, the low cost and high availability aspects of a cloud environment typically rest within their infrastructure.
The responsiveness and organization of storage volumes depends solely on the operating system, which is under your control.
Consider whether a new OS, such as NetApp's Cloud Volumes ONTAP storage OS, might be able to store and serve files better than the default system.
For existing ONTAP users, the news is even better as they can take the known and familiar ONTAP and utilize it in the cloud to manage their storage.
Administrators can use Cloud Volumes ONTAP in conjunction with other useful features derived from NetApp's Data ONTAP, such as SnapManager. This tool allows admins to quickly back up and re-provision applications onto cloud environments.
2. Rapidly Provision a Different Cloud
There's another advantage of using Cloud Volumes ONTAP—let's say that for whatever reason, your cloud environment fails to meet your mid-to-long-term needs.
That's problematic—it may have taken you months to move your applications off of bare metal and into the cloud. Using Cloud Volumes ONTAP, however, the changeover from one cloud to another can be nearly instantaneous. This is again made possible by tools like SnapManager that stores only the data that has changed since the last time a backup was run.
This means that not only can you load your applications onto a new Cloud Volumes ONTAP system quickly—you can also do this while maintaining a relatively small amount of enterprise secondary storage.
3. Avoiding the Wrong Cloud with NetApp
Finding the right enterprise cloud solution can be a difficult decision, involving a great deal of horse-trading, price considerations, and other points of order.
If, at the end of the process, you discover that the choice you've made is less than ideal, the results can be devastating.
Don't let that happen. For more information on how to use NetApp solutions in order to preserve flexibility in your choice of cloud environment, click here or contact us today.
Want to get started? Try out Cloud Volumes ONTAP today with a 30-day free trial.