Subscribe to our blog
Thanks for subscribing to the blog.
A big appeal of the cloud is its safety. For companies with enterprise applications, the cloud offers a way to store data and run applications somewhere else besides on-premises data centers, which are vulnerable to natural disasters, fires, power outages, and worse.
But disasters happen in the cloud too. Any company with an enterprise application in the cloud has to have adequate disaster recovery (DR) capabilities in place, or else they're taking a major risk.
Using the cloud, secondary sites can keep data or infrastructure warm and ready to be used at a moment's notice—keeping you in business.
Data redundancy plays a key role in this. But with the challenge of orchestrating this type of disaster recovery plan comes an additional challenge: rising costs. Deployment in the cloud costs money: failover capability costs even more.
How can a business with enterprise applications in the cloud manage to meet disaster recovery goals yet keep costs down?
This post will look at those challenges, and at what NetApp can do to help you find a solution.
Cloud Costs Can Get Out of Control
Sometimes IT departments are given a blank check when it comes to cloud operation. This can lead to wasteful spending that may at first be acceptable—something that is written off as part of the transition phase—but eventually the belt will have to tighten.
When that happens it means finding out where the problem areas are in the cloud deployment. What is causing this supposed cost-savings miracle to cost so much?!
There are so many aspects to keep in mind when cloud costs spin out of control. Migrations themselves cost a lot of money and can be extremely time-consuming. And after the migration takes place, bandwidth and network may need to be readjusted.
New cloud users tend to underprovision or overprovision resources, keep servers spinning even when they aren't in use, and fail to take advantage of automation. Without careful monitoring, all of these inefficiencies end up costing companies.
These are all common and avoidable mistakes. Rushing an enterprise application into the cloud is not the best idea. It takes a considerable amount of planning to find out how to properly orchestrate an enterprise application's cloud deployment in order to ensure that spending stays in line.
But there is another big factor to be aware of when cloud costs get out of control: some companies move their enterprise applications to the cloud without ever budgeting for disaster recovery.
Disaster Recovery Can Drive Costs Even Higher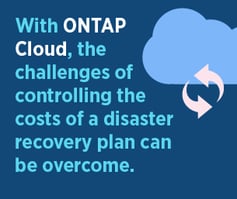 The budget plan for migrating your enterprise application to the cloud may make no mention whatsoever of creating and maintaining the backups that are essential in a disaster recovery plan.

It is a considerable challenge to make sure data in such environments is kept up to date and ready to be put in place should that catastrophe ever sideline the primary site.
Overlooking this critical aspect of the cloud deployment can come as a shock to administrators, who see project budgets spiral out of control.
Failback, failover, and disaster recovery testing are all necessary components of running an enterprise application in the cloud, and they will add to your costs.
A good plan will require duplicate sites and redundant data storage in multiple regions, none of which comes without a price tag.
There are a lot of threats out there: some companies may feel they are best protected by combining cloud disaster recovery plans with on-premises backups. This may make them feel safer, but it will involve a lot more costs, including expenditures for infrastructure, physical location, network, and management costs.
Sometimes these expenditures are incurred directly by the company, and sometimes they're "hidden" in the pay-as-you-go price models of public cloud providers.
Despite the costs involved, disaster recovery is not an option. Aside from business continuity imperatives, in some cases compliance laws will require that you have such plans in place to preserve data and ensure recoverability.
The good news is that flash drive support, regular and automated snapshot creation, data compression, data deduplication, and thin provisioning can all help keep disaster recovery costs under control—all of which are part of NetApp's Cloud Volumes ONTAP (formerly Cloud Volumes ONTAP).
Controlling Costs and Keeping Safe with NetApp
NetApp has helped major businesses with enterprise applications cut costs while creating reliable disaster recovery plans. With Cloud Volumes ONTAP, the challenges of controlling the costs of a disaster recovery plan can be overcome.
Cloud Volumes ONTAP, with the support of Amazon Elastic Block Store (Amazon EBS), can integrate the cloud with on-premises storage devices, helping to manage data stored between various sites and for disaster recovery infrastructures built on Amazon EC2 instances.
Costs can also be controlled by leveraging Cloud Formation and Pilot Light, which keep services active while provisioning new ones to avoid charges until an actual failover takes place.
NetApp's SnapMirror is an easy-to-use and effective method for data replication, keeping data synced between cloud and on-premises deployments with snapshots that, after the initial full copy is created, update only incrementally to save on transfer costs.
Cloud Volumes ONTAP has four key data storage efficiency features that make setting up a site for disaster recovery in the cloud cheaper than just relying on public cloud resources:
Data compression and deduplication
FlexClone writable copies
Thin provisioning
Tiering for Amazon S3
Tiering allows Cloud Volumes ONTAP to further enhance cloud data management by sending cold data to the affordable Amazon S3 storage format when it isn't currently in use, and warming it up when necessary.
Used together, all these features can significantly lower the storage costs that enterprise applications can incur in the cloud.
Managing Your DR Costs with NetApp
Disaster recovery has never been an easy challenge to meet.
For enterprise applications, the costs involved are considerable, and can add to already out-of-control cloud budgets.
One of the keys to overcoming these challenges is a management solution that gives you control over all resources in your deployment, whether they are wholly based in the cloud or if you combine it with an existing on-premises infrastructure.
NetApp's Cloud Volumes ONTAP provides a robust Enterprise Application solution that can help you achieve your disaster recovery goals in the cloud. Cloud Volumes ONTAP makes it easy to manage storage workflows and keep costs down through powerful features built for storage efficiency.
If you're ready to reduce your enterprise application cloud costs without compromising on failproof disaster recovery, a free trial of Cloud Volumes ONTAP is available through the AWS Marketplace right now.
Want to get started? Try out Cloud Volumes ONTAP today with a 30-day free trial.