Subscribe to our blog
Thanks for subscribing to the blog.
Introduction
Over the last decade, we witnessed several significant trends that effected the way we manage data. With the evolution of cloud computing and the digital transformation rush, data started to be generated by the "tons" and stored indefinitely. Likewise, the complexity of managing data has increased, requiring countless processes to be performed harmoniously across clouds and on-premises. While the cloud empowers companies to accelerate digital transformation building on an agile cloud platforms and handle data at scale with unlimited resources - it also introduces new challenges. Among these challenges rises the challenges of hybrid and multi cloud interoperability. Due to the different service models, solutions discrepancy, and feature imparity, it is impossible to have a consistent, unified, storage operations and data management across a hybrid multi-cloud.
Being the storage and data management leader for nearly three decades, working with thousands of customers on their data challenges, we realized it was time for a change in the way data is stored and managed. Lead by the innovative evolution of the cloud, over the past decade we have put in the effort to re-engineer the storage and data management expertise we acquired over the years, to the public cloud, as well as extending these capabilities through development of complementing data services to address these concerns. Together, our cloud storage solutions and advanced data and metadata services, unified by API-driven management and comprehensive monitoring, form the Cloud Volumes Platform.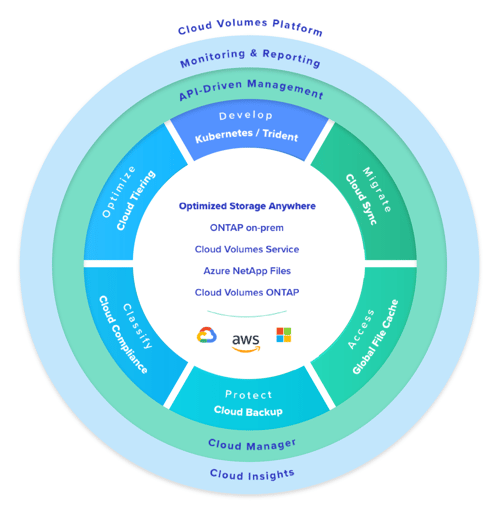 Single Storage Experience Anywhere
The Cloud Volumes Platform is essentially an advanced set of seamlessly integrated micro-services and services, that offers a single experience to data management in the public cloud (AWS, Azure and Google Cloud) and on-premises, available through a single endpoint with full API support. These services address data's requirements throughout its lifecycle for storage, protection, classification and optimization, any kind of mobility needed, and make it easily accessible by modernized development tools and containers orchestrators while constantly monitoring and analyzing the entire operating environment.
At its core lies the ability to store data anywhere within best-of-breed storage management solutions, based on the well proven ONTAP software. Whether you operate on your public cloud of choice, a private one, or a combination of both, ONTAP can be leveraged to store data by deploying Cloud Volumes alongside on-premises ONTAP deployments. Cloud Volumes encapsulates both self-managed (Cloud Volumes ONTAP) and fully managed (Azure NetApp Files, Cloud Volumes Service for AWS and Google Cloud) cloud storage solutions that offer optimized price-performance for any primary and secondary workload through a variety of price-performance tiers.
The Cloud Volumes Platform elements are all unified, enabled and amplified by NetApp Cloud Manager, an advanced control plane with extended management and secured multitenancy capabilities, available securely as-a-service through a single endpoint. With Cloud Manager the various Cloud Volumes solutions can be deployed, shaped and managed and with its ability to manage on-premises ONTAP deployments as well, a single management language and a single visual experience are provided for all data stored on NetApp solutions across the hybrid multi-cloud.
In addition, API-first is a core principle leading the development of the Cloud Volumes Platform elements overall and Cloud Manager, specifically allowing you to manage your Cloud Volumes infrastructure as code. Having an API-first strategy essentially means that every action that can be done through the UI has an equivalent API call, providing the ability to programmatically interface with Cloud Manager and automate the deployments and management operations of every element of the platform.
Beyond Storage (Advanced Data and Metadata Services)
Many benefits are delivered to users by the platform's cloud storage infrastructures just from using them, such as optimal price-performance at any cloud, and data protection with their built-in capabilities. However, when operating at large scales and in multiple different environments combined with the growing requirements, extra "muscles" are needed, to cover further aspects to storage and data operations.
Having data as the lifeblood upon which all companies thrive, means once data is generated and stored it must be protected at all costs, against all sorts of unplanned events such as accidental deletion, corruption, ransomware attack, site disaster, natural disaster and so on. Furthermore, to comply with the emerging regulations, data must be kept for longer periods, requiring solutions to be cost-efficient. Cloud Volumes Platform makes it highly easy to protect your data with out-of-the-box solutions such as the Cloud Backup service. This service is used as a simple, cost-efficient and reliable way to back up data residing on Cloud Volumes or within on-premises deployments to cloud-based object storage solutions for long retention archive. In addition, with Cloud Manager's automation to NetApp's SnapMirror replication engine processes, replicating data became a simple operation with full visualization. With a simple drag-and-drop operation data can be replicated across the hybrid multi-cloud for disaster recovery and backup purposes as well as for data migration, preventing cloud vendor lock-in scenario. Another service offered by the platform, that can be leveraged for multiple purposes, is the Cloud Sync service which can be used to copy data sophisticatedly from any type of source in one location to any type of target on another.
New challenges to data protection are introduced with the emerge of data privacy legislations such as GDPR and CCPA. These regulations are designed to give consumers and citizens more control over their personal data by dictating specific requirements with which companies must comply to better safeguard their rights. With the platform's AI-driven Cloud Compliance service, a cross cloud and on-premises visualization of personal and sensitive information can be easily achieved. With a click of a button, both structured and unstructured data can be scanned to meet requirements such as data classification, data mapping into personal and sensitive information as well as to quickly respond to Data Subject Access Requests (DSAR) and demonstrate data privacy compliance.
The Cloud Volumes Platform also addresses the challenges surrounding excessive data growth and data access requirements for distributed businesses, with remote and branch offices. With Cloud Tiering, an advanced storage optimization service, data can be intelligently managed based on its usage and be placed at the right storage tier at the right time, to reduce the total cost of ownership, while keeping data always accessible without having to refactor the application layer. The platform's Global File Cache service enables distributed data estates to be easily consolidated into Cloud Volumes to form a single data footprint in the cloud, which significantly cut costs and streamlines IT operations. With its intelligent caching capabilities, active datasets are seamlessly cached in the distributed locations providing remote users accelerated data access. Together with centralized file locking, Global File Cache delivers real-time collaboration on a global scale.
With container adoption growing rapidly and Kubernetes becoming the de-facto container orchestration tool, many organizations are seeking to simplify their operations, specifically these related to stateful applications. Using the platform's ability to connect its storage infrastructures with Kubernetes clusters and provide data lifecycle management capabilities drive business productivity and accelerate development cycles. These extended capabilities allow users to request and manage persistent volumes, easily perform backup and restore operations, seamlessly migrate applications across Kubernetes flavors and clouds and instantly create working application clones.
Finally, to better utilize the resources used and optimize performance and costs, a comprehensive monitoring service is required. With NetApp Cloud Insights complete visibility is provided into the platform's storage and data services infrastructures as well as to the user applications themselves. With the relevant information at hand, Cloud Insights turns that information into actionable intelligence, through integrated analytics processes, enabling enhanced control over the performance and utilization of the different workloads. Likewise, with early detection to ransomware and other malicious users, through integrated user behavior analysis, security is improved.
Conclusion
Since we stepped into the 21st century, data management has taken a major leap forward with a growing number of sophisticated needs, mandating a transformation to be made to the way we manage storage and data. With data becoming the most important asset and being distributed across hybrid and multi-cloud environments, a holistic approach to data is required where a complete set of tools, tightly integrated with each other can be seamlessly used to address data needs anywhere. NetApp's Cloud Volumes Platform provides a new approach to data lifecycle management, by having all the services needed for modernized data management fully integrated, deployed and managed under one rooftop, and enhanced supervision. By using the Cloud Volumes Platform, you can easily build complete solutions that fit any of your workloads and meet applications' data requirements.
To get started with Cloud Volumes Platform, one unified platform for cloud storage infrastructure and data services, simply login to Cloud Manager and start transforming your data management today.