Subscribe to our blog
Thanks for subscribing to the blog.
As organizations turn to multi- and hybrid cloud architectures to deploy their workloads, they face new challenges when it comes to managing data seamlessly across multiple environments.
To help ONTAP users overcome these challenges, NetApp is introducing the System Manager integration with NetApp Cloud Manager.
In this blog, we will look into the features available with the new Cloud Manager / System Manager integration, its advantages, and provide a walkthrough on how to get started with the service today.
Click the links below to jump down to the sections on:
What Is a System Manager?
System Manager has traditionally been part of on-prem deployments, as the console for managing the ONTAP system and storage. It is used for performing some of the common storage management activities including:
Cluster creation and configuration
Storage object management (i.e., disks, volumes, local tiers, quotas, etc.)
Protocol management for file sharing and iSCSI configuration
Network management (i.e., interface groups, subnets, broadcast domains, data/management interface configuration, etc.)
Provisioning and managing storage nodes, clusters, and storage VMs
Configuration of features such as mirroring, vaulting, and high availability
Service processor configuration for remote login and node management
In addition to these common management tasks, System Manager is required to do some advanced operations like setting QoS, Qtrees, network domain configuration, and more.
Cloud Manager is the popular hybrid and multicloud storage management interface for NetApp ONTAP storage systems. With System Manager fully integrated with Cloud Manager, the features and data management capabilities of both the solutions are now available to ONTAP customers directly from the Cloud Manager single management interface.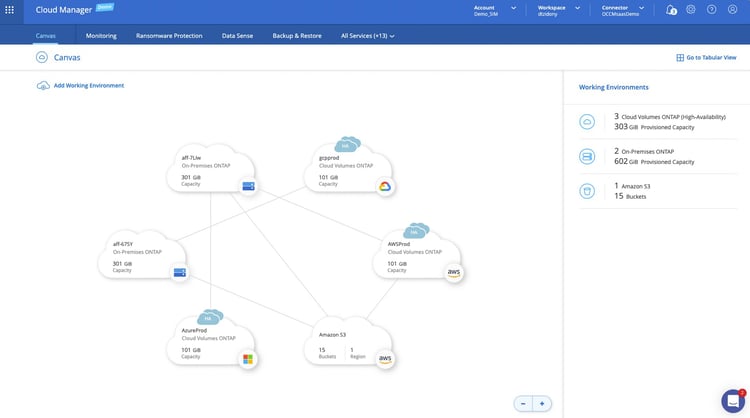 Cloud Manager Canvas
Thanks to the integration, all of System Manager's activities can now be carried out using Cloud Manager as a single interface.
The Advantages to System Manager Integration with Cloud Manager
Data estates today tend to exist in hybrid architectures: some data will be on-prem, and some will be in one or more clouds. Managing data across environments using different interface tools is often the most difficult task for administrators.
With System Manager integration with Cloud Manager, ONTAP customers can smoothly transition to their hybrid cloud journey. Customers can continue to use the familiar System Manager features that they relied on day in and day out to manage storage systems, now irrespective of where they are hosted.
Let's take a look at some of the unique advantages that System Manager integration with Cloud Manager brings to the table:
Unified platform
With System Manager integrated with Cloud Manager, customers can use a unified platform for all administrative activities of an ONTAP cluster. All operations, including deployment and day to day operations, can be managed from a single pane of glass.
Complete visibility
Where System Manager only manages a single ONTAP system, Cloud Manager expands that view to include all ONTAP systems, both on-rem and in the cloud. As data grows, so do the number of ONTAP clusters deployed on-prem and in the cloud—the new integration makes it possible to manage them all without toggling between clusters and consoles.
Future enhancement support
Starting with ONTAP 9.8 System Manager is included with ONTAP software as a web service. The service is accessible via a browser and is activated by default. This integration enables a framework that can help integrate new cloud data services in the future. All new ONTAP features are released via Cloud Manager and customers can benefit from them without delay, irrespective of where the ONTAP cluster is hosted.
Enables cloud adoption
Users new to the cloud always face a learning curve. System Manager's integration with Cloud Manager bridges this gap, as the storage management process remains exactly the same, even when organizations shift gears to the cloud. This could help accelerate the organization's cloud adoption journey.
How to Get Started with System Manager Using Cloud Manager
You can get started with the System Manager after logging in to Cloud Manager as shown below:
Access the Cloud Manager Canvas to view the working environments.

Select the ONTAP cluster you want to manage. Click on "Enter Working Environment."

Click on "Switch to Advanced View".

The System Manager view will show up. You can click "Close" on the preview notification.

System Manager Options
Browsing the menu on the left, you'll see a number of different options. Let's take a look at each of them.
Dashboard
Click on "Dashboard" to view summary of Health, ONTAP cluster capacity, performance details, and network configuration.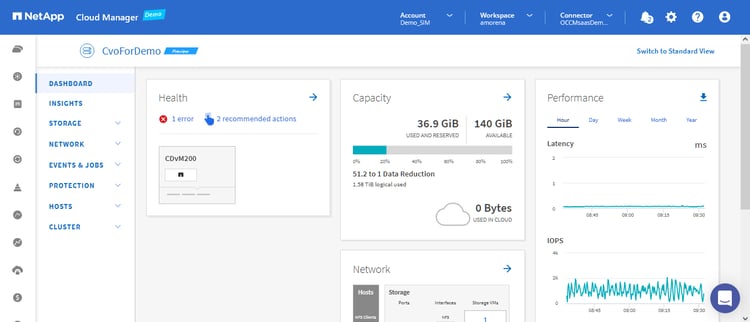 Insights
Click on "Insights" to view and apply best practice settings related to cluster configuration and security.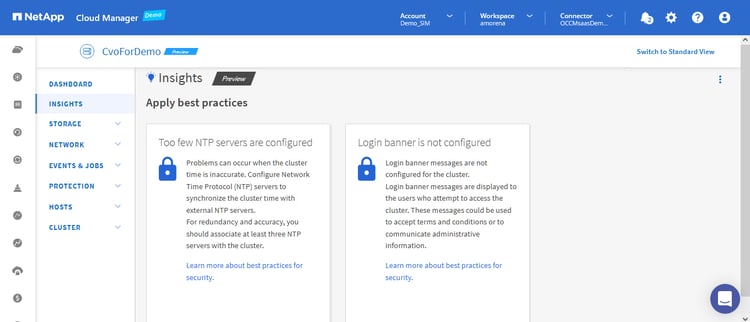 Storage
Click on "Storage" to view and manage cluster storage configuration. There are a number of different menu options under this window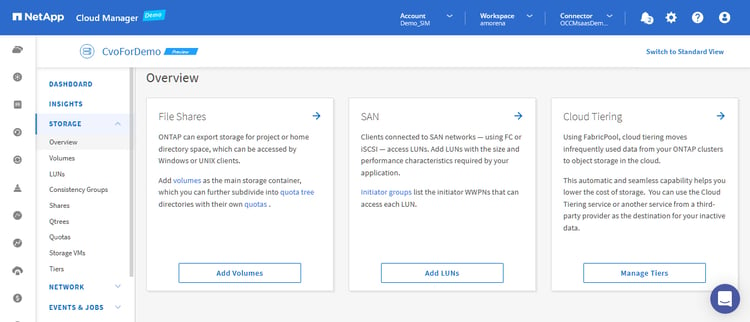 Volumes
Click on "Volumes" to view the data volumes created in the ONTAP cluster and also to add new volumes.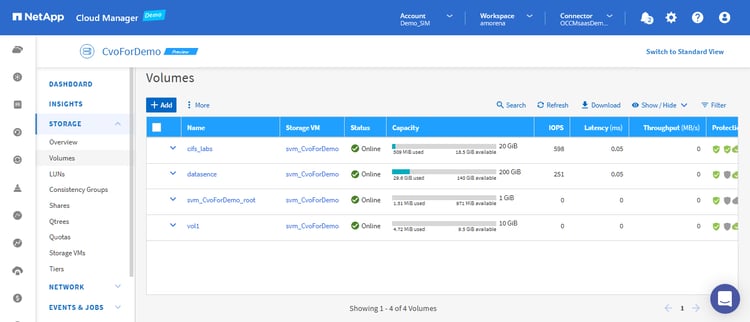 You can click on each volume to expand it and see additional information about it.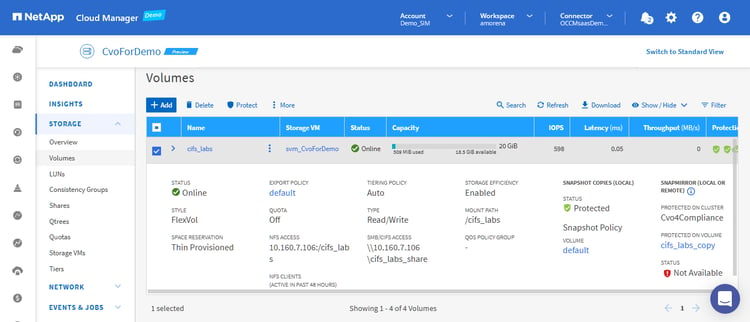 LUNs
Click on "LUNs'' to add and manage LUNs in the cluster. The fundamental storage unit in a SAN system is a LUN. LUNs on your storage system are viewed as virtual disks by the hosts.
To add new LUNs, click on "Add".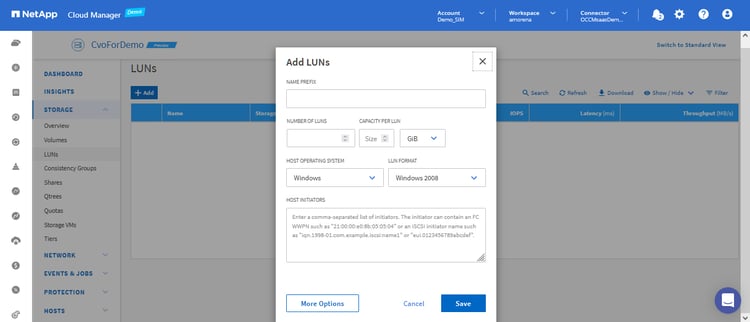 Click on "More Options" to add details about the LUN.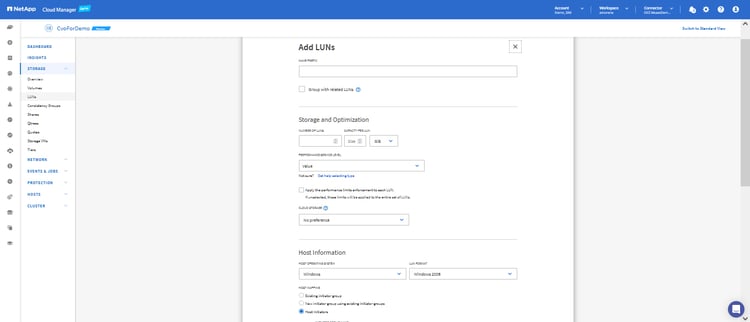 Consistency Groups
Click "Consistency Groups" to view and manage consistency groups.
For an application workload spread across numerous volumes, a consistency group is a set of volumes that guarantees write-order consistency.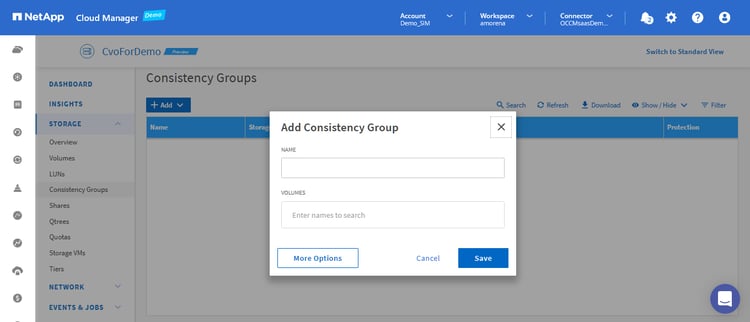 Qtrees
Another advanced configuration available in System Manager is Qtrees. Using Qtrees, you can divide your FlexVol volumes into smaller, more manageable chunks. The Qtree can then be used to manage security settings, quotas, and CIFS oplocks.
Click the "Qtrees" menu on the left-hand side, then click "Add" to create new Qtrees.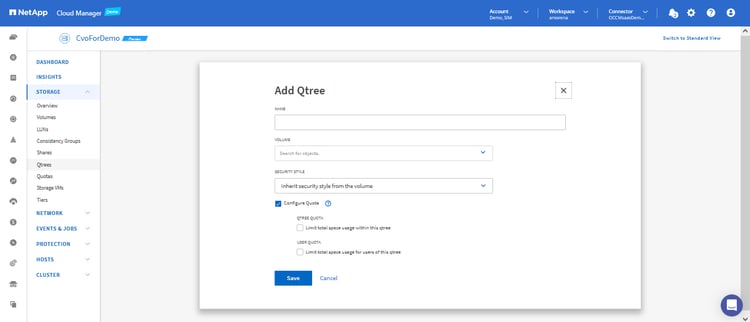 Quota
The Quota menu is where you can define the quota target and limits in this window.
To add quota limits, click "Quota" on the left-side menu and then "Add."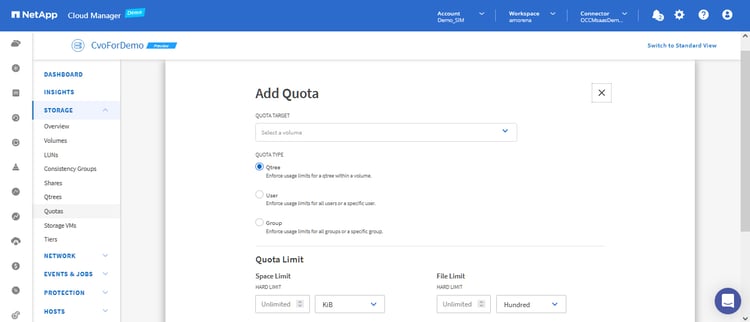 Storage VMs
Click on "Storage VMs" to view and manage this configuration in System Manager.
To serve data to clients and hosts, storage virtual machines (SVMs) are used by ONTAP clusters. A logical entity that abstracts physical resources, an SVM functions similarly to a virtual machine operating on a hypervisor. The SVM does not tie the data it accesses to a specific storage location.

Click on "Add" to add new storage VMs. In the window that appears, you can add details of the new storage VM, including name, access protocols, administrator account, etc.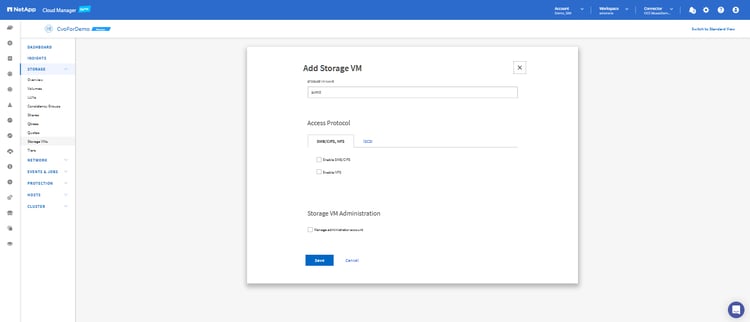 Tiers
Click on "Tiers" to view existing local and cloud storage tiers and to add new ones.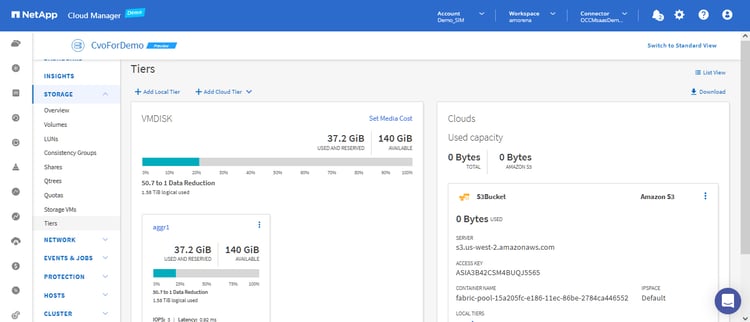 Network
Click on "Network" to see a network map of the ONTAP cluster, which shows the storage VMs, associated network interfaces, data exports, etc.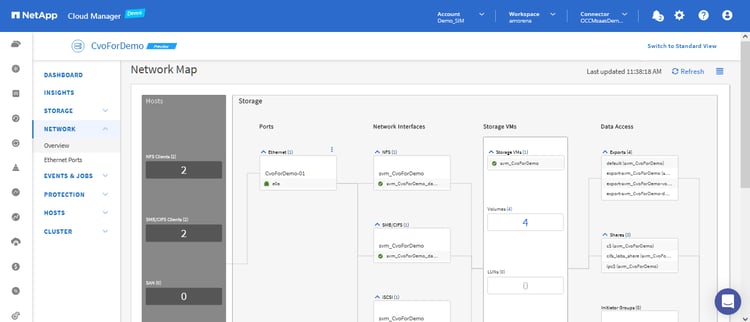 Browse to Network->Overview to manage network configuration settings, such as IPspaces, broadcast domains, and network interfaces.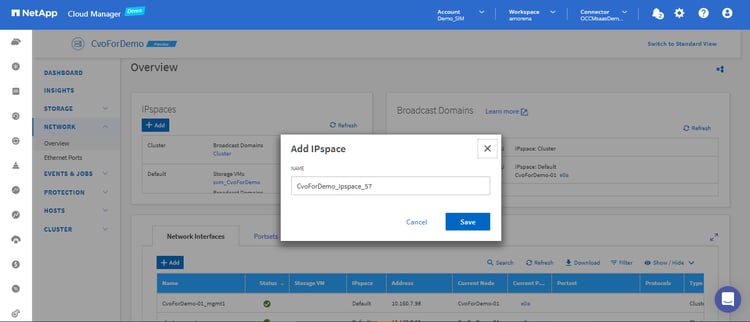 Events & Jobs
The "Events & Jobs" section is where you can view and manage events, alerts, and audit logs.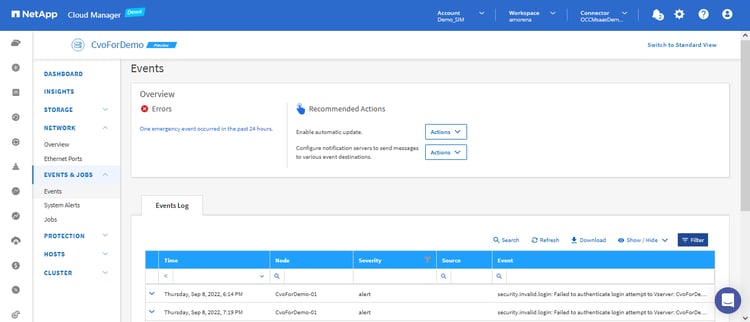 Protection
The "Protection" menu option is where you can view and manage cluster protection settings, such as peered clusters for replication and details of protected volumes.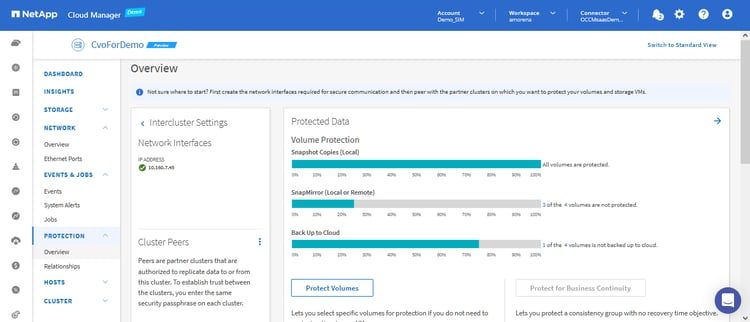 Cluster
Click on "Cluster" on the left-side menu and its sub menus to view the overall configuration view of the ONTAP cluster, settings, license, associated disks, etc.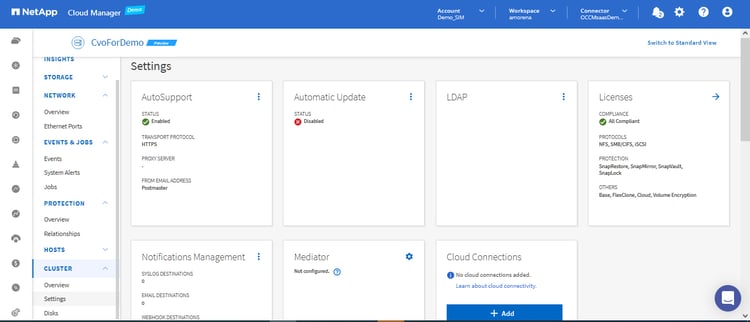 Conclusion
As we saw above, all the advanced configuration settings of System Manager are now available from the web interface of Cloud Manager.
This new integration helps to address the management challenges associated with a growing data estate and enables ONTAP customers to use the same workflows across hybrid and multicloud environments.