Subscribe to our blog
Thanks for subscribing to the blog.
Cloud migrations live and die by the transfer tools that are used to move data into the cloud. If your company is about to undergo the massive shift that comes with a migration, it helps to know that the technology you choose for data migration is robust, secure, and capable of carrying out the tasks at enterprise scale. NetApp's Cloud Sync does all that, and more.
Why Choose Cloud Sync?
Cloud Sync has a dynamic feature set that makes it efficient, reliable, and cost-effective for data migration. What follows are the key reasons why you should be using Cloud Sync for your migration needs.
Faster and More Efficient
The total time for migration will be shorter when you choose Cloud Sync. By using parallel processing, Cloud Sync is able to save time moving the data. It also takes less time to keep that data up to date: once the initial baseline is in place, updates only occur on the deltas. Data that hasn't changed isn't needlessly re-replicated.
There are two parts to moving data with Cloud Sync: a Data Broker instance and the Cloud Sync service. Moving data from NFS or CIFS file share to and from Amazon S3 is taken care of by the Data Broker. The Data Broker can be provisioned on AWS or installed on-premises, in which case your data will not be exposed to the internet. Setup is fast and easy to understand.
Once configured, the sync automatically begins to parallelly process your data at its source. The use of parallel processing speeds up the transfer because it dramatically increases processing throughput. This makes cloud migrations with Cloud Sync much less time-consuming than other utilities.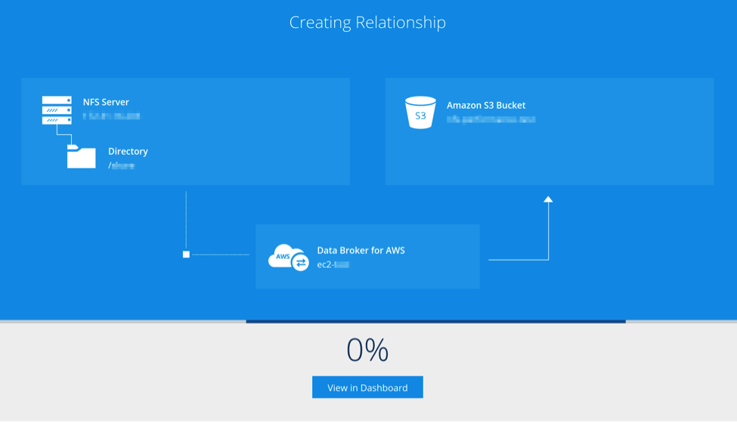 Storage Transformations and Support
With Cloud Sync there is no difficulty in moving your file services data over to object storage. Cloud Sync translates between the two formats automatically, giving you easy access to object storage's ability to expand infinitely to meet your workload's growing needs.
Cloud Sync allows data to be migrated from multiple endpoints to Amazon S3 and back, or onto alternate systems where you want your data to reside. Supporting both NFS and CIFS, and on any type of system—not just NetApp appliances—your on-premises data can easily be moved to the cloud on any system that supports the S3 protocol. Which means that private cloud object storage offerings such as NetApp's StorageGrid WebScale are also Cloud Sync endpoint options.
The flexibility to work in object storage nodes outside of AWS is useful, especially when operating in countries where there are regulatory restrictions on public cloud use or mandates on data storage.
Additionally, it will soon be possible for Cloud Sync to perform direct NFS to NFS data migrations to/from the NFS systems of your choice. This capability will open up a new options for data movement, and increases the value of this service even more.
Cloud Sync Does More Than DIY
When comparing Cloud Sync to DIY transfer tools head to head, there is no contest: Cloud Sync outperforms the most popular homebrew tools . But efficiency is not the only benefit that makes Cloud Sync different.
First off, Cloud Sync is cheaper. The hidden costs of developing a DIY solution—such as rebuilding your tool from scratch when it breaks in order to figure out what you did wrong—will have a noticeable impact on TCO. Secondly, homebrew tools don't have the robust feature set that allows Cloud Sync to behave as a service rather than a tool.
With Cloud Sync you get more than just the ability to move your files from endpoint to endpoint.
Logging allows you to audit all of the actions that you perform with Cloud Sync.
Scheduling is imbedded. This gives you the ability to sync data without adding an external cron tool or scheduler into the mix, which reduces complexity and the likelihood of errors.
Reporting allows you to analyze and monitor the entire process from a single screen. And Cloud Sync offers you the choice to make use of programmatic access through the RESTful interface API, making Cloud Sync integratable with builds that you may already be running at home.
A Simpler Way to Manage Migration
Managing a data migration tool shouldn't complicate the migration effort. Using Cloud Sync's intuitive web-based user interface gives you one pane of glass where you can handle all of your sync projects as they move between homes.
No matter what aspect of the migration you wish to perform—be it managing scheduled operations, auditing log of past actions, cost information, or carrying out the syncs themselves—the user interface offers a hub where each activity is just a click away. Rather than reinvent the wheel and build your own transfer utility, Cloud Sync offers an out-of-the-box solution for moving data to the cloud.
Security You Can Trust
When you migrate data with Cloud Sync, the metadata is maintained under NetApp access control while you migrate. What makes this secure is that NetApp does not hold onto your access keys, making sure that there is no risk of intrusion by anyone who you haven't authorized. In fact, your data is never at risk because it is never transferred to any NetApp service. Cloud Sync simply moves your data between endpoints, keeping you in complete control of your data.
Summary
In addition to its impressive features and abilities, the real value of Cloud Sync isn't in what it can do: it's about what you can do with it. A cloud migration is more than just moving data to a new residence. It's about breaking with the past and rewriting a company's history. Enterprise level businesses deserve a powerful utility for data migration, and they get that with Cloud Sync.
Leveraging the full range of AWS services that integrate with Amazon S3 storage buckets, Cloud Sync delivers the value that is required to transition out of the data center of the past and into the cloud future. If your company is ready to make the move to the cloud, find out more about Cloud Sync or start a free 14-day trial with AWS today and start making your migration dreams a reality.