Subscribe to our blog
Thanks for subscribing to the blog.
Today's average enterprise is in the throes of a data revolution. It collects and processes vast amounts of data, stored in a bewildering array of different locations across on-premises and cloud-based infrastructure. But, while this explosion of data is set to bring many potential business advantages, it also presents significant data governance challenges.
How can storage admins and IT responsible for all this data hope to manage all of it? What are your enterprise data governance challenges?
In this post, we take a brief look at the complex data landscape in today's large-scale enterprise setting. Then we discuss just how important visibility is to enterprise data management and how it helps your organization meet its data governance goals.
Use the links below to find the sections on:
Enterprise Data Governance Challenges
Large-scale organizations use a whole host of different business applications that serve a multitude of different functions. This, in turn, calls for a wide variety of different storage formats and storage media, each suited to their individual use cases.
Data will be both structured and unstructured. Some will be transactional data used in the day-to-day running of your business. Other information will reside in backup and archival storage or ingested into data warehouses and data lakes for analytical purposes.
Furthermore, some of your data will be hosted on-premises, leveraging different forms of physical and virtualized storage. And some will be stored in cloud-based infrastructure, where it will be distributed across different vendor platforms, cloud regions, and storage services.
But, above all, your organization will use a diverse range of different storage technologies to host your data. These will potentially include:
Traditional database management systems, such as Oracle DB, MySQL, Microsoft SQL Server, and PostgreSQL
Multi-purpose databases, such as SAP HANA and MongoDB, designed for both transactional and analytics use cases
Cloud-based object storage services, such as Amazon S3 and Azure Blob storage
Proprietary storage solutions, such as NetApp on-premises ONTAP and Cloud Volumes ONTAP, and non-NetApp solutions as well
Network-attached storage (NAS), such as NFS and SMB file shares
Not only that, but members of staff will also handle data outside the traditional confines of IT. For example, through emails, collaboration tools, and file-sharing software—typically using Microsoft 365 services such as OneDrive, SharePoint, and Exchange.
The challenge to governing all of this data is the complexity in managing to view all of the data in one place. Using all of the services mentioned above means that admins are forced to juggle multiple windows, each with its own controls, siloed data, and different capabilities. In the next section we're going to go in detail into some of these concerns on a granular level.
Data Visibility and Control
In view of the overwhelming complexity of the enterprise data landscape, visibility and control over your data have never been so important. But why exactly is this so?
The following data governance goals illustrate the many reasons you need a clear and comprehensive picture of all the data you have—whatever the storage environment or location.
Enterprise Data Security
Data governance includes the controls and insights into your data that will be invaluable in the event of a breach, helping you to prioritize your response and act more quickly. Users will need:
Map and classify data by its content
Locate mission-critical data vs. non-business data
Identify and control personal data that the organization owns
Spot and adjust open permissions to enact a least-privilege policy
Storage Optimization
Storage optimization is one of the key foundations to data management success. Data governance tools should allow users to:
Reduce duplicate data
Avoid keeping stale data on hand
Make clear decisions about retention policies
Data Quality
Visibility is also essential to making sure your data is consistent and reliable. This allows users to:
Get more accurate analytics
Drive better business decisions
Create reports to respond to regulatory requirements
Data Migration
Data migration is a complex and risky undertaking. But the more you know about the data you want to move, the likelier your project will be a success. Data governance plays a critical role here by allowing users to:
Map all the data that needs to migrate
Understand privacy implications of the migrating data
How to Break Down Your Enterprise Data Storage Silos
To stay on top of your enterprise data governance challenges, you'll need to break down your information silos—through tools that give you the power to govern your entire data inventory from a single point of control.
Such solutions should support a wide variety of different IT environments and storage repositories and enterprise data governance frameworks. They should be able to interpret both structured and unstructured data. They should also be able to classify your data and identify personal information with a high degree of accuracy.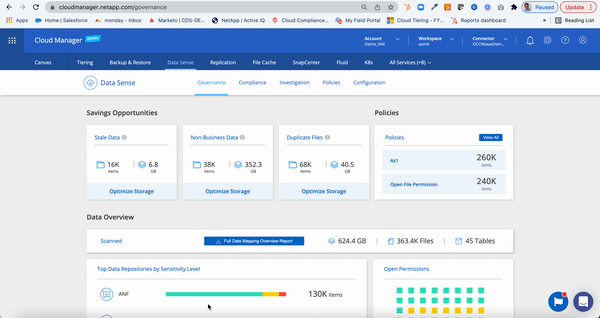 The Cloud Data Sense dashboards are easy to use
With Cloud Data Sense, NetApp gives users a way to get deep insights into your data through automatic data mapping, identification, reporting, and remediation. Cloud Data Sense analyzes the data based on its content and metadata, giving you an additional layer of depth to your data governance. These actions can be carried out across your entire deployment whether the data is stored in any storage system on-prem, in the cloud with Cloud Volumes ONTAP, or in databases such as MySQL, MongoDB, and PostgreSQL.
With Cloud Data Sense, users can also easily identify broken permissions, identify savings opportunities to optimize costs, support and enable migration projects, take steps to address regulatory demands, and better control the data, no matter where it's stored.
With its versatile dashboards, Data Sense gives enterprise data storage admins a full toolset to meet data governance goals no matter where the data is or what it's being used for.
Try it out today for free on up to 1 TB of your data.