Subscribe to our blog
Thanks for subscribing to the blog.
Most IT organizations follow the hybrid cloud-first approach. These organizations are in a transformation phase¾and customers are evaluating their current IT landscape and then migrating their workloads to the cloud based on the assessment and discovery exercise. The factors for customers migrating to the cloud can include elasticity and burst, data center exit, data center consolidation, end-of-life scenarios, mergers, acquisitions, and so on. The reason for this migration can vary based on each organization and their respective business priorities. When moving to the hybrid cloud, choosing the right storage in the cloud is very important in order to unleash the power of cloud deployment and elasticity.
The easiest answer to moving to the cloud without costly virtual machine (VM) conversion methodologies and time-consuming tools is to leverage VMware offerings in each hyperscalar. As with NetApp® Cloud Volumes offerings, it provides a way to move or extend on-premises VMware environments to any cloud, allowing you to retain existing on-premises assets, skills, and tools – while running workloads natively in the cloud. While the transformation journey can be made easy with this approach, limited storage options pose a challenge to storage-heavy workloads. This is where NetApp storage offerings help in offloading the storage component while complementing available VMware vSAN storage.
This hybrid approach speeds up the migration and deployment of cloud-based applications through rapid provisioning of shared file services and storage management features. Connecting NetApp Cloud Volumes offerings to VMware hosted in the respective cloud lets you mount volumes from within the guest operating system of your workload VMs and also as a native NFS datastore soon in Azure with the recent Microsoft announcement here. The common use cases for the NetApp offerings include shared file storage for applications and databases, setting up file services, creating VM home directories, media repositories, and so on. Enhancing the solution even further, infrastructure as a service (IaaS) VMs can also mount the same cloud volumes, which can be later used for modernization purposes. Workloads just need additional storage, not additional horsepower - which is a fantastic approach to control and optimize costs.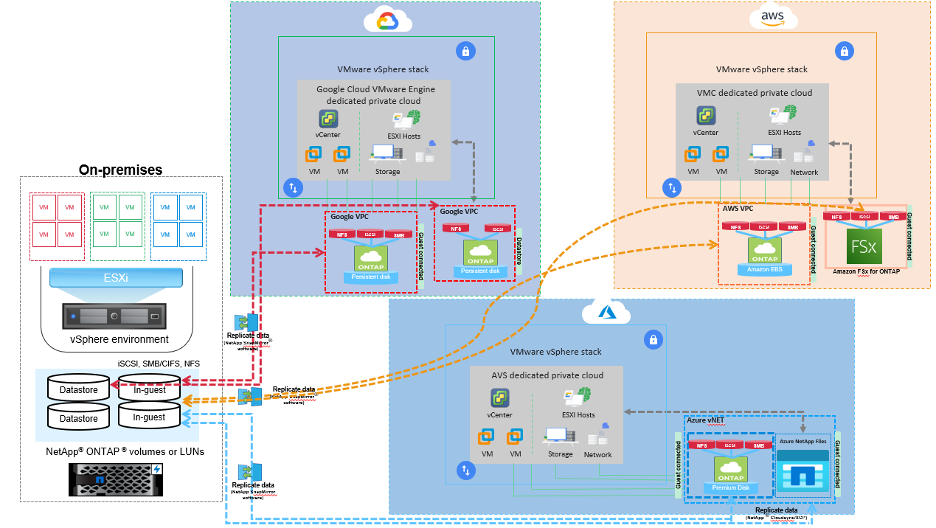 NetApp offers cloud storage that provides a set of highly scalable, available, secure, performant, and cost-effective solutions to run all your business applications. It starts with PaaS offerings, such as Azure Netapp Files, and Amazon FSX for NetApp ONTAP, followed by Managed Services such as NetApp Cloud Volumes Service for Google Cloud, and then our well known marketplace offering, which provides DIY capabilities in each hyperscaler, Cloud Volumes ONTAP.
NetApp Cloud storage offerings provide the following benefits:
Improve compute-to-storage density by scaling storage independently of compute, allowing you to reduce the host count, thus reducing overall TCO.
Volume reshaping and dynamic service-level or throughput capability to optimize cost by sizing for steady-state workloads, and thus avoiding overprovisioning.
Storage efficiencies, cloud tiering, and cloud backup service allow optimal ways of adding and scaling storage.
Prevent overprovisioning¾storage resources are added only when needed.
Efficient NetApp Snapshot™ copies and clones allow you to rapidly create copies without any performance impact.
Address ransomware attacks by using quick recovery from Snapshot copies.
Efficient incremental block transfer-based regional disaster recovery and integrated backup block level across regions provide better RPO and RTOs.
Are you attending VMworld 2021? I have this sponsored session "MCL3025S - Optimize Your VMware Hybrid Cloud in a Post-Pandemic Cloud Rush" and it will available on demand. Make sure to listen to this session recording, and if you have any questions, feel free to reach out to us. Please stop by our virtual booth to grab goodies and chat with the NetApp experts about optimizing your VMware deployment in any cloud or in a true hybrid multicloud deployment model.