Subscribe to our blog
Thanks for subscribing to the blog.
As the leading online marketplace in China and Asia, it was a natural step for Alibaba to turn its own considerable cloud computing capabilities into a public service. Alibaba entered the world of public cloud services in 2009 with Aliyun, only three years after Amazon made a similar move by establishing Amazon Web Services (AWS). Following a strategic decision to expand aggressively outside of China, in 2015 they made a billion-dollar investment in Aliyun, which was rebranded as Alibaba Cloud.
What does Alibaba Cloud computing mean for AWS and Azure users, and how does NetApp's Cloud Volumes ONTAP fit in? In this blog we take a first look at the services offered by Alibaba Cloud and at the comparison of Alibaba Cloud vs. AWS and Azure in terms of breadth of services offered, pricing and performance.
Rapid Growth
Alibaba Cloud (AC), with 50% of the Chinese public cloud market, has an annual run rate of about $2.2 billion. Although its market share and run rate are still far behind AWS, Microsoft Azure, and Google Cloud Platform (more about that below), in Q3 2017 AC reported a 104% year-over-year increase in earnings. And, as reported in BI Intelligence, its paying customer base passed the million-user mark in mid-2017.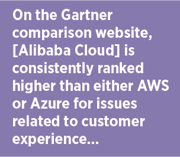 At Mobile World Congress (MWC) 2018, Alibaba Cloud announced a significant expansion of Alibaba Cloud locations, extending its services for Alibaba Cloud Europe and for the USA.
It introduced eight products redesigned for the overseas market that were previously available only in China, including big data, AI, security, and private cloud solutions.

In the RightScale 2018 State of the Cloud Report we learn that while only 2% of the enterprise respondents are currently running workloads in the Alibaba Cloud, an additional 3% are experimenting and yet another 5% are planning to use it in the near future.
An AC Cloud Primer
Alibaba Cloud offers a full range of cloud products and services for databases, networking, security, analytics & big data, domains & website management, application services, media services, middleware, and more. In this section we provide an overview of the Alibaba Cloud services, including their key compute, storage, and management offerings.
Elastic Computing
Alibaba Cloud's Elastic Compute Service (ECS), with state-of-the-art infrastructure (memory, CPUs) and built-in anti-DDoS protection, is offered across 17 international regions with multiple availability zones — all managed from a single global account.
Running on both the Windows and Linux operating systems, Alibaba Cloud's basic ECS service includes Auto Scaling and Server Load Balancer, both of which are charged only by runtime usage, such as ECS instance creation, actual public or private load balancer rental durations, and network traffic.
AC also provides high-performance elastic compute services, including:
With containers now playing a prominent role in app architectures, Alibaba Cloud's Container Service is a fully-managed service for securely running and managing Docker applications on a distributed cluster of ECS instances. Alibaba Cloud users can create container clusters in a single click, all fully compatible with standard Docker APIs. AC also provides a Container Registry, with secure and convenient image hosting, image building services, and image permission features.
With orchestration a key requirement in today's complex cloud-based infrastructures, Alibaba Cloud offers a Resource Orchestration Service (ROS) that uses text files in JSON format (with templates provided) for defining required AC resources, dependencies among resources, and configuration details.
Alibaba Cloud Storage and Infrastructure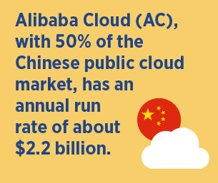 Alibaba Cloud's Object Storage Service (OSS) guarantees 99.9% availability by storing three copies of objects. There is no upfront cost or long-term commitment, with payment determined by actual usage of storage space, network traffic, and number of requests processed.
There are no data storage limits and data is kept secure through multi-level security, DDoS protection, monitoring of illegal logging access, SSL for data in transit, and encryption for data at rest. OSS supports easy web integration via the leading RESTful APIs.
Other Alibaba Cloud storage and infrastructure services include:
Management
Management tools are core to any public cloud provider's offering and Alibaba Cloud has this area covered as well, with:
Alibaba Cloud vs. AWS and Azure
In this section we compare Alibaba Cloud vs. AWS and Azure according to three parameters: market share, product completeness, and pricing.
Market Share
A recent report from Synergy Research Group summarizes the market share (and growth trends) of the leading public cloud providers. While AWS had the largest market share by far, at over 30%, it only had a half percent of market share gain over the last four quarters. Alibaba Cloud grew and gained 1% of the market share in that time period. While not as strong as Azure's 3% growth, it was enough to include Alibaba Cloud among the top five cloud providers in the market today.
Product Completeness
The following chart, based on data from the Gartner comparison website, shows how peer reviewers rate AC's product capabilities in comparison with AWS and Azure. It is interesting to note that, overall, AC's product capabilities are rated very high—almost on par with AWS—but there are clearly some areas that require improvement, such as security & compliance, management tools, and developer/DevOps services: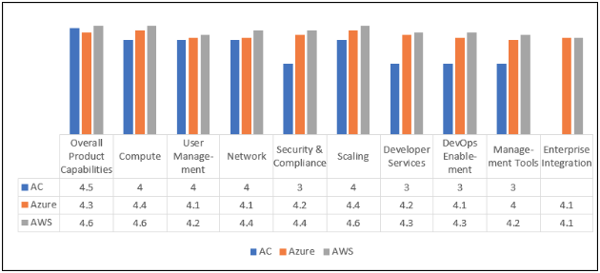 Alibaba Cloud Pricing
When it comes to storage pricing, the chart below compares the PAYGO hourly pricing for equivalent virtual Alibaba Cloud server instances, all using the Linux OS and all based in the US East availability zone:

For the smaller instance, AC's prices are competitive with AWS, and for the larger instance type, with Azure's prices. These number and the others above show that, despite the relative newness of their services, the match up of Alibaba Cloud vs AWS pricing and Azure pricing is actually quite robust.
A Final Note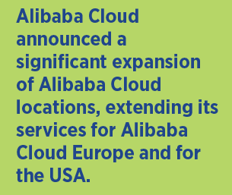 Alibaba Cloud computing has been nothing less than meteoric and it continues to expand and enrich its already impressive range of products and services.

They are conscientiously learning how to serve markets outside of China, such as providing billing support (all in USD) across 168 countries and regions, as well as designing bespoke services for overseas markets rather than simply internationalizing existing products meant for the Chinese market.